This post may contain affiliate links, which means we may receive a commission if you purchase through our links. Please
read our full disclosure here
.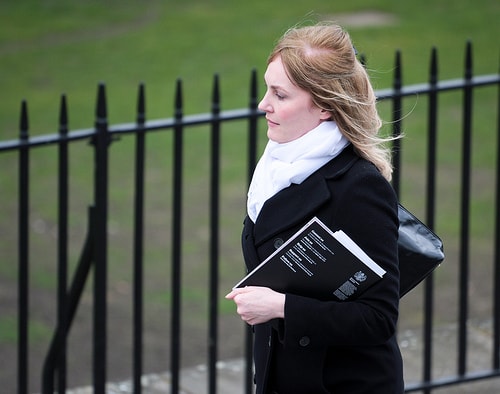 Welcome to the latest edition of Ask CF! Every two weeks, we select a reader fashion question and answer it here on the site. Do you have a specific fashion question for us? Scroll to the bottom of this post to learn how to send it our way!
Ask CF Question
Hi CF! I'm transferring from my community college to a four-year school, and was accepted to one of my first choices! The catch is that orientation is in December, and I have no clue what to wear.

The school is in the mountains, so it will be cold and probably snowy. My part of the state is fairly mild (doesn't usually get too far below 30 in the winter) and mostly snow-free. I have a warm coat, but no idea what to wear under it. I would prefer to be a little dressy, but also comfy for hours of walking around campus. Thanks!

— Chilly on Campus
Our Response
Congrats on switching schools! Orientation is still one of my favorite parts about college. Meeting lots of new people and finally getting to explore the campus up close is always exciting. With all the new faces, it's completely understandable that you want to look cute and make lasting impressions.
Just because it's cold doesn't mean you can't be stylish while also staying bundled up. Since you've already got a coat, I've created three winter orientation-appropriate outfits to wear underneath your outerwear. I hope these looks will provide inspiration for your upcoming trip. Enjoy!
Outfit #1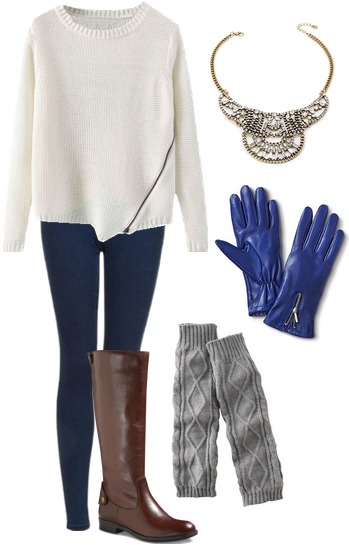 Product Information: Pants, Sweater, Leg Warmers, Boots, Gloves, Statement Necklace
Jeans and riding boots are always a classic but chic cold weather combination. Spruce it up with a statement necklace and asymmetrical sweater. This outfit can easily be adjusted for various weather conditions because it's easy to layer thermal tights under jeans and as many long-sleeve shirts underneath your sweater as you want. Finish the look with gloves that pop.
Outfit #2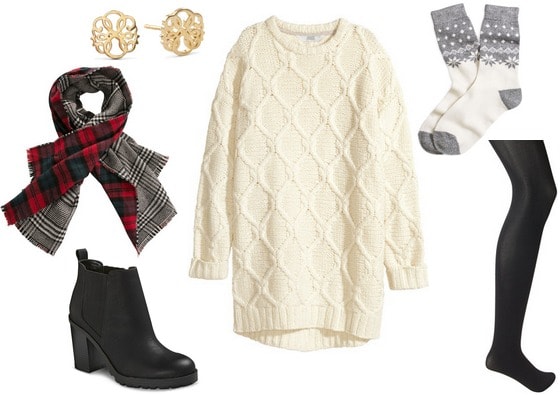 Product Information: Tights, Sweater Dress, Scarf, Earrings, Socks, Boots
If the forecast calls for slightly warmer winter weather, try a sweater dress. Boots with tights and chunky socks keep your lower parts warm, while a fluffy scarf will keep your neck nice and toasty. Complete the look with chic and sophisticated stud earrings that are sure to make a fab first impression.
Outfit #3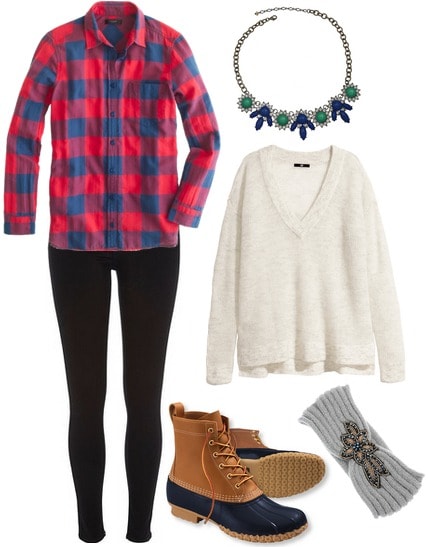 Product Information: Pants, Flannel, Sweater, Statement Necklace, Headwrap, Boots
This final ensemble is a preppy spin on warm weather layers. Layer a toasty flannel shirt underneath a sweater to stay warm and cozy. Accessorize with a statement necklace worn under the collar for a touch of glam. Complete the look with boots that can weather any sort of icy or wet conditions. You'll be comfortable and warm throughout your entire trip!
Do you have a pressing fashion question? Ask away!
Is there a piece in your closet that you never know how to style? Do you have an important event coming up? Is there a certain trend that is completely lost on you?
If you have a question you want to see answered in this column, just send it on over via email to askcf @ collegefashion.net and one day you might see your question answered right here on the site!
Please note: We get A LOT of email and unfortunately we will not be able to respond to every single question. However, we will read through each question and then decide which ones will be most helpful to the most readers. Thank you for your understanding.
What do you think?
Did you attend winter orientation? How do you look polished and stay warm in the frigid winter months? What's your go-to cute cold weather outfit? Would you wear any of these looks? Do you like the outfits I picked out? Let us know in the comments!