This post may contain affiliate links, which means we may receive a commission if you purchase through our links. Please
read our full disclosure here
.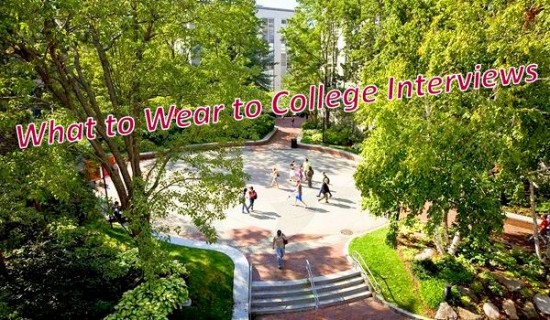 Along with pretty foliage, pumpkin spice lattes and costume-shopping, October is also the time for something much more stressful: college applications and interviews.
Unlike internship or grad school interviews, initial college interviews don't require you to dress business formal and carry a briefcase. Admissions counselors are simply trying to get a sense of who you are and why you're a good fit for their school. Hopefully when you're applying to a college, you already know why you want to attend that school in particular – and that's what Admissions wants to hear! However, as fashion-savvy students, we all know that looking the part is just as important as talking the talk.
To help you succeed in the all-important college interview, here are three college interview outfits that will have you feeling pretty, confident, and comfortable on the big day:
The Girly Girl
Although I'm not one of them, I know many girls who are always in pearls, a dress or some shade of pink. If you love to embrace your girly side – don't let anyone scare you into a boring black suit for an admissions interview!
Before stepping into your favorite feminine look, make sure you take into account who you'll be interviewing with and what program you're applying to. It's important to dress for your personality – but also in a way that will earn the respect of the 85-year-old Dean of Admissions.
Nude colors and pearls are always go-to staples for impressing anyone during a meet-and-greet – and a modest dress is the perfect mix of femininity and class. Just a small punch of pink is all you need to let your girly side shine through – just don't go overboard (unless you're auditioning for a role in Legally Blonde).
Product Information: Dress – ASOS, Cardigan – Old Navy, Necklace – Newport News, Heels – Forever 21, Bag – Forever 21, Watch – Endless
The Artist
This being a fashion community and all, many of you are probably dreaming of becoming the next great artist, fashion designer or fashion photographer. Like I said above, it's important to dress to impress but also to show off your personality. If you're applying to fashion schools, you have a lot more room for creativity than those girls dressing for interviews at Harvard. But even if you're the most creative spirit – be careful not to go overboard when choosing an outfit.
The best way to show of your personality (whether you're a painter or a fashion designer) is with fun jewelry. Invest in some subdued pieces like dark skinnies and a gray blazer and then get creative with accessories! Another way to show of that creative side is an unexpected nail polish color. Other than that, just let your personality (and portfolio) shine!
Product Information: Blazer – Charlotte Russe, Necklaces – Forever 21, Ring – Forever 21, Pants – Forever 21, Flats – Charlotte Russe, Bag – Kohls
The Classic Sophisticate
The majority of you will probably want to opt for a put-together, classic outfit like the one below. I have a hard time believing that anyone under the age of 30 is comfortable in a head-to-toe suit (and I've worn my fair share of suits), so stick to a tailored look that actually fits your age!
Keep comfort in mind when choosing your clothes and try on your look before the day of the interview. Is your skirt too short when you sit down? Will your heels kill your feet by the time you get across campus? Deal with those issues ahead of time.
This look is great because an embellished cardigan and a pretty pair of flats are young while still being practical. Everyone knows how well you can rock the animal print trend, but I promise it won't kill you to keep that skill on the DL for a few hours while you interview.
Product Information: Cardigan – Old Navy, Bag – Kohls, Skirt – Old Navy, Headband – Forever 21, Bracelet – NY and Company, Flats – Wet Seal, Earrings – White House, Black Market
Making It Your Own
I know three looks won't be anywhere close to fitting all of your styles – but hopefully they've given you some inspiration for your interview looks. The most important takeaway is to make sure you feel comfortable and confident in whatever outfit you choose to wear. I have a habit of playing with hair elastics on my wrists or with my earrings in interviews; identify any nervous habits that you might have before you get into your interview.
Remember, you're all fabulous, creative and have something to offer any school – so be confident! Do your homework, reach out to alumni or current students that you may know (any CF writer could provide insight into their schools) for any information you can get and good luck!
Tell us your thoughts!
Will you have to interview this Fall? What schools are you applying to? If you're already in school, do you have any tips for high school seniors? We want to hear from you guys so be sure to leave a comment!