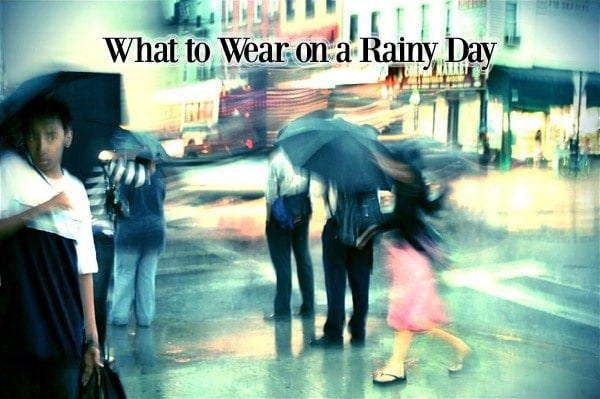 With the June gloom we've been experiencing across the US recently, I've received tons of emails from you guys wanting outfit ideas for rainy days.
It can definitely be tough to dress for a rainy day because there are so many things to consider. From what type of material you can wear (suede shoes are a no-go) to how to stay dry without sacrificing style, dressing well when it's rainy out requires a little planning in advance.
Don't worry, though! It's easier than most people think to dress for a rainy day. Here are some rainy day fashion tips, as well as six outfit ideas for rainy days.
Rainy Day Fashion Tips

Add color! Don't be scared to wear something bright and fun on a rainy day. Bad weather can be depressing, so why not go out of your way to wear something non-depressing and cute?

A cute umbrella can be an accessory. There are so many adorable and cheap umbrellas available at stores like Target, so there's really no excuse to stick to basic black. Buy a couple in your favorite colors if you live in a really rainy area and use them to add color to your look.

Kids umbrellas are cheap, cute, and perfect for one person. I mentioned this in my article 25 Fashion & Style Tips to Brighten Your Day as well, and though I'd repeat the tip here. Why not save a little cash, have some fun, and buy a really ridiculous kids umbrella?

Don't spend a lot on an umbrella. If you're anything like me, you've lost more umbrellas than you care to remember. That's why you should never spend much on them. Even if you aren't prone to misplacing them, umbrellas still aren't investment pieces – you don't use them every day! So buy a cute one from Target and pleeeease skip the $250 Burberry version.

A classic trench coat is always perfect for rainy weather. There aren't many inexpensive and cute trenches in stores right now as it's summer, so I didn't include many in the outfits below. But that doesn't mean I don't love them! The trench coat is SUCH a classic & essential piece that's perfect for all occasions and especially rainy days.

Be careful of the materials you wear in rain. I'm sure you probably know this already, but just in case… Suede is off-limits in rain because water usually ruins it, and leather that hasn't been treated with a protectant can easily be damaged by water as well. Don't risk ruining your clothes – go with rubber, pleather, or protectant-treated leather shoes in rain and leave your favorite suede handbag at home.

At the same time, don't worry too much about a 100% waterproof jacket. If you plan ahead and have your umbrella on hand, your jacket won't get wet enough for waterproofing to matter.

Go crazy when it comes to rain boots. There are so many cute rain boots out there today to fit any sense of style – they literally come in every color under the sun. Have fun and find a pair you love! Much like umbrellas, you can go completely nuts with your rain boots and no one will mind.
6 Rainy Day Outfit Ideas

Outfit #1
When it rains in the summer, you can get away with rain boots paired with shorts, a tee, and cardigan. By forgoing jeans in favor of shorts, you avoid having soaked pants all day. In the outfit below, I added some color with a bright scarf.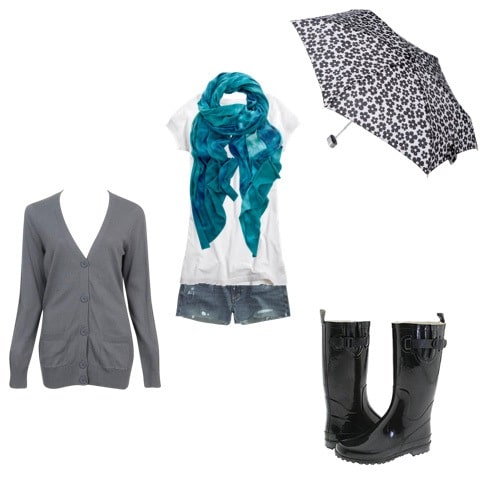 Product Information: Cardigan – Forever 21, Tie-Dye Scarf – Aeropostale, Tee Shirt – American Eagle, Denim Cutoffs – Pacsun.com, Umbrella – Target, Rain Boots – Gabrielle Rocha, available at Zappos.com

Outfit #2
The inspiration for this look came about when I found the adorable umbrella with an NYC subway sign print and had to find a way to include it in an outfit! A plain black dress becomes more interesting layered under a mustard jacket (worn unzipped, of course), and pair of ultra trendy green Doc Martens.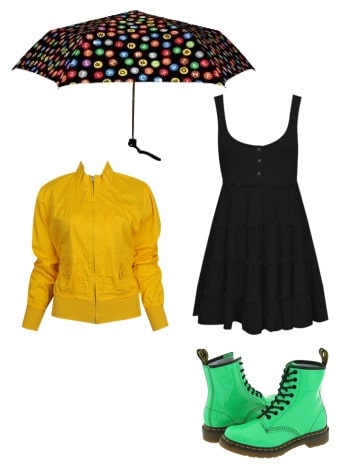 Product Information: NYC Subway Sign Umbrella – Target, Dress and Jacket – Forever 21, Green Patent Doc Martens – Zappos.com

Outfit #3
This outfit would be perfect for a day when it's REALLY raining. The jacket is a "Pac-a-Poncho" from TopShop, so it's super waterproof. But unlike the typical ugly yellow poncho, this one actually has style. When paired with neutral grey rain boots and a bubble umbrella with a hint of pink, the overall look is functional and cute at the same time.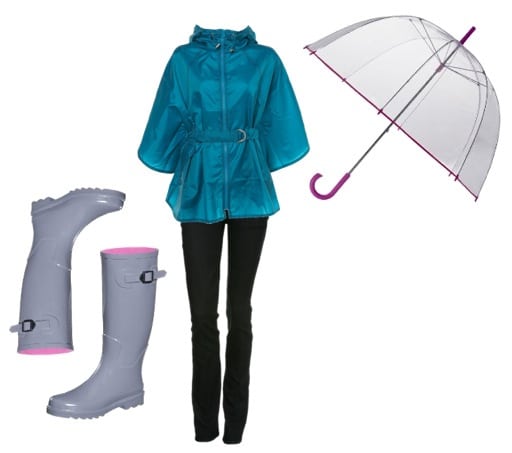 Product Information: Rain Boots – Target, Pac-a-Poncho – TopShop, Skinny Jeans – Charlotte Russe, Clear Bubble Umbrella – Target

Outfit #4
For those of you who love a classic trench coat, you can keep your rainy day outfit simple by pairing your trench with jeans, and bright rain boots of your choice. Honestly, that's all you need. The heart shaped umbrella, of course, is a cute extra.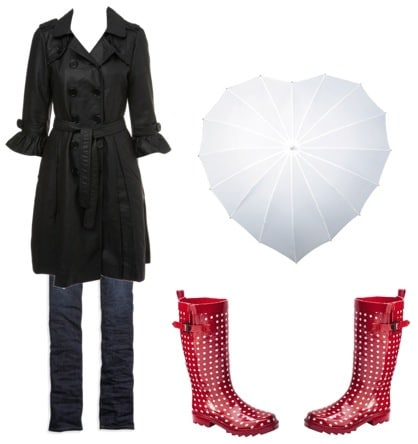 Product Information: Trench Coat – Miss Selfridge, Skinny Jeans – American Eagle, Heart Shaped Umbrella – Umbrellaheaven.com, Polka Dot Rain Boots – Target

Outfit #5
If you're not the type to rock a typical rain boot, you can always wear regular boots with a bit of a heel. Layering a pretty, summery dress under a long-sleeved cardigan and 3/4 sleeve jacket will add dimension to your outfit as well as keep you dry. Add black tights and a simple umbrella and you're set!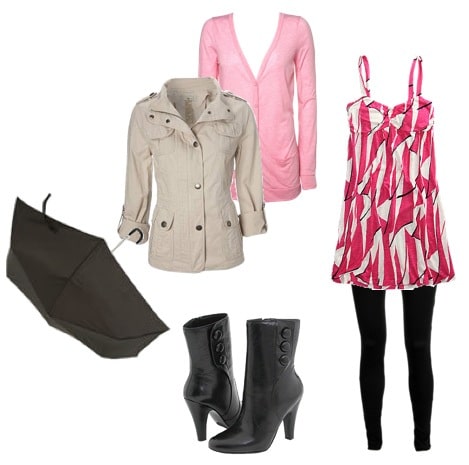 Product Information: Umbrella – TopShop, Jacket – Newlook.co.uk, Cardigan – TopShop, Boots – Nine West, available at Zappos.com, Dress – Pacsun.com, Footless Tights – TopShop

Outfit #6
Here's a very simple outfit that you could throw on in 5 seconds and wear on a rainy summer day. A striped dress is a step above basic layered under a classic denim jacket. I added some cute pink rain boots, because, well, why not? If pink's not your thing, you could always wear some basic black motorcycle boots instead. Oh, and how great is the cloud umbrella? Completely genius if you ask me.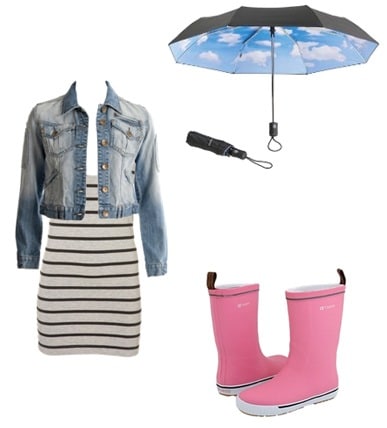 Product Information: Denim Jacket – TopShop, Striped Tunic – TopShop, Umbrella – Target, Rain Boots – Tretorn Skerry, available at Zappos.com
What do you wear on rainy days?
Those are just some of my ideas for rainy day outfit possibilities. I'm sure you all have even better ideas for what to wear when the weather is bad!
So what do you usually wear on rainy days? Do you normally dress in dark colors or do you make an effort to brighten up the day with your outfit? Do you wear jeans or stick to skirts and shorts during the summer?