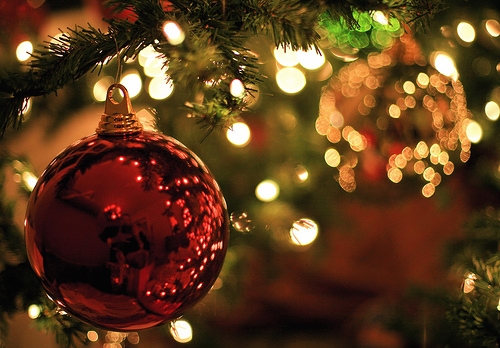 I don't know about you, but I've been blasting Christmas music since the moment I finished Thanksgiving dinner. Yes, I am 100% in the holiday spirit. And when my friend told me that she was hosting a holiday party, my immediate thought was "YES!", then "WAIT! What do I wear?!"
You can't just wear any old thing to a holiday party – there are considerations! These include, "how festive/dressy/sparkly do I want my outfit to be?" This may seem like a selfish post, as I'm in need of some inspiration for my upcoming party, but I figure some of you out there may need some as well. Here are three holiday outfit ideas for you (and me)!
Casual Silver & Gold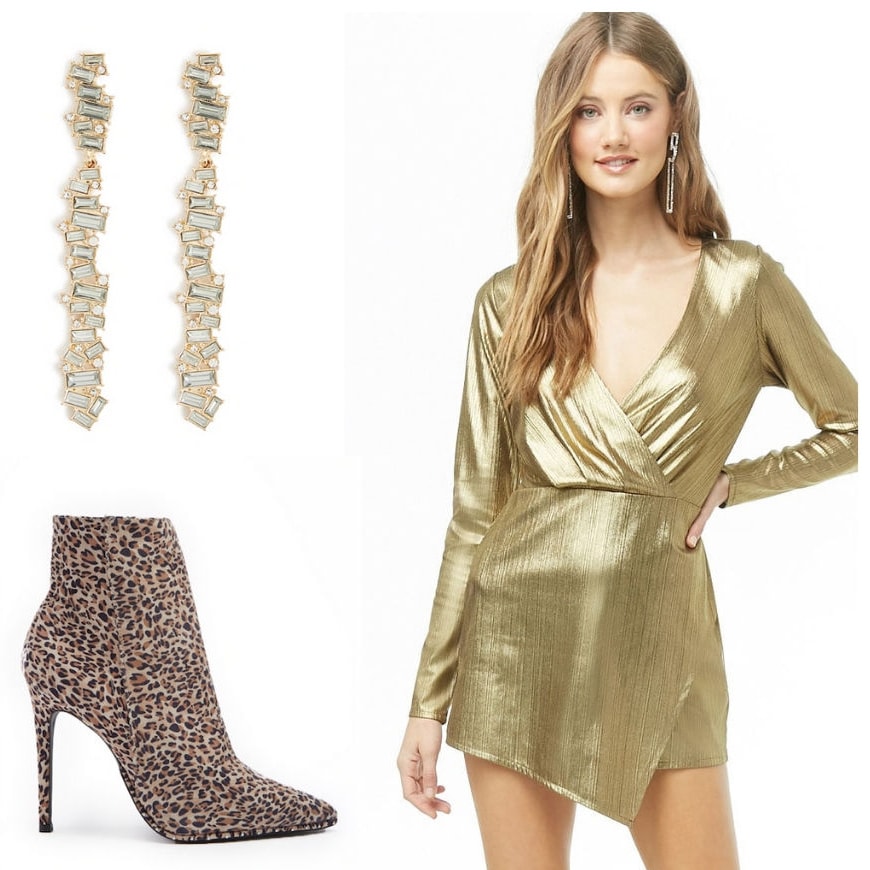 Necklace: Topshop, Lipstick: MAC, Cardigan: H&M, Clutch: Forever 21, Top: Dorothy Perkins, Shoes: Modcloth, Jeans: H&M
Our first outfit is inspired by two quintessential holiday shades – silver and gold. (Does anyone else immediately think of this song when they hear the phrase "silver and gold"?)
I really like this outfit because is it incredibly versatile. The foundations of the outfit are neutral (black pants, white lace shirt) so you can either dress it way up or way down. This time, I decided to go all out and dress it up!
A silver sparkly cardigan and sparkly gold heels may seem like overkill, but fear not – it totally works. Because you're keeping the sparkly pieces far from each other, you can easily get away with multiple glitter pieces. The white, gold and black clutch really pulls the ensemble together because it pulls three colors from the look. To glam up the outfit just a little bit more, I added a fun silver and gold necklace and, of course, a bold red lip.
Dressy Red & Black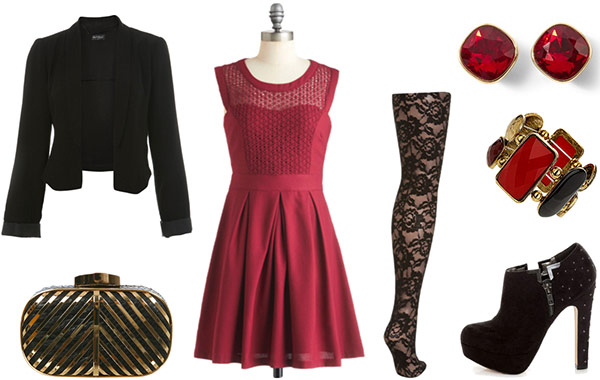 Blazer: Miss Selfridge, Clutch: Miss Selfridge, Dress: Modcloth, Tights: Miss Selfridge, Earrings: White House Black Market, Bracelet: Dorothy Perkins, Shoes: Lulu's
Since red is the color of Christmas and all things Holiday-themed, what could be more holiday-appropriate than a fun, festive, red dress? Pair the dress with a structured black blazer and pretty lace tights for both warmth and style. For your feet, add some black ankle booties. To give the look some sparkle, add pretty red earrings and a sparkling cuff bracelet. Finish off the outfit with a cute clutch and you're ready to party!
Fancy & Festive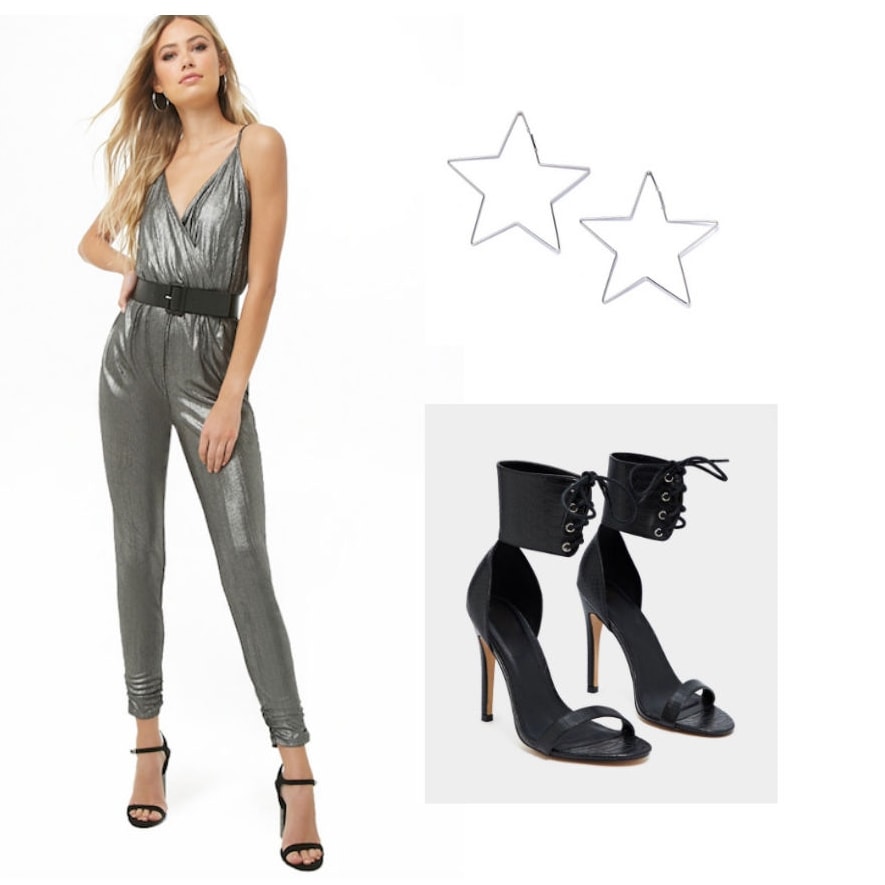 Sweater: Tilly's, Nail Polish: Essie, Necklace: Nordstrom, Skirt: Romwe, Clutch: Boohoo, Shoes: Dorothy Perkins
Last, but certainly not least, I've created a very festive outfit that incorporates all of the signature holiday season colors — silver, gold, green and red. (You could also swap these colors around depending on which holiday you're celebrating – blue, silver and white would look fab for a Hanukkah party!)
To create this look, I paired a cropped sweater with a green high-waisted skirt. (Add tights if it's cold where you are!) Next, add a gorgeous statement necklace as your primary accessory, and paint your nails a deep red hue. Finally, a velvet clutch adds the perfect amount of texture, while the caged toe flats lend a touch of playfulness.
What do you think?
Are you guys as excited for the Holiday season as I am!? Are you going to any Holiday parties this year? Are you doing to be hosting one? Which of these Holiday outfits is your favorite? Is there anything else you'd like to see me do in upcoming columns? Let me know in the comments below! 🙂