This post may contain affiliate links, which means we may receive a commission if you purchase through our links. Please
read our full disclosure here
.
What Should I Wear…?! is a biweekly column that is here to answer that very question. If you have an event coming up that has you stumped fashion-wise, this is guaranteed to be your best source for outfit inspiration when you need it the most!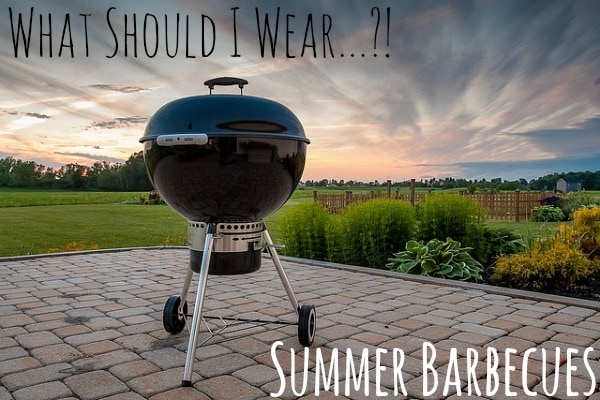 Independence Day may have passed, but summer is still going strong. For my very first "What Should I Wear…?!" I wanted to focus on an event that's synonymous with the season: barbecues.
These warm weather get-togethers are guaranteed to be part of your upcoming social plans, and personally, I love a good barbecue. Well, I love any party really, but who doesn't enjoy spending time with family and friends? Especially when the focus is on delicious food!
Barbecues are a summer tradition that's as American as apple pie, which would explain their association with our biggest national holiday. I also associate barbecues with old 1950s advertisements for grills or grocery goods; they just have a vibe of good ol' fashioned fun and, of course, the fashion looks impeccable.
In fact, I was so inspired by this era that each of the looks below has a '50s-inspired feel! Scroll down to see four chic outfits that are ideal for any summer barbecue:
Fancy Fryin'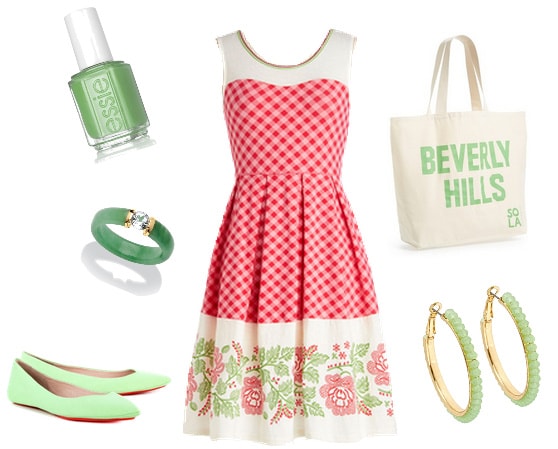 Product Information: Dress, Shoes, Tote, Earrings, Ring, Nail Polish
Confession time: this is my favorite of all the outfits, since I love this '50s-inspired dress! It is appropriate for a barbecue that's a little more formal, or just one where you really want to make a stylish impression. Besides, nothing says "barbecue" more than a red gingham print, right?
The '50s were all about looking perfectly prim and polished, so there was a lot of matchy matchy-ness going on. However, playing off the green coloring – as opposed to the red – looks fresh and helps keep the dress from looking costumey. For a just a bit of fun, this tote bag aids us all in our dreams that we live in the zip code 90210 and near the shopping of Rodeo Drive. (Unless you already do, then lucky you!)
Barbe-cute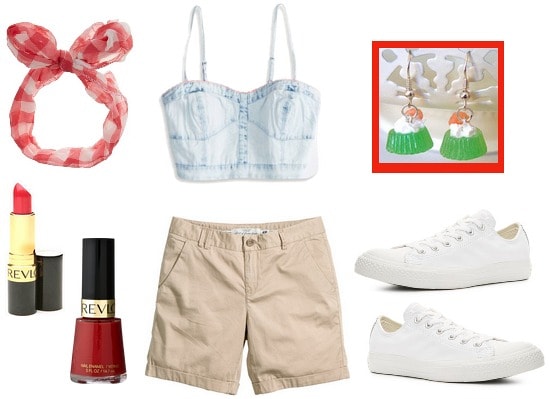 Product Information: Top, Shorts, Headband, Shoes, Earrings, Lipstick, Nail Polish
This outfit allows for more freedom of movement – which is perfect if there's a backyard game of volleyball or badminton on the itinerary – without sacrificing style. These shorts are chic alternative to your old Soffes, the headband keeps your hair out of your face so that your eyes can stay on the action, and the cute Converse allow you to run around with ease.
The longer shorts are balanced with a tighter chambray corset top that adds a sweet sexiness to the look. For a touch of quirk, accessorize with a nod to the dessert of all desserts at 1950s barbecues: little green gelatin mold earrings that come complete with the necessary Cool Whip on top.
Lastly, kick this outfit up a notch with matching "lips and tips" from the pioneer of that look: Revlon. It's a trend that is coming back with a vengeance, and there's no better time to rock this look than with an ensemble that pays homage to the decade of it's emergence. Plus, if you plan to be active at your summer BBQ, bracelets and rings aren't the best choice, but these bold cosmetics function as no-fuss accessories.
A Saucy Dish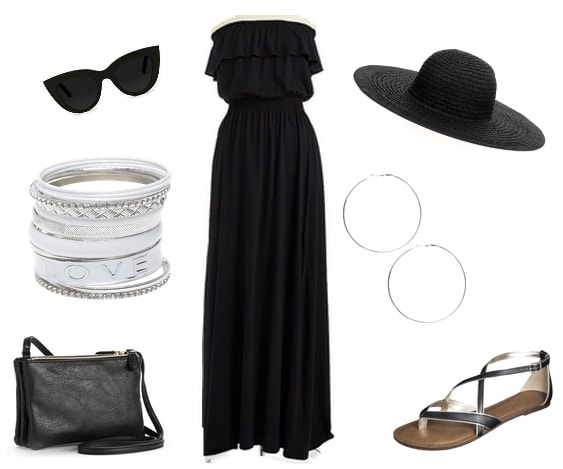 Product Information: Dress, Hat, Shoes, Bag, Sunglasses, Earrings, Bracelets
Instead of An American in Paris, this look is inspired by the idea of a Parisian attending an American barbecue, with some '50s elements thrown in. Use the same "lips and tips" idea from the previous outfit and let that be all the color you implore.
This all-black ensemble is sophisticated and practical because, even though I know you are a lady and do not abandon manners just because you are eating outside, if some slob sloshes barbecue sauce on you, it won't completely ruin your getup.
The ruffling on the dress, cat-eye sunglasses and sunhat exude '50s-esque casual elegance. Don't forgo the hat thinking it makes too much a statement; it makes the right statement because you stick out in the most flattering way! Besides, it also provides some necessary protection from the sun, and no one wants to be sunburned by the end of a barbecue. Continue to draw attention to your beautiful face with large hoop earrings.
This bag is also essential, as it drapes over the shoulder or across the body, which leaves your hands free for serving yourself buffet style or standing around socializing as your hold your beverage. Since your arms will be on display, wear bangles and enjoy their wind chime-like sound as you move about (unlike when you are in class and they just bang against the desk incessantly).
Fire Up the Grill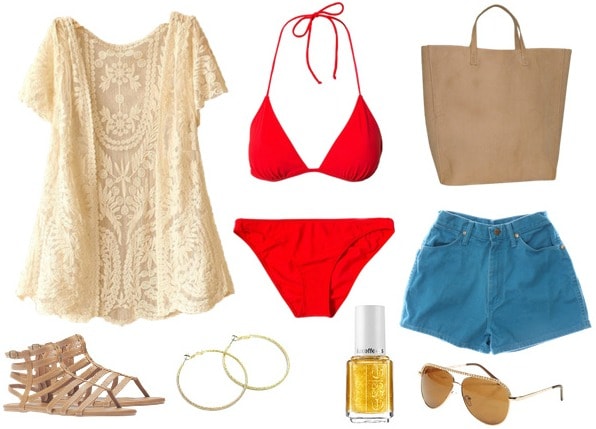 Product Information: Bikini, Cover-up, Shorts, Tote, Sandals, Earrings, Sunglasses, Nail Polish
The best barbecues are beach barbecues, and if you happen to have one attend, I have an outfit for you. Unless you live in southern California and this is your daily summer uniform, then you probably have it covered. If not, then I still have an outfit for you.
The red hue from the previous looks is carried into this one too, with an "itsy-bitsy, teeny-weeny" bikini, that will make you look hot – like, fired up on the grill hot!
When you're out of the water, slide into these vintage-look shorts and take another cue from the fabulous '50s with a gorgeous cover-up. Also, forget about the flip-flops and try out a pair of fashionable sandals instead. You need to take a lot with you when you head to the beach, and this bag is a practical yet stylish choice. It even matches the sandals!
Accessorize with gold hoops and aviators, which will make you look amazing in pictures. (Don't even tell me that you wouldn't take advantage of the beautiful scenery for some uploads to your Instagram account!) Continue the glam vibe with a glittery and chip-resistant polish that will look awesome even after you've been hitting the waves all afternoon.
Tell me what you think:
Are you attending any barbecues this summer? What did you think of these looks? Which one is your favorite? Are there any special events or occasions you would like to see covered in "What Should I Wear…?!"? Let me know in the comments!