This post may contain affiliate links, which means we may receive a commission if you purchase through our links. Please
read our full disclosure here
.
What Should I Wear…?! is a biweekly column that is here to answer that very question. If you have an event coming up that has you stumped fashion-wise, this is guaranteed to be your best source for outfit inspiration when you need it the most!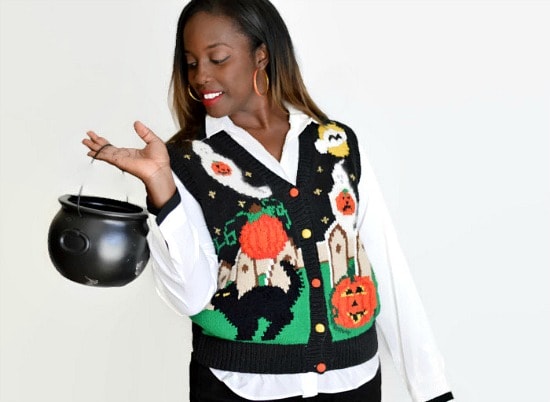 An "Ugly" Halloween Sweater from Etsy
I have a story scary enough to be told during a dark night by the campfire making s'mores, or even just during the 13 Nights of Halloween. It is the terrifying tale of the… picture me having a hard time getting the words out… ugly Halloween sweater! (Also known as the ugly Christmas sweater's uglier cousin.)
So horrible are these sweaters that they are not merely overlooked or just forgotten in favor of those with a stitched-on images of Rudolph (battery-operated light-up nose included, of course). Ugly Halloween sweaters – sometimes, as pictured above, even taking the form of '90s mom-style vests – are kept mostly hidden away from the public where they will not cause hysteria and mass insanity, though they vow to return again one day on Halloween!
MWAH, HA, HA!!!!!
Hopefully, no virgin will ever light the black flame candle on All Hallows' Eve and resurrect the pain of the ugly Halloween sweaters – a pain that promises to be worse than that your feet endure after a Saturday night out in your highest heels. However, the story (as most of these do) has a moral lesson about how to dress on Halloween when you aren't in full costume.
I enjoy dressing up for Halloween, and always have! If you are like me though, you love Halloween and want to be festive, but are not permitted to wear anything costume-y at your internship, work, or school.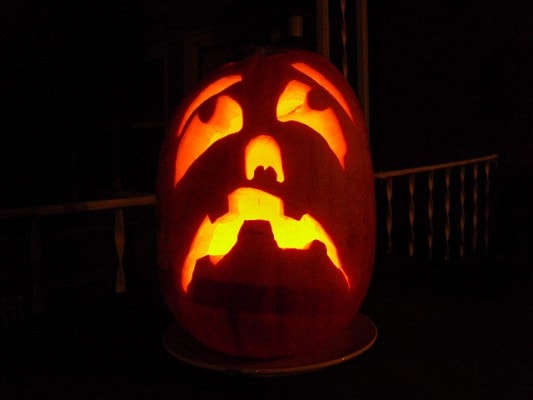 I know, I know; it is a travesty. No one wants to wait to dress up later that night. | Photo Credit
So, to keep the ugly Halloween sweaters from using this fashion weakness against us, I have four treats and a few style tricks to keep you looking totally ghoul cool:
Sexy and Spooky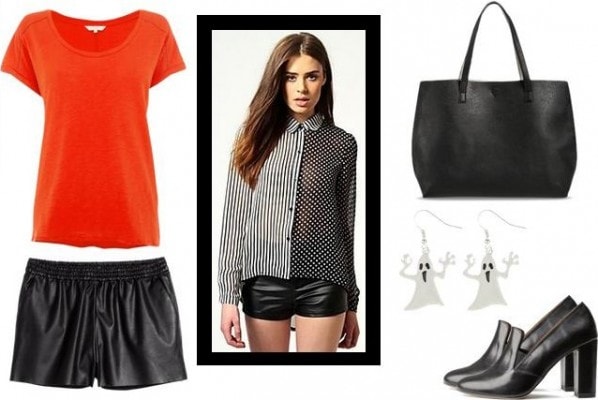 Product Information: Shirt, Blouse, Shorts, Bag, Shoes, Earrings
Keep that blouse clearly stolen from Beetlejuice's closet unbuttoned to show off the orange top. Create more layers by adding a jacket in a similar material to the shorts, and don't forget your legs. Show 'em off with solid black tights or get creative and choose some fun black patterned ones.
For those that can't be tricked, I did include that same bag in my last post. What can I say? I actually do own it and love it! Apparently, it is reversible, but I only use the black side. Plus, this tote so roomy. On Halloween, I can use it to collect all my candy… ha!
Witch Outfit to Wear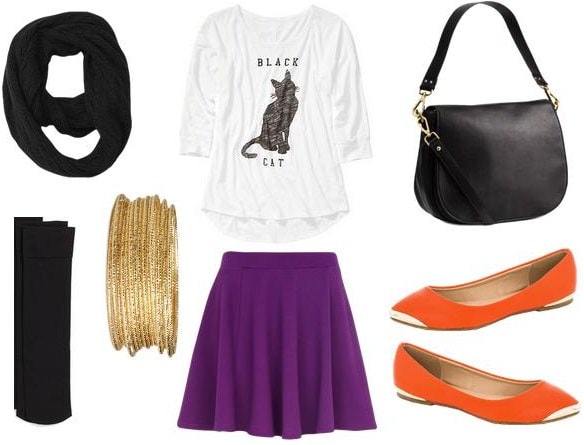 Product Information: Shirt, Skirt, Scarf, Knee Highs, Shoes, Bracelets, Bag
If you plan on going all sexy at night with your costume, balance the forces of the universe with a sweet outfit during the day. This look is for all you good little witches out there who want to get in the Halloween spirit while sitting in a lecture hall.
Just like the flip-flops, Old Navy has a tradition of holiday-themed shirts and that is where I found this one. I love the 3/4 sleeves, and the design is so cute. There were a few more options, but I think you all might be on to my love of kitties… shhh.
Purple is unofficially a Halloween color, so I included this purple skirt, which creates a cool contrast against the bright orange flats. Lastly, stay warm with black knee high socks and a matching scarf. you could also add a jacket if needed – a denim one would be perfect here and looks so Autumn-y.
The Daylight Saga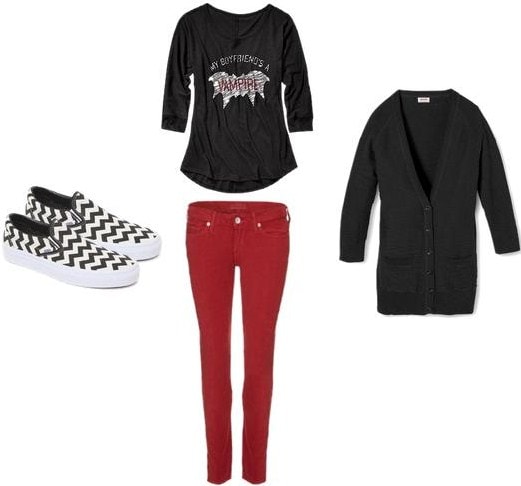 Product Information: Top, Bottoms, Cardigan, Shoes
The "Daylight Saga" refers to the everyday struggles of what to wear. I wanted to include another Old Navy Halloween tee, and this one is perfect for readers that love to binge watch all those vampire shows, or maybe are still in love with Edward Cullen. Its okay if you are, no judgement here.
However, to put an end to the saga of what to wear on Halloween, I'm keeping it simple with a no-fail outfit. Wear that graphic tee with "blood" red jeans and a cozy cardi, then grab a pair of cool chevron print slip-ons.
Trick or Cheat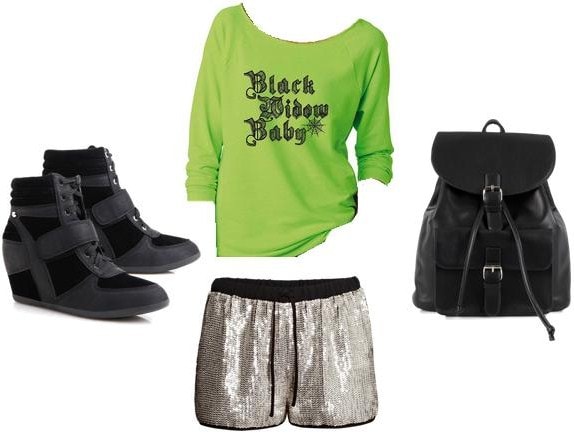 Product Information: Sweatshirt, Shorts, Backpack, Shoes
This final getup is bold yet comfy and cute yet sporty. Halloween is a great time to experiment and step up your style, and this look is no exception.
How amazing is this sweatshirt? It's from Etsy and turns a good workout jam into the next Halloween classic. Next on the track? Monster Mash!
Seriously though, I love this outfit. It's really unique and would make anyone look like a celeb headed out to the gym (unless you are Taylor Swift, then you really need to step your post and pre-gym game up).
Do I work out, you ask? Um, define "working out"? I mean, I do yoga and Pilates, but as for cardio? Shopping is (and always will be) my cardio. Thank goodness holiday shopping coming up because I'll really need to work off all that Halloween candy! By the way, if you don't like Snickers bars, send them on over to me.
Tell me what you think:
Are you wearing a costume all day on Halloween? If you're not or can't, what are you going to wear? Did you find this post helpful? What did you think of the looks? Let me know in the comments if there areany special events or occasions you would like to see covered in "What Should I Wear…?!".