This post may contain affiliate links, which means we may receive a commission if you purchase through our links. Please
read our full disclosure here
.
What Should I Wear…?! is a biweekly column that is here to answer that very question. If you have an event coming up that has you stumped fashion-wise, this is guaranteed to be your best source for outfit inspiration when you need it the most!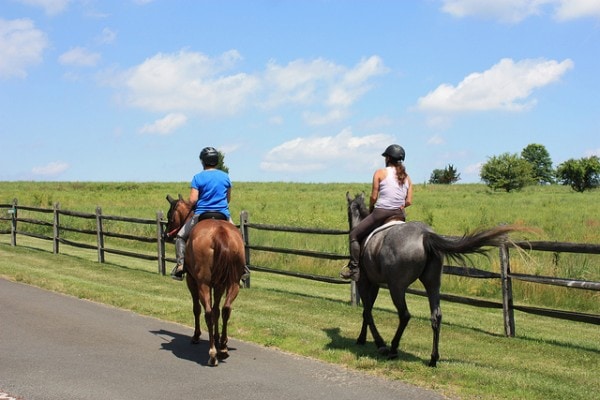 Recently, I was shopping at one of my favorite boutiques when two younger girl came in, desperately searching for outfits to wear to go horseback riding. I overheard their frazzled conversation between racks of clothes – they were hard to ignore, those prepubescent voices that usually reserve such high pitches for Justin Bieber (or have they moved on to that Austin Mahone guy, or is he over now, too…?). No matter, because I gathered that these girls had already been to every store, but couldn't find the right outfits.
Being a good Samaritan, I approached them to offer guidance (yes, I'm "that" person). Their time was running out, just like Jasmine in Aladdin when she is trapped inside that enormous hourglass, and they had to find something to wear ASAP. I suggested they wear jeans and plaid shirts, and that everyone in their group should wear a different colored top to create a "rainbow effect" for pictures.
The two of them looked at me like I was their ultimate savior, then thanked me, started texting their other friends immediately, and left to get some Starbucks.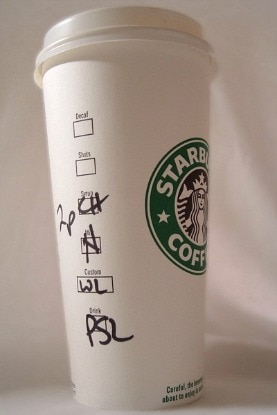 Who wants to place bets that they probably got a PSL? Anybody…? | Photo Credit
Their lack of knowledge over what to wear is not due to their age; many of us would probably have no idea what to wear either, unless we had prior knowledge or were a professional equestrian! In fact, you may find yourself in a similar situation as my new little friends, because autumn is a beautiful time to go horseback riding. I truly suggest the experience for those that have never gone.
Plus, now I have you covered, and you'll never even have to think "What Should I Wear… ?!" Let's trot on to the outfits:
Note: The following outfits are meant to be worn when horseback riding at facilities that specialize in working with individuals that aren't professional riders. This article does not feature proper or regular attire for the sport, nor is it claiming to.
Eques-try-ienne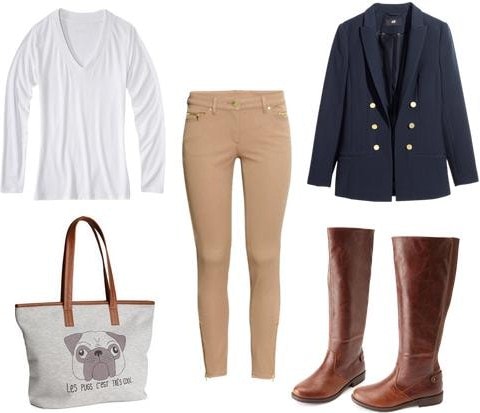 Product Information: Blazer, Top, Bottoms, Bag, Boots
For those of you that have unfulfilled childhood dreams you believe were stolen by Georgina Bloomberg, this outfit is directly inspired by equestrienne wear. The best part is that after you get all of that "Daddy never bought me a pony" out of your system, all of these pieces are still wearable and totally on point.
As for the bag, it was inspired by one of my favorite book series when I was the age of the girls mentioned in the beginning of this post: The Clique. One of the main characters, Massie Block, might have totally brought this bag to ride her own horse Brownie one day… but would anybody be able to share why?! Also, the bag shows that you aren't too serious about the outfit… or delusional about your horseback riding abilities.
Wild and Western Wow-Girl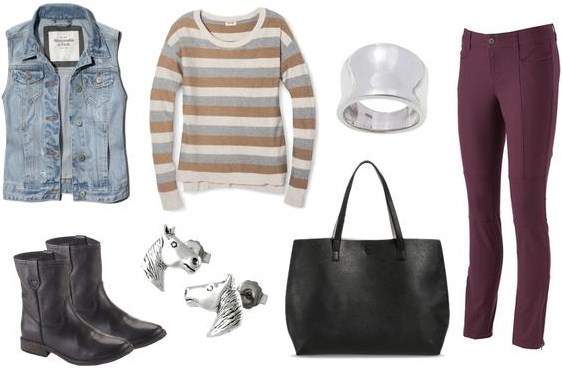 Product Information: Sweater, Vest, Pants, Earrings, Ring, Bag, Boots
This next outfit isn't a full-on country cowgirl look, but instead just borrows that general vibe. Whoever wears this ensemble is definitely a "wow-girl"!
Western-style boots are always in style for certain girls, but for Yankees like myself, they add a unique flair to any look. I chose a basic black pair for this outfit, and find that the "plain" style makes them very versatile. And those horse earrings! Very appropriate for the occasion, right?
I wanted to incorporate muted tones with the sweater and purple pants because it's fall, y'all! In addition, the denim vest and faux leather tote lend a rugged, utilitarian vibe.
Horseback Ridin' in Style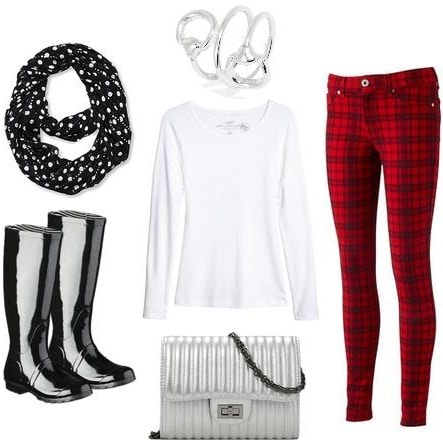 Product Information: Top, Bottoms, Scarf, Ring, Bag, Boots
This final look is for the bold babe that always brings her fashion "A" game. For this situation though, it can be hard to strut your stuff when you are not exactly on a catwalk and have to avoid mud and… other unpleasantness. That's where some trusty wellies come in. We would all love a pair of Hunter boots, but if those are just out of your price zone, Target has you covered with these lower-priced dupes.
Now, I know I recommended a plaid shirt to my middle school pals, but I would advise that you avoid that look, only because everyone will be rocking one. To get that plaid fix without compromising your uniqueness, go for plaid pants. Now, those have some shock value left in 'em.
Also, throw on a polka dot scarf. Honestly, mixing prints has been in so long, it is practically normcore. For the finishing touch, accessorize with an "Equestrian" ring from BaubleBar.
Accessories Break the Outfit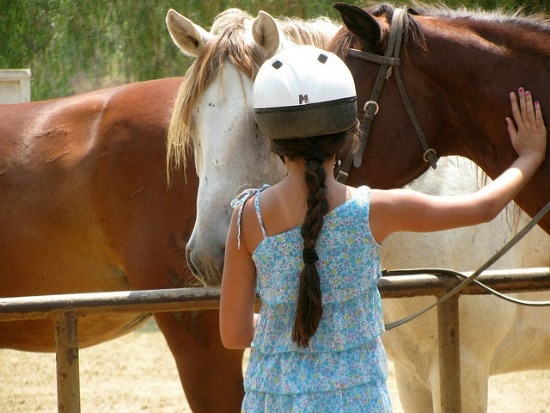 This girl knows what's up. Braids are your best bet when rocking a horseback riding helmet. | Photo Credit
Just like with fashion, when it comes to safety, we here at CF don't horse around! When you go horseback riding, you will typically have to don some other "accessories," like a helmet, but it is all usually black and will work nicely with your outfit. I can't help you with that helmet hair though – sorry!
Remember: have fun, don't get scared at the last-minute (I've heard it happens), and behave yourself. By that I mean, listen to the instructions – ALL of them – NEVER take your helmet off because you're actually that worried about your hair, and stay with the group. Your life is not meant to play out like Black Beauty, I can almost guarantee it – that was fiction. Real life is non-fiction, and I'm sorry about that, too.
Tell me what you think:
Do any of you like to go horseback riding for fun? If so, what do you wear? Did you find this post helpful? What did you think of the looks? Let me know in the comments if there areany special events or occasions you would like to see covered in "What Should I Wear…?!".