This post may contain affiliate links, which means we may receive a commission if you purchase through our links. Please
read our full disclosure here
.
What Should I Wear…?! is a biweekly column that is here to answer that very question. If you have an event coming up that has you stumped fashion-wise, this is guaranteed to be your best source for outfit inspiration when you need it the most!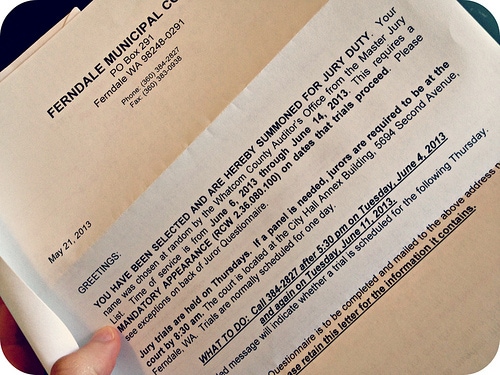 Well, it finally happened: I was officially summoned for jury duty. My first thought, considering I live in Chicago (you know, from the movie musical, Crook Cook County), was that I am surprised it hadn't actually happened already. My second thought was: What Should I Wear… ?!
I figured out my ensemble for the day I fulfilled my duty as a citizen of this nation, and I also figured out some dos and don'ts when it comes to dressing for jury duty. Some, like no shorts, flip-flops, or strapless tops, should be obvious, but I'll outline a few more guidelines below. Also, be sure to check out your county's official website for specific dress code rules.
Anyone 18 and over can be summoned, and it comes without warning! Below are three chic and practical looks to wear while serving jury duty. Justice may be blind, but fashion is not. I present my evidence:
Exhibit "A"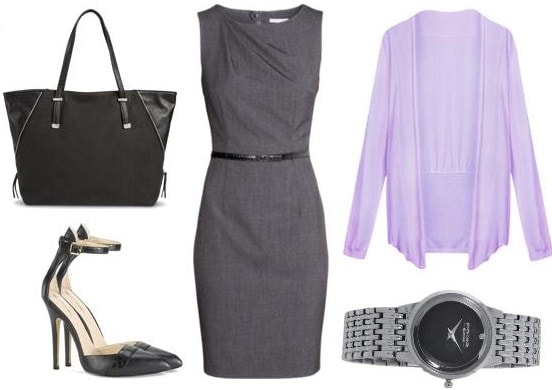 Product Information: Dress, Cardigan, Bag, Shoes, Watch
This first outfit is very similar to what I wore to jury duty. You can never go wrong with a sheath dress, especially a belted one that looks both polished and professional. Sleeveless dresses may not fly in all courtrooms, so carry a cardigan with you just in case. It will also keep you warm if the room is chilly.
When it comes to color, I would recommend keeping most of your outfit neutral, but you can add a pop of color, like I did with the cardigan. Just stick with the lighter and cooler colors, nothing too bright or flashy. Sorry Elle Woods enthusiasts, but hot pink is not actually a good choice for the courtroom.
Opt for a roomy bag, like this black tote, because you will need to carry a lot with you for such a long day. Personally, I brought four magazines, and had finished reading them before the end of the day! On a similar note, stash some sort of snack in your bag, because you will get hungry. (Did I mention you have to be there all day?!)
Unfortunately, jury duty is not a time for over-accessorizing, but a watch is acceptable. It looks respectable and will help you keep track of time, since sometimes you aren't allowed to bring your phone.
Exhibit "B"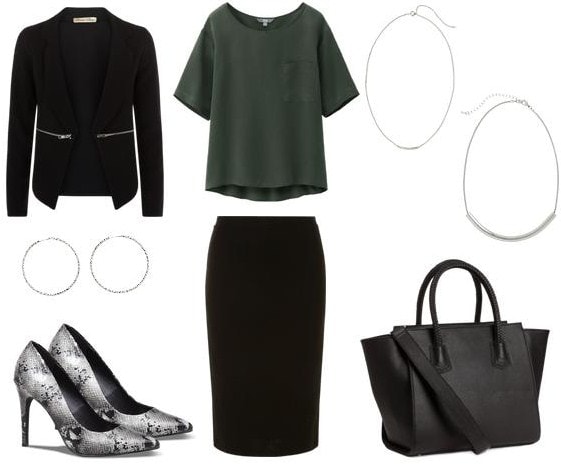 Product Information: Blazer, Blouse, Skirt, Bag, Shoes, Earrings, Necklaces (1, 2)
This look is for the girl who is summoned for jury duty, but is still a fierce dresser. I know toning it down seems sacrilegious and unnatural to you, but the same rules will apply. Again, it's all about sticking with neutrals. In this case, a classic pencil skirt, a boxy blouse, and a trapeze tote.
Infuse some personal style with funky silver jewelry and snake print pumps. Top it all off with a polished blazer; this one has a little edge, thanks to the sharp zipper detailing.
ALL RISE… because someone fabulous is coming through!
Exhibit "C"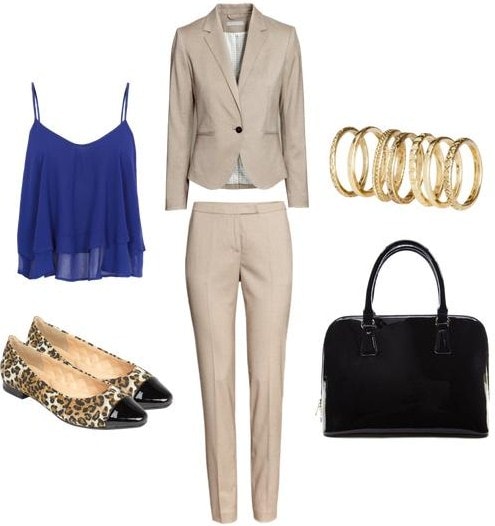 Product Information: Blazer, Top, Bottoms, Bag, Shoes, Rings
For my pants girls – you know I always look out for you – I found this sweet little suit from H&M. This chic jacket and pants combo proves that you don't have to wear a navy or black suit to look professional; there are other options out there!
I added blue and black as a play on the (sadly) very true stereotype of what everyone else will be wearing, but I made it more fun. The flowy blouse shows a little skin – hey, maybe you are hoping to meet a good looking lawyer, we all have goals – but will still look polished once you add on the blazer.
The bag and shoes are functional (yep, I also provided a flats option for my "no heels" girls), but the patent leather style looks ultra-chic. You know those leopard print shoes are bound to be the most daring there.
Nobody is trying get themselves thrown in couture county corrections by the fashion police (aw, that just reminded me of Joan Rivers and how I'll miss her). We all know the smartest girls learn the rules and work around them!
Tell me what you think:
Have you ever been summoned for jury duty? If so, what did you wear? Did you find this post helpful? Let me know in the comments if there are any special events or occasions you would like to see covered in "What Should I Wear…?!".