This post may contain affiliate links, which means we may receive a commission if you purchase through our links. Please
read our full disclosure here
.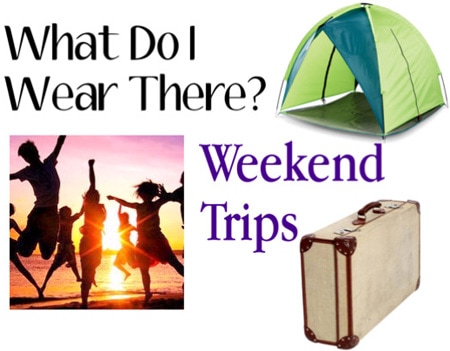 For many of us, summer is (unfortunately) three months filled with internships and jobs. But, if you're lucky, some of that time will also be spent relaxing on vacation! Of course, as a broke college student, shelling out hundreds of dollars for a week away is not always a possibility. That's why one of my favorite things to do in summer is take mini, long-weekend vacations to destinations a few hours away.
Whether you choose to indulge your love of the great outdoors by going camping or renting a house at the beach, or if you simply decide to visit some of your favorite college friends a few states away, a weekend trip is a great way to relax without having to miss out on your weekday obligations.
However, finding the middle ground between packing too much and too little for just a few days is tough! That's why I created this simple guide that shows a few key pieces for each of the activities above that can all be mixed and matched. I also added in some general beauty products and accessories that are key for a weekend away!
Trip One: Camping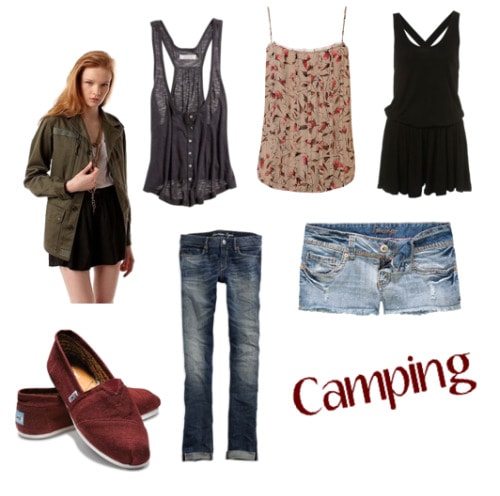 Product Information: Jacket: Urbanoutfitters.com, Shoes: Toms.com, Gray Tank: Ae.com, Flower Tank: Forever21.com, Romper: Topshop.com, Jeans: Ae.com, Shorts: Tillys.com
Last week, a reader requested a "What Do I Wear There?" camping post, so I thought I'd feature a camping look! Rather than just showing a single outfit, however, I picked out some pieces that you can mix or match for the two or three days you will be out.
For starters, denim is a must for camping! Shorts are great for hotter days, especially if you're doing something like hiking or hanging out by a lake, while jeans are good to throw on during chillier nights.
To match with your denim, I picked some easy, light-weight tank tops in breathable fabrics. The button-down tank is adorable and fits with summer's "sheer" trend, while the printed tank top has a great outdoorsy feel.
Another key piece to have while camping is a versatile romper, which is cool, comfy and eliminates the need to pack two pieces for one day. Wear it either on the trip up or back, as it will be a hassle to get on and off if you are using public bathrooms in the woods!
A surplus-style coat is perfect to fend off the cold when the campfire goes out, so be sure to pack one if you live in an area that gets chillier at night. Finally, go for a pair of slip-on shoes that are durable but easy to get on and off!
Trip Two: Beach
Product Information: Flower Tunic: H&M.com, Dress: Janenorman.co.uk, Wrap: Portsman.com.au, Sandals: Monsoon.co.uk, Shorts: Ae.com, Striped Tunic: Modcloth.com
As a born and bred Jersey girl, summers for me are not complete without trips to the beach! And there's nothing more fun than making a weekend out of the trip with some friends. Beach uniforms, of course, include bathing suits, but I wanted to focus on what you would wear during the time NOT spent lying out in the sand.
I love the look of flowing, breezy clothes at the seashore, so I went for tunics and wraps that are simple and pick up on the carefree vibe of summer. Both the floral and the striped tunics above are great as cover-ups, as well as being cute pieces to wear with shorts off the beach.
A flattering sundress is an absolute must for the beach and I love the intricate detailing on this delicate white shift. The drop waist will be flattering on many body shapes and the lack of color allows you to jazz it up with plenty of fun accessories, like these versatile flat sandals.
Finally, as with the camping look above, be sure to pack a cover-up to fight the cold. This wrap looks warm, is gorgeously structured and will be the perfect way to cover up sitting on the beach at night!
Trip Three: Visiting College Friends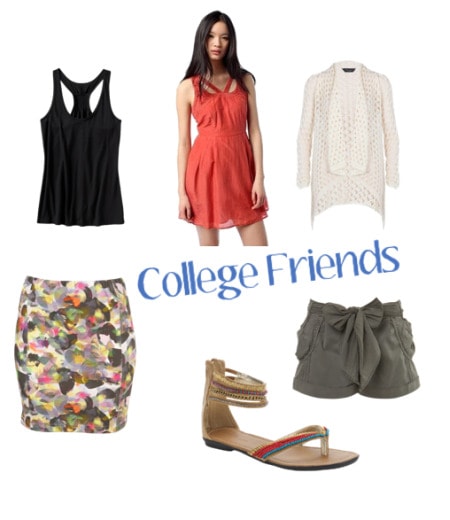 Product Information: Tank: Oldnavy.com, Dress: Urbanoutfitters.com, Cardigan: Dorothyperkins.com, Skirt: Topshop.com, Sandals: Janenorman.co.uk, Shorts: Missselfridge.com
There's a lot about college that few students miss over the summer: strict professors, early classes, midterms finals… But at the same time, there is a lot to be missed; particularly your far-away friends. That's why my third and final pick for a fun, short summer trip is to travel to see your school friends in their home environments!
It can be really tough to dress to visit a friend at home, as you do not know what the norm is for their area–whether people typically dress fancier or more casual, how the weather is from morning to night, etc. So I like the looks above for their versatility, as with only one black tank top, you can go from day (with a pair of cargo shorts) to night (with a floral bandage skirt).
This is another trip that a sundress is a smart pick for, as you can wear it casually during the day or for a nicer dinner with your friend's family at night. Once again, be sure to pack a cover up for night and a pair of sandals that are easy to walk in but also work with the outfit.
Necessary Accessories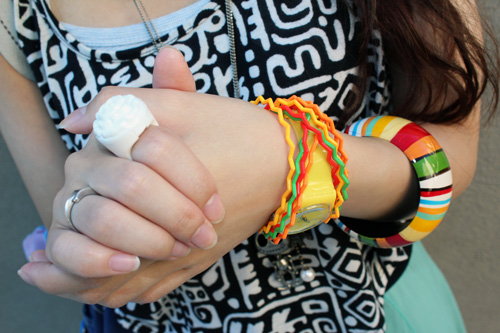 Product Information: Hair pins: Tillys.com, Sunglasses: Asos.com, Hat: Styleforless.com, Sunscreen: Amazon.com, Dry Shampoo: Sephora.com, Chapstick: Drugstore.com, Bug Spray: Amazon.com
Hair pins: Traveling and being outdoors can easily wreak havoc on your hair, so bringing along hair pins is a great way to ensure that you'll be able to keep your locks under control. I especially like these because of the adorable bows on them!
Sunglasses: My sunglasses pretty much never come off during the summer, and this classic pair will give each of these outfits a great vintage feel.
Hat: A wide-brimmed, floppy hat is another piece that will add a classic touch to your look, as well as protect your hair and face from harsh sunlight.
Sunscreen: Of course, a hat is not enough to shield you from the sun! Sunscreen is important to wear every day but is mandatory if you'll be outside during the summer.
Dry Shampoo: If you are going to be in an environment where you may have limited access to showers (like a campsite), pack along some dry shampoo to keep your hair looking and smelling fresh.
Chapstick with SPF: Aside from taking care of your skin and hair, be sure to take care of your pout–it can get sunburnt, too!
Bug Spray: The great outdoors in the summer often means bugs, so pack along some bug spray to keep those pests away.
What Do You Think?
Do you have any trips planned for the summer? What pieces do you pack for weekend trips? Do you have any favorite summer looks yet? Let us know in the comments!
And as always, if you have any "What Do I Wear There?" questions, leave them below. Yours may be featured in the next article!