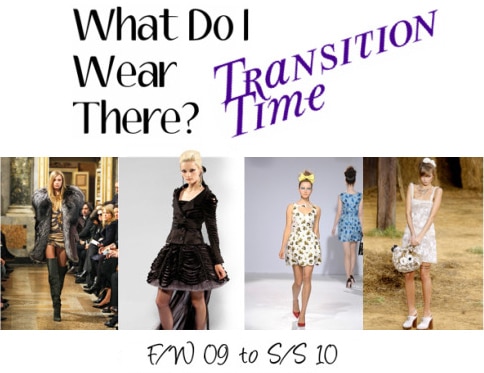 The month of February can signify many different things to different people. For some, it's a month of flowers, candy and romance. It's also a month marked by Fashion Weeks. To others, it may just be another month in the second semester filled with papers and parties.
One thing I have noticed about February is that is seems to mark the beginning of an awkward fashion period that I like to call "transition time." For most of us, the weather is still wintery and cold, but fashion magazines and retail stores are starting to push towards the floaty florals and sleek shorts we saw in those S/S '10 shows.
So what's a girl to wear?
Suddenly, my favorite winter clothes are started to look outdated and all I want to do is slip on some of those drool-worthy Chanel clogs and have a picnic. But from the looks of the snowflakes outside my window, I still have a couple of months to go before I can indulge my spring wardrobe fantasies.
Therefore, I thought I would create this guide to help us all ease out of winter styles as we slowly start inching towards spring. Here's how to tackle this awkward "transition time" by incorporating your favorites from last season with new pieces perfect for the warmer seasons ahead.
Look One: All Work, Some Play(suit)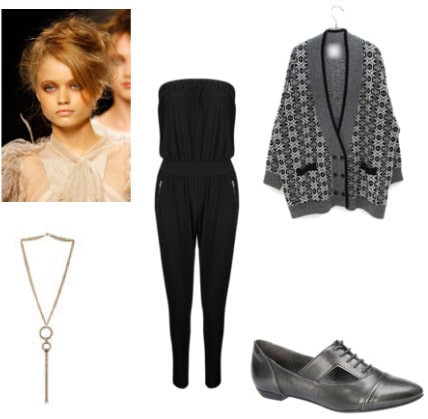 Product Information: Jumpsuit: Forever21.com, Necklace: Topshop.com, Sweater: Modekungen.se, Shoes: Aldoshoes.com
(Note: The above jumpsuit is no longer shown on Forever 21's website, but I linked to the other options they now have in stock. Sorry for any inconvenience!)
Buy: Black, long-pants jumpsuit
Keep: Oversized sweater, oxfords
It's every stylish college girl's nightmare–the dreaded alarm-doesn't-go-off, waking-up five-minutes-before-class morning. While some may just give up, roll out of bed and head to class in their PJ's, we know better than that.
That's why I'm loving the jumpsuit for spring.We saw a lot of the jumpsuit's little sister, the romper, last summer, but the jumpsuit is now making a name in its own right. Super fashionable stars like Sienna Miller have been seeing wearing them, and Net-A-Porter.com is stocked with jumpsuits from big names like Fendi.
A simple, long black jumpsuit like this is perfect to pull on when you need a go-to look in a hurry, and looks stunning while staying comfy under an oversized, printed sweater. Later this spring/early summer, it's perfect for a nighttime stroll along a beach boardwalk. As stylish as the draped look is for spring, tie it together for class with some smart oxfords and a geometric necklace.
No time to do your hair? Take inspiration from Fendi's S/S '10 show and tie it up in a sloppy but sexy top knot, and you're ready to run out the door infinitely more fashionable than five minutes ago!
Look Two: Bright at Night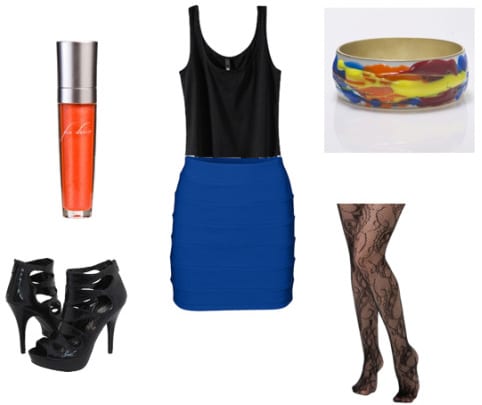 Product Information: Tank: Shop.hm.com, Skirt: Shop.hm.com, Shoes: Zappos.com, Tights: Modcloth.com, Bracelet: Moxsie.com, Lipgloss: Ulta.com
Buy: Bright accessories
Keep: Bandage skirts, patterned tights, strappy heels
The ever-flattering, warm bandage skirt you threw on over tights for your winter nights out is still hot for spring, especially if you have it in a great, attention-grabbing color like this bright blue (which is a must have color for S/S '10 anyway). Put this over a simple black tank for a sleek, fun night time look.
To bring it into spring, first dig out your strappy heels from last summer/fall to add on to the "summer" vibe of your look. To incorporate S/S '10's love of bold and beautiful colors even more, go for a statement making piece of jewelry like this swirly bangle. I especially love this bracelet, as it reminds me of Proenza Schouler's super inspiring, tie-dyed and neon-filled collection!
For a perfect final touch for you girls not afraid to take on a fashion challenge, go for a glossy orange lip. Seen on the Prada runway, editors, stylists, and stars alike have all been gushing over this interesting new look and it is a must-try to complete your Spring/Summer night out look.
Look Three: Weekend Warrior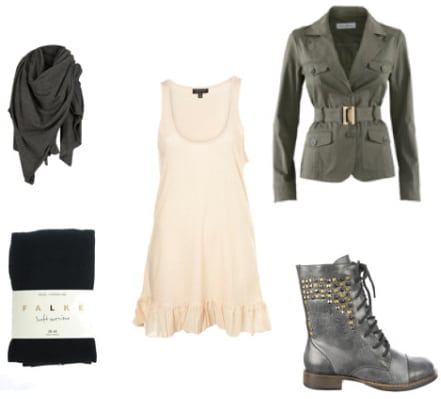 Product Information: Jacket: Doitinparis.com, Dress: Topshop, Scarf: Allsaints.com, Tights: Musthaves.dk, Boots: Missguided.co.uk
Buy: Army/safari-style coat
Keep: Nude colored clothes, draped scarf, lace up boots
Army surplus style looks were huge on the S/S '10 runways, from safari inspired themes to army looks that were much more back-to-basics than the marching band-esque military jackets we saw lots of this winter. The easiest way to incorporate this style into your wardrobe is to throw on a khaki or army green coat, as seen on the Charlotte Ronson and Rag & Bone models last fashion week.
I especially love this look because it not only provides you with the perfect jacket to wear in this transition weather, it also looks great with the items we've been wearing all winter! For this look, I envisioned what you'd want to wear on a regular weekend day, whether you're going out shopping, meeting up with some friends, or simply hanging out on campus.
I'm a huge fan of nude colors for the winter under cozy, oversized cardigans, but I found that this nude hued dress looks great under the belted, army-green jacket as well! Plain tights and an oversized scarf will keep you warm in the months preceding real spring weather, and the studded detailing we all loved this winter is the perfect addition to these boots to complete your casual but edgy weekend look. For more army jacket inspiration, check out this great collage from WhoWhatWear.
What Do You Think?
How do you usually dress during this "transition time?" Do you have any tips for moving from winter to spring styles? What spring trends are you dying to try? Let us know in the comments!
And don't forget to ask any of your "What Do I Wear There?" questions, as your question may be featured in the next article!