This post may contain affiliate links, which means we may receive a commission if you purchase through our links. Please
read our full disclosure here
.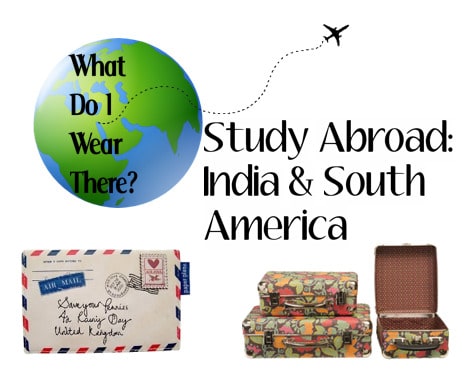 For my final study abroad post (aw!), I want to look at two recently suggested sites–India and South America. As always, the same guidelines apply:
All of the information here is taken from advice I have received–it is not a binding set of rules for how to dress in these locations! These are simply some helpful suggestions on what articles of clothing have proved most functional and worthwhile for those who have traveled abroad. However, for this article, it is important to note what is and is not appropriate to wear in these areas, as they tend to be more conservative than what most readers may be used to.
Because of the nature of these posts–which are trying to cater to such a large crowd of people going to all different places within each of these areas–I am forced to generalize. However, I do understand that fashion is different not just in the different countries but also in the different regions of each country. Therefore, please feel free to correct me or add more detail in the comments if you think your specific location within these countries follows different fashion "rules" or subscribes to a different way of dressing!
(In case you missed my previous posts, see What Do I Wear There? Study Abroad, Study Abroad Fashion FAQ, What Do I Wear There? Study Abroad in the UK and Ireland, Study Abroad Fashion in France, Germany, Italy, and Spain, Study Abroad Fashion in China, Israel, and Japan and Study Abroad Fashion in Scandinavia.)
Now let's head over to India and South America!
India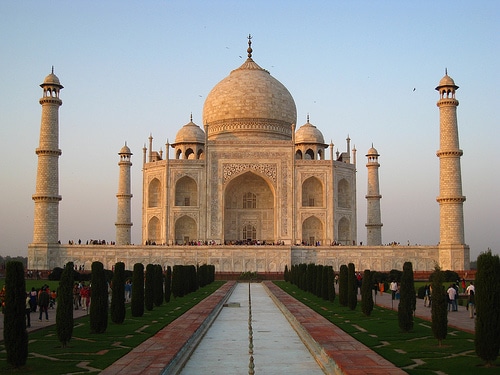 General Tips
As my source, Meghan, said, "you want to leave the 'daisy dukes' and tank tops at home." If you are studying abroad in India, heeding this advice might not be a bad idea, as you could offend the people there. However, it will get hot, so look for breathable fabrics (such as cotton) when picking out your clothes.
Daily Look
For a typical daily look, Meghan suggests a short-sleeved top (one that is not too low-cut and does not show your bra straps). As for bottoms, go for shorts no shorter than Bermuda short-length. Another great suggestion for a cooler, more "ethnic" look is to go for long, cotton skirts, which are "very comfortable for the climate." Open-toed shoes are best but be forewarned that "your feet will probably get dusty if you're walking around in a big city."
Accessories
Meghan suggests to not bring accessories to India but to "buy them there" instead! She suggests visiting some of the local markets for really chic, cheap jewelry.
She also cautions to bring a bag that zippers shut, as India does have some problems with pick-pocketing. Your best bet is a bag that you can keep close to your body and zip all the way shut. Big, slouchy bags are especially great, as they allow you to carry your camera, wallet, water bottle, and other traveling essentials but are easy to hug to your side!
South America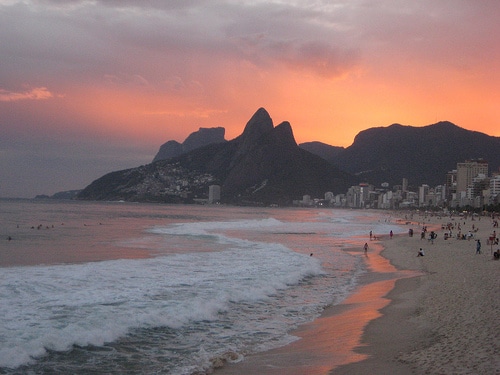 For this section, I received advice from Andrea, who stayed in Brazil this past summer, and Tamara, who is from Buenos Aires, the capital of Argentina. However, both girls gave some advice that is good for South America in general in terms of weather and overall trends!
Weather
Tamara explained that "most big cities in South America…are located in very VERY humid places," so you'll want to bring the appropriate clothes/hair products/skin care. Anti-frizz serum or any other types of hair smoothing creams are great products to take along.
"Mittens, hats and furry boots" are NOT smart outerwear for South American climates. Stick with a lighter-weight coat, a raincoat, and layers (of course)!
Daily Look
The general feel of the style in South America is more relaxed but very feminine and body-conscious. Great pieces to achieve the South American sensual style are skinny jeans, form-fitting tops, a cardigan (if necessary), and cute, detailed accessories.
Tamara also suggests going for a "hippie" or "boho-chic" look, such as floaty sundresses and tunics balanced out by sleek cardigans or skinny jeans. This same relaxed, natural style is seen in the makeup, as the crazy makeup that is trendy now in the US (such as neon eye makeup or bold lips) is very rarely seen in South America, even at night. Instead, girls tend to stick to the basics, with mascara, eyeliner, and lip gloss being the essentials to look great. Since it is hot and sunny, I also strongly suggest bringing along some high SPF sunblock!
Night Look
A typical night out in South America calls for a more casual look than what is considered "night" attire in many of the other countries I have covered. A nicer top, some flashier accessories, and heels or chic flats are all you need to add on to a day look when the sun goes down.
A cute look suggested by Tamara for a fun night out is "a summer dress in a darker color, a denim jacket, statement earrings and black flats."
Accessories
Jewelry–such as earrings, bangles, necklaces, and other fun, attention-grabbing pieces–is essential in South America and can help take your outfit from day to night. As with India, instead of packing tons of jewelry from home, you should definitely shop around for unique jewelry while you are there (however, Tamara urges that you should be careful purchasing earrings, as "most earrings sold in our countries aren't nickel free").
What Andrea noticed stuck out most to her about Brazilian style was the shoes. She noted that popular shoes in Brazil include ballet flats, Converse, and jellies. Flip flop sandals were also often seen on the South American streets and are a smart buy once you get to South America, as "they have more styles" and are "about a quarter of the price" of the ones you see in the US.
Andrea also noted that due to the strong sun, sunglasses "are a must," so be sure to bring along your favorite pair!
Shopping
Both girls stressed the fact that the dollar is stronger in South America, so shopping is absolutely worth it! You can find lots of fun, original pieces at extremely reasonable prices in local stores and markets. One thing to watch out for is the differences in sizes–Tamara cautioned that clothing sizes tend to run smaller in South America, so make you sure try on clothes before you buy them!
What Do You Think?
Do you have any more tips for fashion in India or South America? Do these tips fit in with your experience? Let us know in the comments!
Also, be sure to thank all of the three girls who served as my sources for this article–these girls were kind enough to help you guys out, so show them your appreciation!
Next week, I will be back to my regular "What Do I Wear There?" column in which I answer your specific questions, so if you have a fashion question of your own, be sure to post it in the comments below as well!