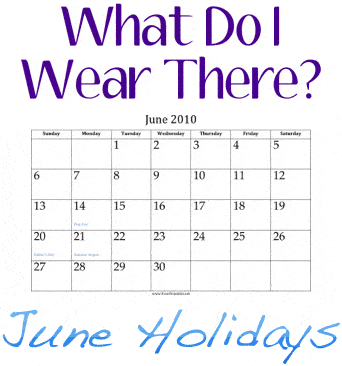 Ever since I first started the "What Do I Wear There?" column, my most-requested topic has easily been "What do I wear for (insert specific holiday here)?". Therefore, I wanted to create a new monthly feature in which I could give outfit advice for the special days in the month ahead, from those that are well-known to fun holidays that you may not have heard of before!
For June, I found a few dates that really stood out to me–Power of a Smile Day, Father's Day and the long-awaited first day of summer! For more information on any of these days, go on About.com. Now, on to the outfits!
June 15 – Power of a Smile Day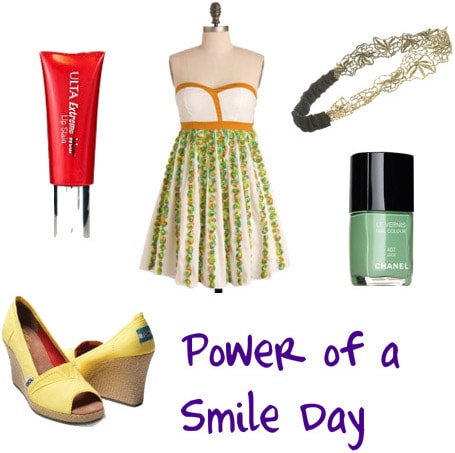 Product Information: Dress: Modcloth.com, Lip Stain: Ulta.com, Wedges: Toms.com, Headband: Topshop.com, Nails: Neimanmarcus.com
Never heard of Power of a Smile Day? It's okay; neither had I until recently. Power of a Smile Day is pretty much exactly what it sounds like–a day to celebrate smiling by flashing your pearly whites at others. See? It's definitely a day worth marking on your calendar !
To get that smile on your face, go for a look that's fun and flirty. This adorable dress is so perfect for a warm summer day, especially matched with a floral headband and some pretty, pastel-colored nails.
Since you want your wonderful smile to be the center of attention for the day, get a bright, coral colored lip stain. Coral is universally flattering and the stain will last all day, ensuring that your smile can, too.
Complete the look with a pair of Toms-brand wedges in this sunshine hue–wearing cute shoes that donate to a good cause is one fool-proof way to get a smile on your face, and on the faces of others.
June 19–Father's Day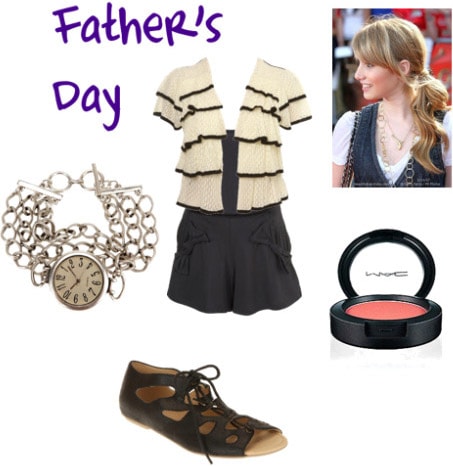 Product Information: Romper: Topshop.com, Cardigan: Missselfridge.com, Watch: Urbanoutfitters.com, Sandals: Urbanoutfitters.com, Blush: Dillards.com
As a bit of a Daddy's girl, I am a huge fan of going all-out on Father's Day! Since Father's Day is typically a day full of family fun, I wanted an outfit that was nice enough for a dinner but would still allow you to run around with any younger family members.
To get that perfect balance of style and function, I went with a simple romper that I could easily jazz up with a layered, ruffled cardigan. To pay homage to those fashionable fathers, I went with accessories like these lace up shoes and a watch with menswear-inspired roots.
Go for sheer, natural makeup with a focus on blush to brighten your face and a low, wavy ponytail that will look pretty without being too high-maintenance. The key to getting your ponytail as gorgeous as Emma Roberts'? Use a shine serum or spray that will keep it looking and feeling sleek and soft!
June 21–First Day of Summer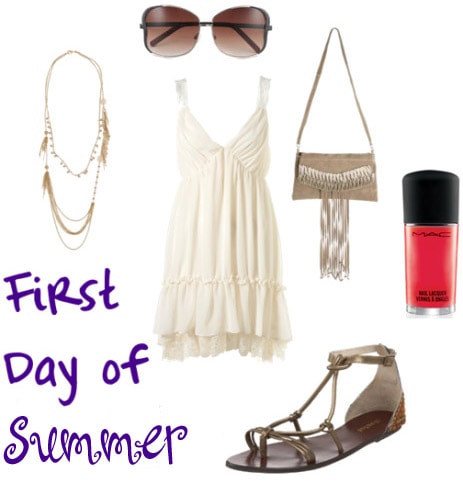 Product Information: Dress: Topshop.com, Sunglasses: Monsoon.co.uk, Necklace: Urbanoutfitters.com, Bag (note: this bag is sold out but here are some similar styles): Asos.com, Nail Polish: Nordstrom.com, Sandals: Amazon.com
I know what you're thinking–haven't we been showing summer clothes on CF for a while now? And for that matter, haven't magazines been showing them for months? While both answers to these questions are yes, there is something to be said for it finally being the actual season of summer.
To celebrate, I wanted to create an outfit around one of my favorite hot trends for this season–the little white dress. I love the Grecian-like draping on this one that makes it a great option for both day (dressed down with simple accessories) and night (dressed up with heels and a sultry smokey eye).
To keep the focus on the dress, I wanted to choose a simple palette of metallics that would serve only to highlight the bright white of the dress, as well as any summer glow you may have by now. A long, draping necklace will elongate your body, as will a purse with a long strap. (The tassles on this one scream summer to me!)
I chose to go for a day look here with flat, Grecian-inspired sandals and oversized sunglasses that will make everyone on the street wonder what stylish starlet they're passing. For a flash of color, add your favorite bright-hued nail polish to both your fingers and toes!
What do you think?
What's your favorite June holiday? How do you usually dress for each of these days? Would these outfits work for your June celebrations? Let us know in the comments below!
If you have any holidays you'd like me to cover in the upcoming months, let me know in the comments–the crazier and more creative, the better!Also, ask any "What Do I Wear There?" questions below – yours may be featured in next week's article!