This post may contain affiliate links, which means we may receive a commission if you purchase through our links. Please
read our full disclosure here
.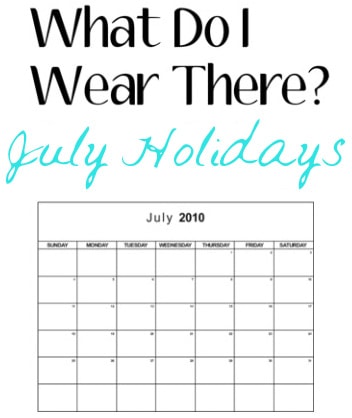 Though it's only been a couple of weeks since I wrote about June holidays, I wanted to get a jump start on posting about July holidays to give you all a bit more time to plan for the month ahead! July is a super exciting month, and I was thrilled to find some new, fun days to mark on my July calendar, as well as feature an old favorite.
I chose to highlight Independence Day, Embrace Your Geekness Day and Anti-Boredom Month–I know there are many other awesome holidays in July, so let me know in the comments if there's one you'd like featured!
For more information on any of these holidays or to find some more, check out this site.
July 4–Independence Day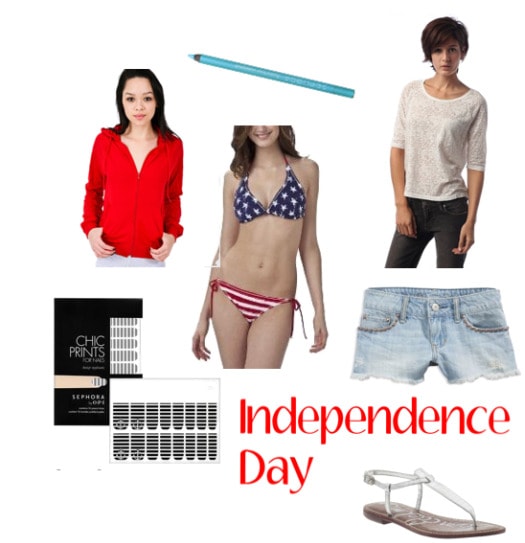 Product Information: Bikini: Target.com, Hoodie:Americanapparel.net, Nail Art: Sephora.com, Shirt: Urbanoutfitters.com, Shorts: Ae.com, Sandals: Piperlime.gap.com
There are a variety of ways to celebrate Independence Day, from pool parties to BBQs to firework shows. You may even find yourself participating in all of these events over the course of the one day! Of course, this range of possibilities presents some wardrobe issues, as each requires a different sort of uniform.
Therefore, I wanted to create a look that you could take through the day by adding and subtracting some simple layers. The base of this look is an all-American bikini (it's actually reversible!) so you can start off your Fourth of July at a pool party or beach BBQ.
As you move on to your next Independence Day activity, throw on a sheer top that will give you a bit of warmth while still allowing a glimpse of your star-spangled bikini top. Pair this with some denim shorts and silvery sandals for a great casual look that easily translates from day to night.
If you do decide to sit out and see some fireworks at night, be sure to grab a hoodie to protect you from the night time chill. I love the vibrant red color of this American Apparel one!
As for beauty, I would go as natural as possible if you are event hopping (especially if you plan on swimming). For an extra patriotic punch, try out Sephora's fun nail art–this striped pattern with anchors would be adorable with your flag bikini.
July 13–Embrace Your Geekness Day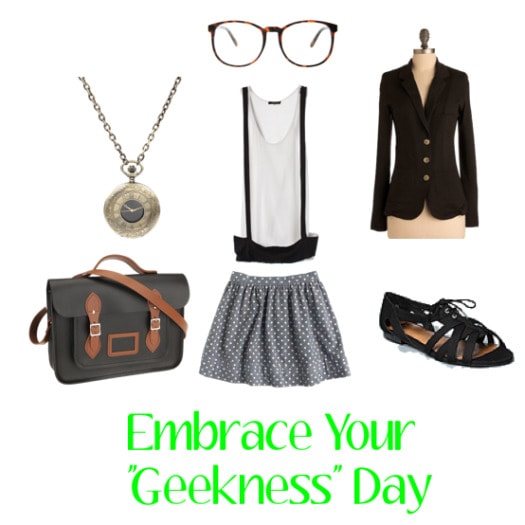 Product Information: Tank: Idontlikemondays.us, Skirt: Delias.com, Glasses: Asos.com, Necklace: Asos.com, Satchel:Urbanoutfitters.com, Cardigan: Modcloth.com, Shoes: Karmaloop.com
By far the funniest holiday I found, Embrace Your Geekness Day (July 13th) sounds like a great day to take a break from your scheduled summer plans to indulge some of your "nerdier" hobbies. For me, it'll probably mean curling up with a great book and possibly watching the "Star Trek" movie (yum, Chris Pine)!
Get down with your geek self by starting off with a tank paired with suspenders (this one is super cute but also super pricey, if your budget is a bit lower, just pair a plain white tank with suspenders). Put this over a fun patterned skirt and under a blazer-style cardigan for an impeccably geek-chic base.
I'm obsessed with these cut-out oxford-style sandals, as well as this doctor bag-like satchel–both are so impeccably crafted! And of course, you cannot properly be a great geek without having a watch (or watch necklace!) on and a pair of oversized glasses. Now grab your computers and calculators and start celebrating!
July–National Anti-Boredom Month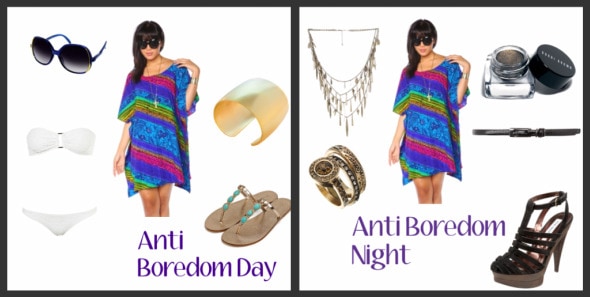 Product Information: Dress:Shopnastygal.com, Day: Sunglasses: Asos.com, Bikini: Topshop.com, Bracelet: Maxandchloe.com, Sandals: Monsoon.co.uk, Night: Necklace: Generalpants.com.au, Ring: Dorothyperkins.com, Eye Shadow: Bobbibrowncosmetics.com, Belt: Dorothyperkins.com, Heels: Endless.com
In the past, I've covered the mid-semester slumps that students often fall into. And while school may be out for the summer, there still is such a thing as a summer fashion slump–that period in which you no longer are excited about all of your summer clothes and begin to fall into boring shirt-and-shorts combos.
And since I discovered that July is National Anti-Boredom Month, I thought this was a perfect time to address that slump by showing one dress that at first seems a bit crazy but can easily be transformed into an exciting summer must-have for both day and night!
For daytime, use this dress as the ultimate beach cover-up. Since it is bright enough on its own, put it over a plain, solid-colored swimsuit. Oversized sunglasses and a gold bangle add glamour, as do turquoise-studded t-strap sandals. Pull your hair back into a textured ponytail to complete this breezy, beautiful daytime look!
For a night out, belt the dress to give it some definition and a flattering shape. Go all-out with a layered necklace and stacked rings for accessories, and try on wooden-heeled shoes to get in with one of summer's hottest trends.
For makeup, try a shimmery, smokey eye in warm bronze shades to highlight your tan. Keep your face neutral besides this and go for soft, matte hair in the style of your choosing. With looks like these, you'll be honoring National Anti-Boredom Month at its best!
What do you think?
Do you celebrate these July holidays? What is your favorite holiday in July? What are your plans for these holidays–and what outfit do you think you'll wear? Let us know by leaving a comment!
Also, if you have any "What Do I Wear There?" comments, leave them below and yours may be featured in next week's article!