This post may contain affiliate links, which means we may receive a commission if you purchase through our links. Please
read our full disclosure here
.
For this week's post, I'm going to answer the first "What Do I Wear There?" request. It comes from the lovely Leira, who asked:
"Do you have any ideas what to wear for a night out when it's cold? I just started college up north, and I have no idea how to dress up if I can't wear my usual short sleeve/sleeveless tops."
I totally agree – as the weather gets colder, dressing up for a night out gets tougher. But don't think that you can't wear your short sleeve or sleeveless tops anymore! There are ways to make them work well into winter.
Here are three sample outfits for a cold night out. For the first two looks, I'll show you cute ways to incorporate those lighter-weight pieces into cold weather outfits and for the third, I'll show some great pieces you should invest in before the temperature drops.
It's Getting Chilly…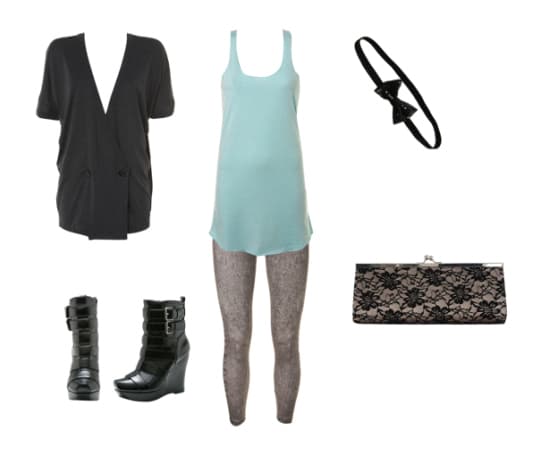 Product Details: Tuxedo Cardigan, Tank Top, Acid Wash Gray Jeans: TopShop, Bow Headband: Missguided.co.uk, Lace Clutch: Forever 21, Wedge Boots: Alice + Olivia for Payless
For those nights when it's feeling a bit chilly but not quite cold enough to break out your coat and scarf, opt for a long cardigan. I love this one from TopShop, as its double-breasted style is adorable and unique.
Underneath, you can wear one of your favorite tank tops—this blue one is the prettiest color and it can take you through all the seasons!
Those acid wash jeans we saw on celebrities all summer are still hot for fall, so throw on a pair of those to add some edge to your basic top. Tough, chunky wedges from Payless add some punk-rock edge, while a lace-printed clutch keeps it feminine. As for hair, loose chignon styles are all over magazines right now, so throw your hair into a simple bun. If you're feeling extra flirtatious and girly, add on a sparkly bow headband!
A Bit Colder…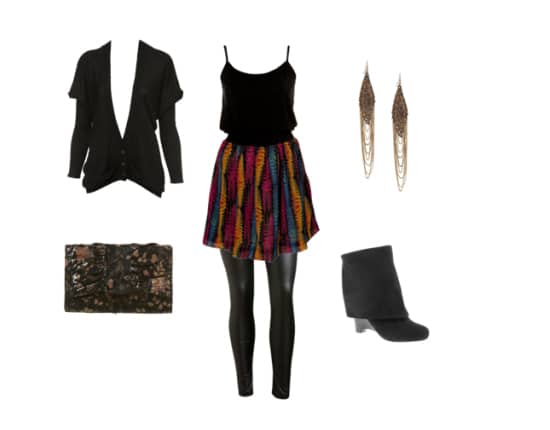 Product Information: Chiffon Skirt Dress, Ruched Clutch: TopShop, Faux Leather Leggings: Wet Seal, Black Cardigan: Miss Selfridge, Boots: Piperlime.gap.com, Earrings: Forever 21
If you're like me, cold weather often has you instinctively reaching for darker colors and ditching fun prints. But it doesn't have to be like that! You can still wear bright colors and patterns in winter weather, so long as you include seasonal accessories like leggings and closed-toe shoes.
While this outfit admittedly does have a lot of black, I love the rich colors on the dress and the subtle design and coloring of the earrings. I made it winter weather appropriate by adding a pleated cardigan, faux leather leggings, and hip wedges with fabric you can fold over for a funky look.
Cold!!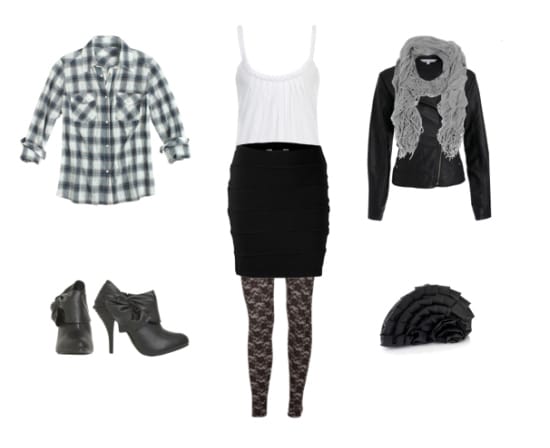 Product Information: White Tank: Forever 21, Black Bandage Skirt, Grey Crochet Scarf: Dorothy Perkins, Lace Leggings: Charlotte Russe, Flannel Shirt: Delias, Bow Booties: Wet Seal, Leather Jacket: Debenhams.com, Black Rosette Clutch: Monsoon.co.uk
For those super cold, windy, awful nights, my best advice is to layer, layer, layer! Once again, you can use a summery tank top as a base but instead of a cardigan, try putting a flannel on for a cozy 90's-esque look. To keep you snug as you brave the weather outdoors, add a leather jacket over your flannel and a soft crochet scarf!
The braided tank top above would look chic tucked into a slimming black bandage skirt (bonus: bandage skirts are a lot comfier than they look and can actually be really warm). For the final accessories, I love the juxtaposition of classic, lace printed leggings with the more modern shapes of the boots and clutch.
What Do You Think?
Do you have any other advice for Leira on what to wear in cold weather? Do you have a favorite item for nights out when the temperature drops? Any other winter fashion tips you would add? Share them in the comments!
Also, if you have any "what do I wear there" questions, let me know! I may feature yours in next week's article.