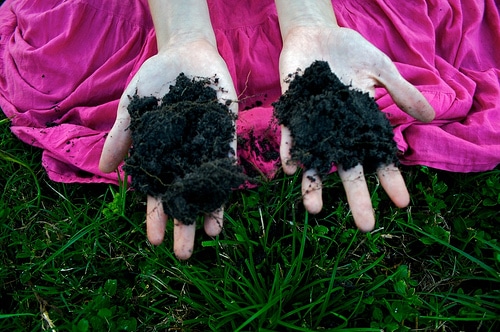 This week's "What Do I Wear There?" was definitely one of the most challenging for me yet! In the past couple weeks, I was asked two questions in which I saw a similar theme.
First came Priscilla's comment, in which she asked:
"I work at an herb nursery. This means I get messy, dirty, and parts of me get some water throughout the day. I still want to look cute, but what would I wear!"
Then came Trista, who asked:
"In one of my classes, we go camping for a weekend in the woods in mid-November. Now I live in Florida, so its not unbearably cold, but to us who are used to warmth, it's a huge change. I was wondering what to wear at night, when its the coldest, to keep warm, but not look like I'm drowning in hoodies."
Now while all of us may not be working with plants or camping, many college students volunteer and may find themselves in similar situations in which they have to get a little dirty! So for this week's article, I decide to try to tackle the question of how to look fashion-forward while in an outdoorsy, dirty environment!
Some quick notes for this piece:
First, Trista did request clothes for a certain climate. Of course, not all of us are currently enjoying Floridian weather. Therefore, I made sure to choose outfits that could be easily layered with a warmer coat on top (or worn with pieces removed if you're lucky enough to still be enjoying warm weather).
Also, I understand that the degrees of dirty-ness for Priscilla's job, Trista's camping trip, and student volunteer work are of a pretty wide range. I tried to create outfits for that would fit a variety of these similar situations, but remember that these are simply base outfits for inspiration that you can change up to fit your specific needs!
Look One: Cute for Camping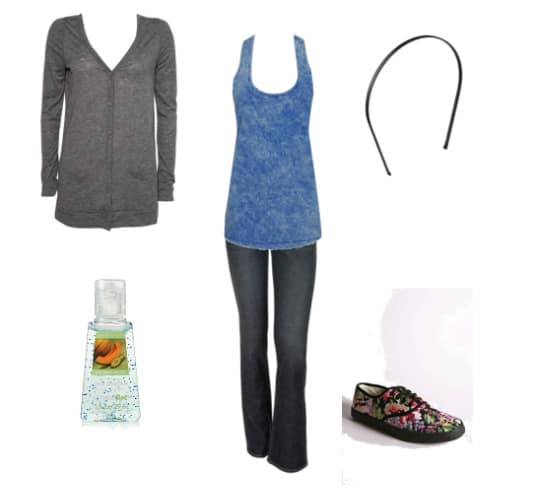 Product Information: Acid Wash Tank: Forever 21, Boot Cut Jeans: Charlotte Russe, Cardigan: TopShop, Skinny Black Headband: Old Navy, Sneakers: Urban Outfitters, Anti-Bacterial Hand Gel: Bath and Body Works
This is a great outfit for someone like Trista who is going to be outside but not digging around too much in the dirt or getting wet. The acid wash tank is a really hot look to layer right now and the simple gray cardigan will keep you warm. Both of these tops (as well as the jeans) are made of blended colors, which will help keep dirt from showing.
Stay comfortable and stylish with sneakers in a fun print–these are great because the pattern will also help hide any dirt! However, if it has been raining or may rain, opt for more durable shoes.
I personally would not want to add too many accessories to an outdoor outfit since they will probably get in the way of any outside activities, but do opt for a headband to keep your hair off your face and guard against any annoying atmospheric conditions (outdoor hair + humidity is not a fun match)!
Also, in an environment such as camping you will likely be very close to a lot of people. Since bathrooms are limited on campgrounds and you will not be able to wash your hands much, bring along some anti-bacterial hand gel. A scented one will kill germs and keep you smelling good throughout the day!
Look Two: Gorgeous While Grungy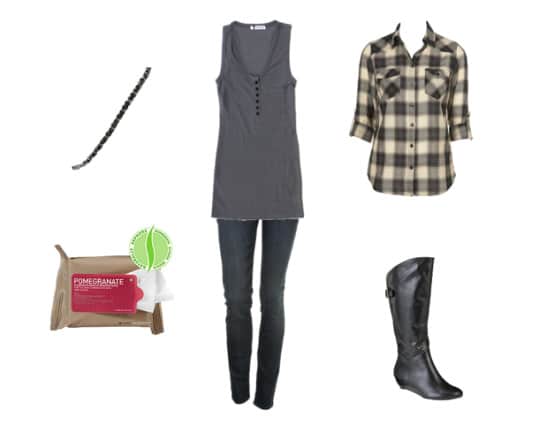 Product Information: Tank: Refinery29shops.com, Granite-Washed Jeans: Charlotte Russe, Checked Flannel: TopShop, Boots: Target, Headband: Forever 21, Cleansing Wipes: Sephora
For this look, I drew inspiration from the ultimate example of dirty-but-fashionable style: the '90's!
A simple tank top with a flannel was a staple for many 90's teens and will serve any outdoorsy girl well now. This outfit is not meant to look perfect at all–in fact, it looks better a bit mussed up, which is great for the situations you guys are in! I chose a plain gray tank with an off-white flannel (the off-white already has a brownish tinge, which is ideal if it's going to get a bit dirty), but you can really choose any colors you would like for the top.
When you pick out jeans, find a pair with elasticity to allow you freedom of movement. Also, look for a darker wash that will not show as many stains. If you are going to be kneeling down in dirt and mud, choose boots that go pretty far up your shins–these ones are great since they rise higher in the front but are lower in the back for extra comfort.
To keep you from getting any dreaded dirt smears on your skin or clothes, bring along some cleansing wipes that you can easily use to clean off. Like the anti-bacterial gel, these ones have a light scent that will also keep you smelling fresh!
For a final touch to update your look from 90's grunge to 2009 grungy-gorgeous, add a chain-link headband to pull back stray hairs. This will instantly transform your look into a more rocker-chic style!
Look Three: Fashionably Filthy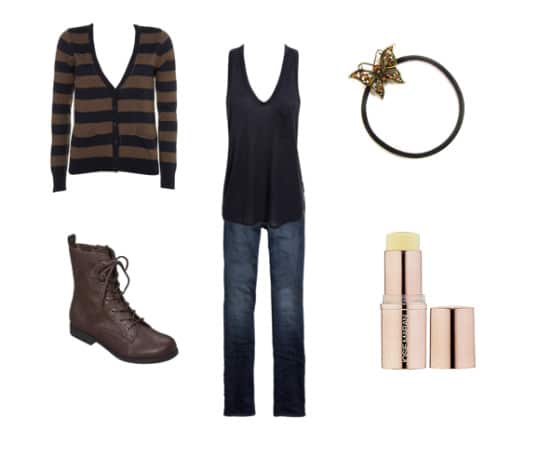 Product Information: Tank Top: Brownsfasion.com, Striped Cardigan: TopShop, Lace-Up Boots: Target, Butterfly Ponytail Holder: Yesstyle.com, Josie Maran Argan Oil Moisturizing Stick: Sephora
While this look is still cute enough for camping, it's also great for when you have to really get down and dirty! The tank top is a dark navy color that shouldn't show much dirt at all, while the cardigan's strips should distract from any mess that gets on it. The dark colors are also great since they will not become see-through if they get wet!
The jeans are a totally relaxed, faded fit that should hold up to any kind of activity and would look good tucked into or worn over boots. Lace-up boots are really trendy for fall/winter, and this durable pair with a rubber sole are the perfect mix of fashionable and functional.
As for your hair and makeup, go for a totally natural look. If you're really doing a lot of outdoor work for a significant period of time, your makeup will probably end up more of a mess than your clothes, so put on the least amount possible!
Bring along a moisturizer to prevent your skin from becoming scaly and cracked in cooler weather. This moisturizer-in-a-stick is perfect for throwing in your purse and can be used on your body, face, lips, and even on skin mildly irritated from bug bites or sunburn. It also can help tame hair flyaways, which are an almost-certain byproduct of outdoor work. Prevent that unruly hair the best you can by pulling hair back in a bun or ponytail–that will keep your hair from falling in your face. Stay stylish by investing in a couple hair ties with fun details on them, like this bejeweled butterfly one.
What Do You Think?
What do you wear when you're going to be working outside and messing up your clothes a bit?
Are there any great jeans,shoes, etc. you have that really stand up to the outdoors in any weather? Do you have any tricks for keeping clothes clean or for cleaning them after they get a bit messy? Let us know in the comments!
As always, don't forget to share any "What Do I Wear There" questions you may have. Your question may make next week's article!