This post may contain affiliate links, which means we may receive a commission if you purchase through our links. Please
read our full disclosure here
.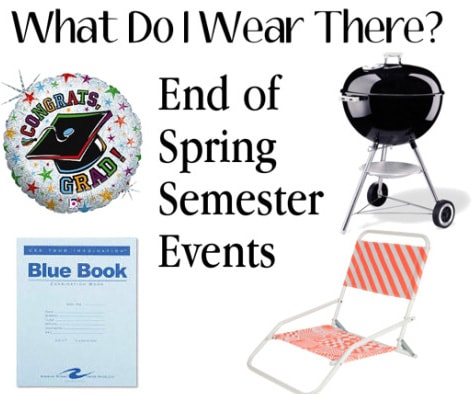 So we've finally made it to the final stretch of the school year! Some of you may already have finished classes (lucky!) but for those of us who haven't, there are still some style milestones to get past in these upcoming weeks. From finals to graduation to that first social event back home, the end of spring semester seems to be filled with those "what do I wear" moments and no time to solve them.
Therefore, I decided to dedicate this post to those wardrobe worries in order to hopefully help take away some of that inevitable end-of-semester stress. So take that extra time you would have spent in front of your closet and get outside–summer's finally (almost) here!
Event One: Finals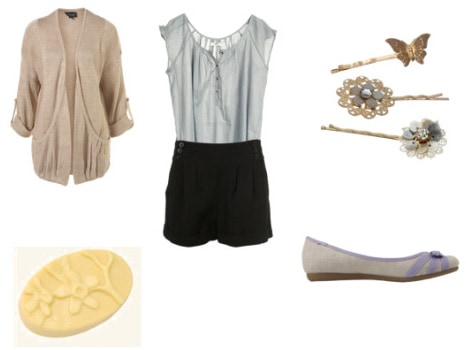 Product Information: Cardigan: TopShop.com, Top: Musthaves.dk, Shorts: TopShop.com, Massage Bar: Lushusa.com, Hair Clips: Monsoon.co.uk, Flats: Payless.com
For most people, finals attire comes down to one thing–comfort. And while I definitely agree on the importance of comfort, what you wear during these tough days means more than you think! You want to wear something that makes you feel confident as well as comfortable, something that you won't be fidgeting with during the test.
Also, you want your clothes to leave a good impression on those around you. Think about it–your final is the last time you'll see many of your peers before the summer, the last time you'll see that cute TA, and most importantly, the last time you may ever see that awesome professor. That means this is your last chance to make the positive impression on the man or woman who you may later wish to use for a letter of recommendation or contact in hopes of having him/her help you find that perfect internship. Therefore, you want your last impression to be a strong one, not one of pajama pants and a sweatshirt with dirty hair!
I love the outfit above because it's stylish yet incredibly simple and easy to throw on at the last minute. Sheer tops are huge this season, and this one manages to be class-appropriate while still totally on-trend. Tuck the top into a pair of simple black shorts. Next, go for simple accessories that you won't be tempted to play with, like these adorable hair pins. (The clips are also great for keeping your hair from falling in your face while you lean over that desk!) I love how the subtle blue coloring on the hair pins picks up the light color of the shirt, a theme which I continued down to the flats with the pale blue detailing. Finish up by throwing a cardigan on or in your bag, in case you end up in a chilly exam room.
If this advice hasn't helped take away some of your exam stress, I suggest investing in one of Lush's amazing massage bars. Made out of sweet-smelling oils and moisturizers, they're a great way to treat yourself before and after your exam for all of your hard work!
Event Two: Grad Parties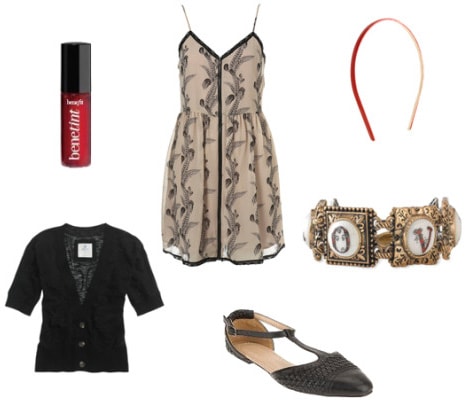 Product Information: Dress: TopShop.com, Tint: Benefitcosmetics.com, Cardigan: Ae.com, Headband: Tanojewelry.com, Bracelet: Shop.nordstrom.com, Flats: Urbanoutfitters.com
Dressing for graduation parties can be a hassle. First, it can be tough to determine what sort of party it is (whether it will be a crowd of mostly family or your peers, how formal one is expected to be, etc.). Also, many grad parties take place outdoors, which can be tough since you want to look appropriate while still keeping cool under the hot summer sun.
I think this dress is a perfect alternative to the been-there-done-that flowery sundress, as it's still lightweight but has an interesting, unique pattern. And the lace around the edges gives it a bit of this season's popular boudoir element!
I love how this modern sundress looks when paired with old-fashioned accessories, like these t-strap flats (a great alternative to heels if you know you're going to be outdoors and don't want your shoes sinking into the grass) and this vintage-looking bracelet. I also added a cardigan to this outfit just in case the weather is a bit chilly!
For a splash of color, I chose a skinny coral headband that would look great with a similarly colored tint on your cheeks and lips. Using a stain is also perfect for outdoor parties, as you do not need to worry about it melting or smudging in the sun.
Event Three: Debuting Back Home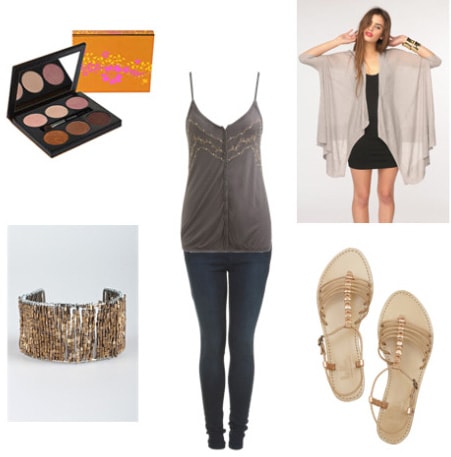 Product Information: Tank: Wetseal.com, Jeans: TopShop.com, Cape: Shopnastygal.com, Makeup: Shop.nordstrom.com, Cuff: Charlotterusse.com, Sandals: Theoutnet.com
It's a moment you both look forward to and fear–that first big social event back home. The upside? You get to see all of your friends and compare a semester's worth of stories. The downside? Within this crowd there's the potential to see your ex-boyfriends, frenemies, and anyone else you haven't spoken to since high school. Yikes!
Therefore, it's obviously important that this is a day you look your best–perfectly pulled together but not like you're trying to hard. That's why I love the juxtaposition of casual jeans and metallic accents in this look. The jeans and button-up top keep it low key, while the gold detailing on the shirt, sandals, and bracelet add just enough sparkle to the look to make it perfect to go from day to night.
If you do decide to take the look into the night time, I think it looks great with a super drapey, cape-like cardigan like this one. Also, add a but more drama by highlighting your summery look with bronze, beach-goddess makeup with colors like the ones in the palette above. This look is great for anything from a barbecue to a beach bonfire to simply hanging out at a friend's place!
What Do You Think?
Do you have a go-to look for finals? What other end of semester events have you had to dress up for? Are there any upcoming summer events that you have "what do I wear there?" questions for? Let us know in the comments below!