This post may contain affiliate links, which means we may receive a commission if you purchase through our links. Please
read our full disclosure here
.
When I started writing for CF one year ago (can't believe it's been that long!), my very first post was about what to wear to your first day of classes. While that is definitely an important day, I realized there are many other days in that first week that'll have you tearing apart your freshly-full closet!
Therefore, I wanted to cover three of those days for this article–move-in day, the first day of classes, and your first night out. This way, you can breeze stylishly through your first week at school and reserve your worrying for the important things (like decorating your new room)!
Move-In Day
Product Information: Top: Delias.com, Shorts: Topshop.com, Sandals: Urbanoutfitters.com, Bracelet: Jcrew.com, Messenger Bag: Asos.com
Deciding what to wear when you move back in to school can be tough–it's your chance to make a first impression for the school year, so you want to look great, but you also need to be comfortable enough to lug heavy suitcases. All that lifting may also make you sweaty and disheveled, factors to consider when doing your hair and makeup.
I recently saw a friend wearing this army-style, slightly cropped shirt and thought it was such a fun piece for a casual day. Paired with dark denim shorts, it's a great twist on the trendy military style that will also be ultra comfortable and airy. I love these sandals as well; besides looking great, they will stay on securely even if you are running up and down stairs.
This chain-link bracelet is the perfect accessory, as the detailing continues the look's tough girl vibe, while the pearls add a feminine touch. For hair, I similarly went for a style that will add some girlish glamour, choosing a sweet, simple pulled-back hairstyle that will look even better as it gets slightly mussed from unpacking.
Finally, be sure to carry a sturdy purse for move-in day and keep it on you at all times; this will ensure you keep your new keys, ID, documents, and other dorm essentials safe!
First Day of Classes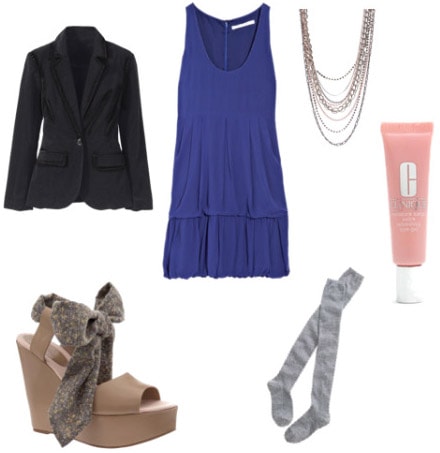 Product Information: Dress: Theoutnet.com, Blazer: Spiegel.com, Necklace: Asos.com, Wedges: Gap.com, Socks: Madewell.com, Eye Refresher: Yesstyle.com
For the first day of classes, go for a look that shows you are focused but also fashionable! First, since purple is one of the hottest colors for fall, go for a vibrant dress in a purplish/indigo hue. Top that off with a smart boyfriend blazer for a classic look, and then toss on a mixed chain necklace for an updated twist on a classic.
One of the fall fashion statements I'm most excited about is over-the-knee socks worn with dresses, so I figured since the first day of school signifies the start of fall, it was an ideal time to try it! I went for ribbed gray socks, paired with nude wedges, as the gray-ish, floral-adorned bow on the shoes ties in perfectly with the socks. This look is a great way to bring summer favorites (like a tank dress and open-toe wedges) into the fall!
For beauty, go with whatever hair and makeup you are most comfortable in so you can feel completely confident and unconcerned during class. I do suggest using an eye-brightener before your makeup, though, since waking up early for the first day of classes may leave you with puffy, tired eyes!
First Night Out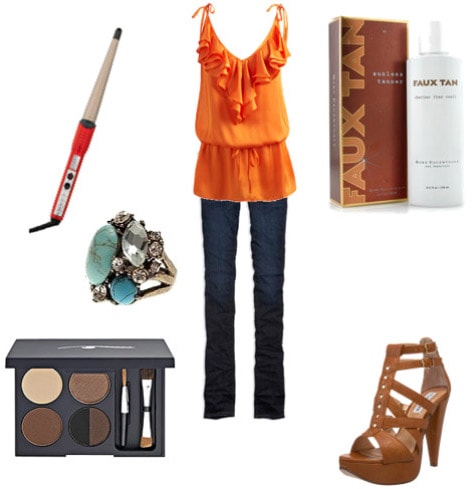 Product Information: Top: Ardenb.com, Jeans: Ae.com, Curling Iron: Ulta.com, Ring: Urbanoutfitters.com, Eyeshadows: Sephora.com, Heels: Endless.com, Self-Tanner: Yesstyle.com
There's nothing as exciting as your first night out with your new roomies and all of the college friends you haven't seen in months! So I wanted to create a look that would be effortlessly cool and allow you to fit in anywhere from a frat party to a bar (if you're legal!), to your much-missed late night pizza place.
I love how fun this bright top is–it will definitely make you the center of attention wherever you go. I paired it with dark, skinny jeans (to balance out the loose top) and some killer wooden heels. The contrast of orange and turquoise is amazing and unexpected, so go for a large cocktail ring adorned with turquoise stones.
If you spent your summer locked up in an internship rather than lying on the beach (as many of us college students unfortunately did), fake your tan with a sunless glow–start doing this before you even go back to school to develop a gradual, natural color. Highlight your faux-glow with a shimmery, nude smokey eye in bronze tones.
Retro-inspired hair is huge for fall, so ditch your beachy waves for more tailored curls. I'm currently lusting after the Conair Infiniti curling iron, as its clampless design makes creating perfect curls seem so much easier!
What do you think?
First things first–are you excited to head back to school? Nervous? Which of these looks is your favorite? What styles are you excited to try for the fall? Are there any other back-to-school events you'd like "What Do I Wear There?" advice on? Let us know in the comments!