This post may contain affiliate links, which means we may receive a commission if you purchase through our links. Please
read our full disclosure here
.
So the last month of the summer has snuck up on us – the days are getting cooler and the return to school is looming closer. Luckily, there is still plenty of time to celebrate, as August is full of fun–though kind of strange–holidays!
As you guys know, each month I feature special holidays and show you how to dress for them. For August 2010, the two events that caught my attention were "Simplify Your Life Week" (going on right now!) and International Youth Day. I also included a day that many of us will have this month, too–the last day of "summer"– or the day before we return to school.
For a full list of fun ways to celebrate in August, check out this list of official August holidays. Now, on to the clothes!
August 1-7: Simplify Your Life Week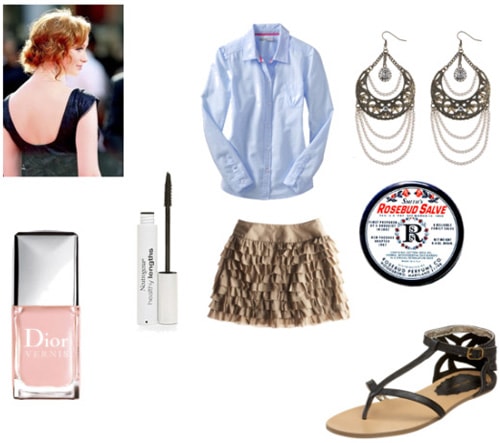 Product Information: Shirt: Oldnavy.gap.com, Skirt: Calypso-celle.com, Earrings: Dorothyperkins.com, Lip balm: Americanapparel.net, Sandals: Endless.com, Mascara: Drugstore.com, Nail polish: Nordstrom.com
Though this week is almost over, I wanted to point it out because I think the message is worth listening to! Between friends, jobs, internships, classes, clubs, family obligations, and… well, you get the point, it's easy to forget to take a break and enjoy the fact that you're young and it's summer!
Therefore, this week comes at a perfect time, as it allows you to sit down and evaluate what's important before you get pulled back into the rush of college life. Use the rest of this week to think about your goals for the semester ahead and plan out what's left of your summer.
In the outfit above, I wanted to show how to add some excitement to so-called "simple" pieces like a button-up shirt and pearl jewelry. I started with a classic oxford chambray shirt, which I paired with a nude ruffled skirt for a look that can go straight from work to a night out! Next, I added simple t-strap sandals and chandelier pearl earrings (a fun update on plain pearl studs) to complete this romantic look.
On the beauty front, I kept things simple with an easy, messy bun, nearly-nude pink nails, and a lightly tinted lip balm. See? Who says simple has to be boring?
August 12: International Youth Day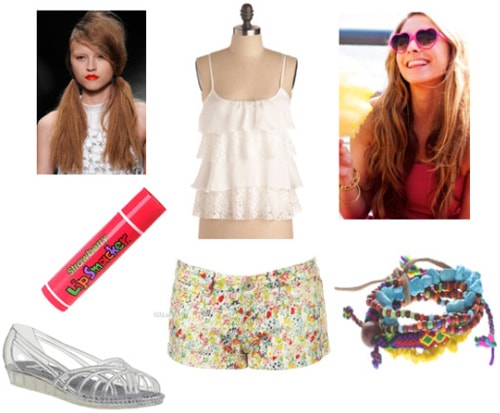 Product Information: Top: Modcloth.com, Shorts: Topshop.com, Sunglasses: Shopplanetblue.com, Bracelets: Asos.com, Jellies: Modcloth.com, Chapstick: Ulta.com
For International Youth Day, I went for a look that celebrates the oft-overlooked awesomeness of kid's clothes! To me, children's clothing is a fun, funky source of inspiration, with its crazy prints and surplus of bows and bright colors. I wanted to go all-out with these ideas, while also including some of my own childhood favorites.
I love the feminine ruffles on this top; they remind me of my favorite childhood sundresses. I paired the top with floral print shorts rather than a skirt, and added comfy jelly sandals: In this look, you can run around as much as you want, whether you're playing tag or spot-the-shoe-sale! My inner child got insanely excited when I saw these heart-shaped sunglasses and retro friendship bracelets, so I used them to finish off the ensemble.
Finally, I brought the look together with Prada-inspired pigtails and a Strawberry LipSmacker. (Who didn't love those as a kid?!) Just throw this look on and run to the nearest park to celebrate!
Various: Last Day Before College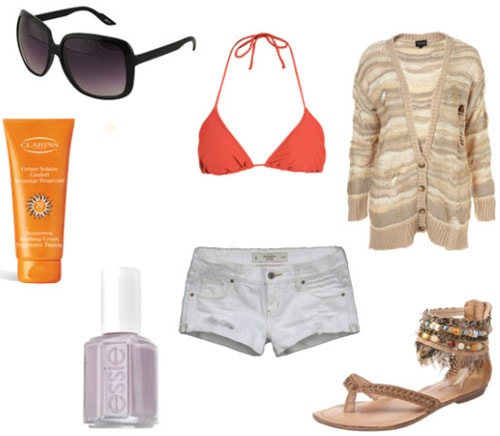 Product Information: Cardigan: Topshop.com, Bikini top: Tillys.com, Shorts: Abercrombie.com, Sandals: Endless.com, Nail polish: Lookfantastic.com, Sunscreen: Clarins.com, Sunglasses: Forever21.com
No matter how excited you are to go back to school, see your friends, and start off your best semester ever, the last day of summer vacation is always a bit sad. So while this is not an actual holiday, I wanted to create an outfit that would pay homage to the summer.
Get in your last bit of summer sun by throwing on your favorite bikini top and some sunscreen. Worn, white shorts and a comfy, beachy cardigan will keep you warm if there's a bit of an August chill, while shell-adorned sandals keep the summer spirit alive. Now throw on your sunglasses, curl up in a lounge chair, paint your nails a bright summer color, and enjoy your last lazy day!
What do you think?
What are you looking forward to in August? Are there any other August events you usually celebrate? Have you ever heard of the first two on this list? What other summer looks are you dying to rock before going back to school? Let us know below by leaving a comment!