This week's article is a combination of two questions readers have asked me that are time sensitive, so I wanted to answer them both right away!
This article will give you some ideas for what to wear when working at a school (or anywhere where you need to dress professionally but still need to be comfortable and casual), as well as what to wear to a play (or any fancy theatrical or musical event).
What Do I Wear There? Working with Children
First off we have a question from Amanda, who wrote in:
"I just started working at a preschool, and am kind of stuck on clothing ideas. We are expected to dress 'professional.' T-shirts are okay, but jeans are not (except for Fridays). I'm looking for clothes that are comfortable and can take some abuse, but still make me look put together and clean. Obviously, working at a preschool is pretty messy. I'm on the floor a lot, talking to the kids, and they have a tendency to pull on my clothing when they are playing or trying to get my attention. What would you recommend for this sort of environment?"
First of all, congratulations Amanda on your new job! While many CF readers may not be working full time as teachers yet, I'm sure many of us are often in similar situations dealing with children—whether it be babysitting, volunteering, or student teaching—and still wanting to look put-together.
Teaching Outfit 1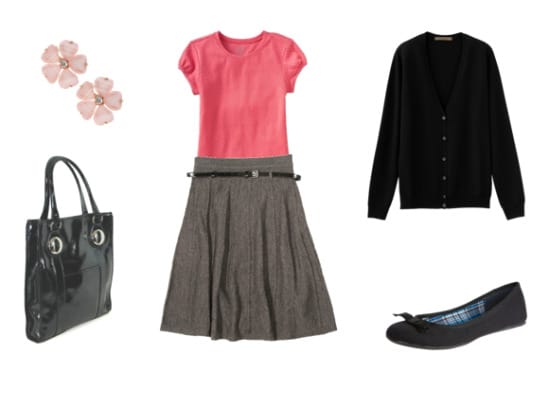 Product Information: Crew-Neck Tee: Old Navy, Gray Skirt: Shopruche.com, Flower Earrings: Forever 21, Black Patent Tote: Emphaticnyc.com, Cardigan: Uniqlo, Bow Tie Flats: Charlotte Russe
My best piece of advice for dressing nicely when dealing with children is to buy cute pieces from cheaper stores! Check out retailers like Forever 21, Charlotte Russe, H&M, etc. to find fashion-forward pieces that are easy on your wallet. You don't want to wear anything you can't afford to replace.
Here, I found a gray, high-waisted skirt (belt included!) and a simple black cardigan for relatively low prices. These are great basics to pick up, as the darker colors are professional (and will hopefully hide some stains) but also seem very comfortable. Keep it classic with a pair of plain flats that will allow you to run after the kids and a big tote that will allow you to stuff in as many supplies as you need.
Since you are working with younger children, you do want to have an element of fun to your wardrobe! Invest in a couple bright, cheap crew neck tops to wear with plainer skirts and pants—they're not at all revealing, nice enough to wear into meetings, and so easily replaced if they fall victim to stains or tears!
I finished the look with a pair of flower-shaped studs, which are perfect because they are pretty accessories that kids will not be able to tug or pull at!
Teaching Outfit 2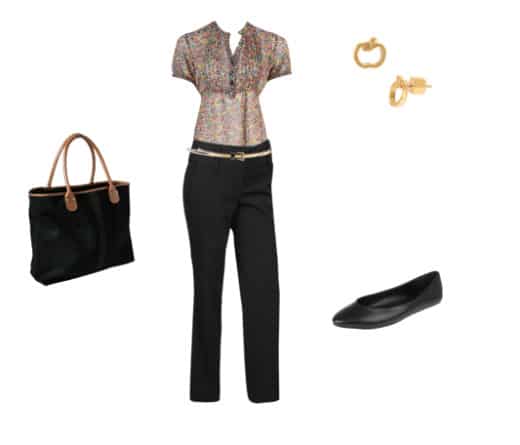 Product Information: Floral Top, Wide Leg Slacks, Gold Belt: Forever 21, Black Canvas Bag: Old Navy, Matte Black Flats: Charlotte Russe, MARC by Marc Jacobs Gold Apple Studs: Nordstrom
Just like with the first outfit, I found budget-priced pieces you can stock up on. For example, these wide leg slacks and a skinny belt (get it in a variety of colors to keep your looks fresh) are the perfect mix of professional and comfortable. The black matte flats are a great investment not only for work but for going out in general—these are a classic, matches-with-everything pair that you can grab for a ridiculously low price!
I tried to add the "fun" element in again with a floral blouse that gives your look a bit of color and individuality. Since the shirt is a bit "louder" in this look, stick with a plain canvas bag for your supplies (I love the faux leather handles on the one above – you can tell it's really durable). For the final touch, add a pair of adorable studs in the shape of an apple and you're sure to be the envy of all the other teachers in your school!
What Do I Wear There? Going to a Play
Our next question comes from Jess, who found herself faced with the following situation:
"I am going to a play this week, "Who is afraid of Virginia Wolf?" and I have no idea what to wear. I know you need to be dressy-ish but I can't seem to find a good outfit…"
For this question, I have devised two pretty different outfits. The first is for a play that is more of a college or local production— nice but not too fancy. The second look is for a more upscale theater production. Hopefully one of these (or a combination of the two) will be right for your play!
Play Look 1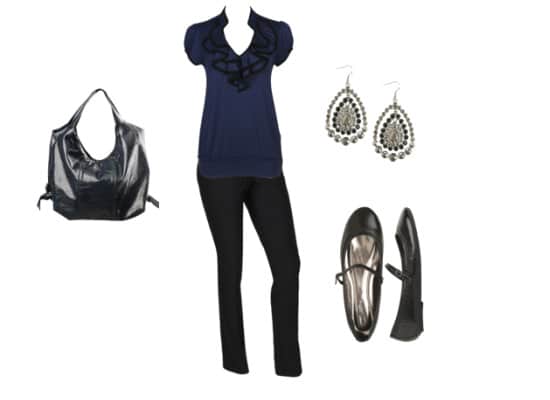 Product Information: Ruffle Top, Light Weight Slacks, Marble Knot Tote: Forever 21, Layered Teardrop Earrings: Arden B, Mary Jane Flats: Wet Seal
For this look, I wanted something that was definitely sophisticated but was also pretty versatile (you could easily change into a pair of jeans after the play, maybe slip on some heels, and be ready for a night out)! The ruffle detailing at the neck is classic and romantic, a theme I tried to follow with the teardrop-shaped, dangling earrings and mary jane flats.
To dress the look up a bit, I chose a pair of slim-fitting black slacks that will highlight the black contrast lining on the shirt's ruffles. The marbled, dark hobo bag matches perfectly with the tones of the outfit and adds a new, modern shape to the otherwise traditional look.
Play Look 2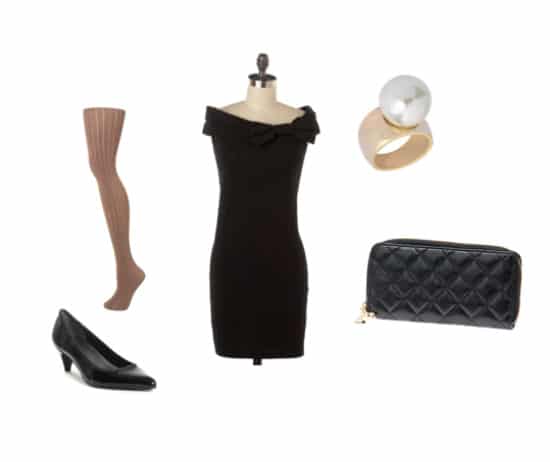 Product Information: Bow Neck Dress: Modcloth.com, Ribbed Tights, Pearl Ring: TopShop, Black Pumps: Heels.com, Quilted Black Clutch: Aldo
My inspiration for this look was a kind of old-fashioned glamour, as many of the more upscale theaters still have that traditional feel. This vintage-inspired black dress is perfectly tailored and the demure bow at the neck is a fabulous touch. Opt for a pair of neutral-colored ribbed tights under the dress and a quilted clutch to give the outfit a bit more texture in contrast to the smooth lines of the dress.
I picked these low-heeled pumps for their wonderful shape as well as what I hope would be an added element of comfort (the heel is short and sturdy so a standing ovation won't have you wincing).
Last but certainly not least is the necessary accessory for any classic look—pearls! Or rather in this case, a pearl ring that is just big enough to make a statement without disturbing the rest of the look.
Now all that's left to do is enjoy your play!
What Do You Think?
From your experience, what are the best clothing choices for when you have kids around? Any tips for dealing with the possible fashion-faux pas that come along with the combination of kids, art supplies, and clothes? Also, do you have any tips on perfect play attire for Jess? What has worked for you at various shows you have seen? Share thoughts in the comments below!
And if you have any more "what do I wear there" questions, let me know! I may feature yours in next week!