One great thing about college is how much there always is to do. With classes, jobs, internships, friends, and boyfriends, there really is never a dull moment. However, this can sometimes be tough. After staying up late writing a paper, the last thing you want to do is try to plan multiple outfits to fit each of your activities the next day!
Therefore, for today's, "What Do I Wear There?" I planned a base outfit that can take you through your entire day with the simple addition of accessories as you move through your busy schedule.
Base Pieces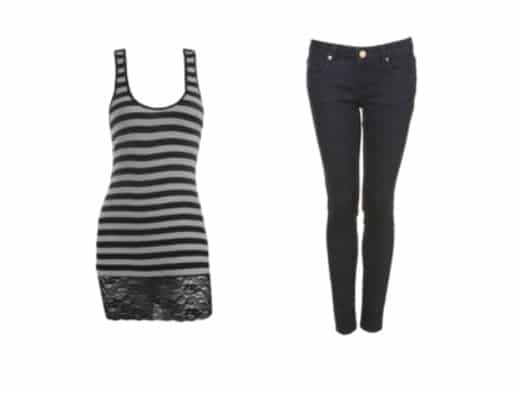 Product Information: Striped Tunic- Wet Seal, Jeans- TopShop
This cute combination is a good start to a variety of different looks.
The gray and black colors of the tunic are very easy to match and the lace at the bottom dresses it up just enough. I'm a huge fan of dark, skinny jeans with almost anything—the dark color is flattering on everyone and the cut is great to wear with flats, heels, and boots.
These items are pretty much timeless and a smart investment to make on a college budget.
First Outfit: Class Time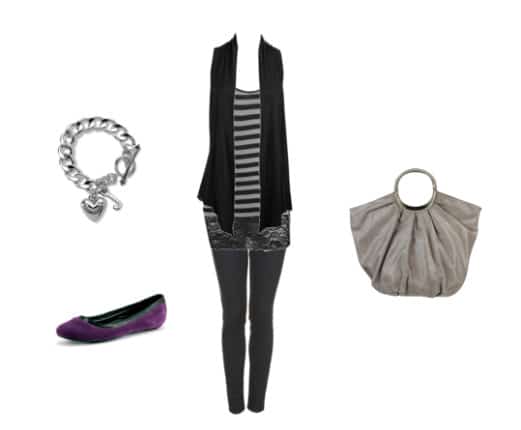 Product Information: Vest- Charlotte Russe, Silver Hobo Bag- Forever 21, Chain-link Bracelet- Juicy Couture, Purple Flats- Dorothy Perkins
For a casual but trendy look for classes, I added a draping black vest over the tunic. Metallic accents like this adorable chain necklace and roomy silver hobo bag add some stylish shine to the darker basics, and purple flats are a perfect (and comfy!) way to add color to the outfit.
Second Outfit: Business Casual for Work/Internship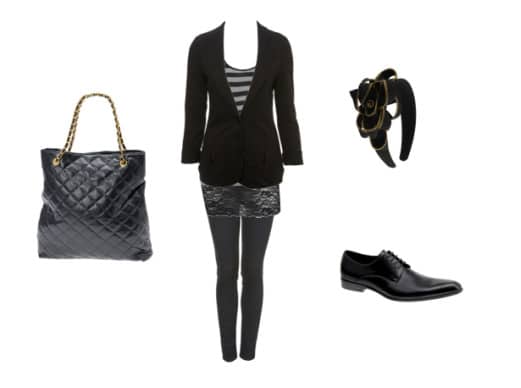 Product Information: Blazer- Miss Selfridge, Quilted Tote and Oxford Shoes- Aldo, Flower Headband- Forever 21
For most college job and internship positions, students are lucky enough to work in a "business casual" environment. That typically means that you just need to dress up your class clothing and make sure it is not too revealing.A good tip to make sure your outfit is office appropriate is to not wear anything you would not wear to a family function!
Here, I added a stylish menswear blazer to the base outfit and oxfords similar to the ones you guys liked last week. A quilted leather bag with a classy gold chain adds sophistication to this look, while this hip, zipper-adorned headband keeps it all young and fresh.
Third Outfit: Night Out!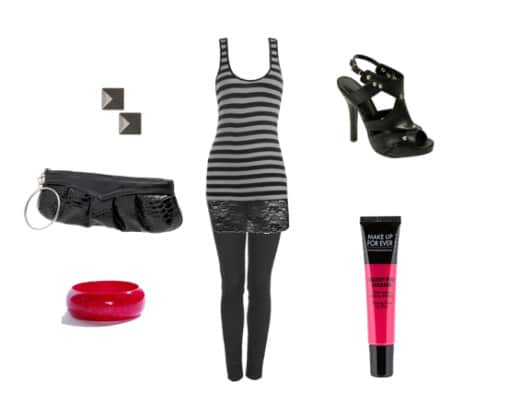 Product Information: Earrings- Modcloth.com, Snakeskin Clutch- Aldo, Pink Bangle Bracelet- Torrid, Hot Pink Lipgloss- Sephora, Studded Cage Heels- Fred Flare
Now that you've finally made it through the tough parts of your day, it's time to have some fun going out with your friends—and some fun dressing up!
For a nighttime look, I chose to accessorize the tank top and jeans combination with a couple rocker-chic items. Studded black cage heels add to the flirty effect of the lace, as does this adorable clutch that you can just slip onto your wrist with its bracelet-like attachment!
To keep the outfit from being too hardcore and dark, add a pop of color with your jewelry and makeup. Neon colors are really great to brighten up fall wardrobes, and the hot pink color of this bangle and lipgloss will definitely add some excitement to your outfit. Throw on a pair of edgy earrings like these pyramid studs and you're ready to rock!
What Do You Think?
Would these outfits work for your daily activities? Do you have a certain go-to look for those busy days? Comment and let me know!
Also, if you have any "what do I wear there" questions, let me know! I may feature yours in next week's article.