A great first day of classes outfit can do a lot — it shows your professors you're alert and excited for the semester ahead, and it can even help catch the attention of that cute guy sitting behind you in class! After all, knowing you look great is one of the world's best confidence boosters.
However, it can be tough to toe that line between overdone and too casual when you get dressed for class. To help make this clothing conundrum a bit easier, here are some tips to help you set the tone for a successful (and stylish!) semester.
1. Take Your Time
One awesome thing about the start of classes is that you probably will not be too weighed down with work. This gives you a great opportunity to be able to spend some extra time on yourself, and maybe even try a new style that you've been eyeing!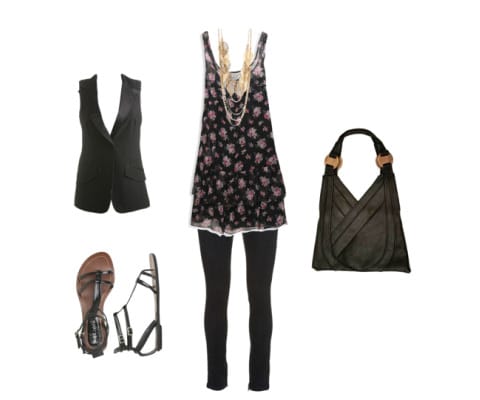 Product Information: Tuxedo Vest and Gladiator Sandal – Wet Seal, Tunic and Necklace – Forever 21, Jeans – TopShop, Tote Bag – Ruche
Since you want to appear not just fashionable but also neatly put-together for your first days, I suggest going for a menswear-inspired look. It's a super hot trend for fall that is definitely class appropriate.
The men's-style vest and dark jeans in this outfit are slightly severe, so I balanced it out with a flirty, floral tunic and detailed gold necklace. Simple gladiator sandals and a geometric bag complete this smart, sophisticated look.
2. Play Up Old Favorites
Of course, the start of fall semester does not always mean the start of cooler weather. An usually warm first week or so of classes is especially tough to dress for, as you want an outfit that won't smother you in the heat but is also not too revealing. This is a great time to pull out one of your tried-and-true summer sundresses that you've been dying to wear one last time.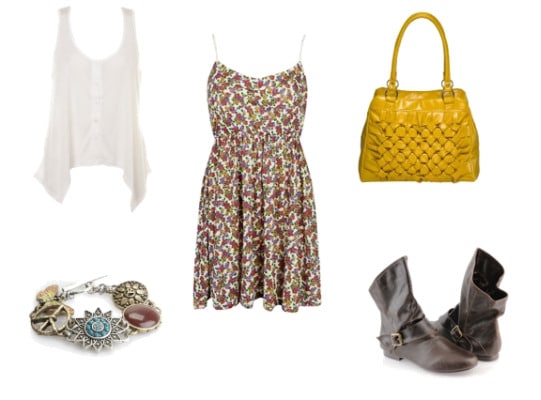 Product Information: Draped Vest – TopShop, Charm Bracelet – Lucky Brand Jeans, Floral Print Dress and Slouchy Boots – Forever 21, Yellow Tote – Target
This 90's style sundress will keep you cool while covering you up, especially if you add a cute vest. Accentuate the bright, fun pattern with colorful accessories, like this yellow tote for your books and this cute, chunky charm bracelet. To make it a bit more autumn-appropriate, pair it with some low, slouchy boots—these ones have an airy shape that shouldn't make you overheated!
3. Go Back to Basics
When worse comes to worse and you're stressed out rummaging through your closet (we've all been there!), the best way to go is classic.
Many new trends can be scary to try for the first day of class, and it isn't necessarily worth the risk. You want to look chic but also comfortable and a completely new, never-before-worn outfit could provide some unpleasant surprises.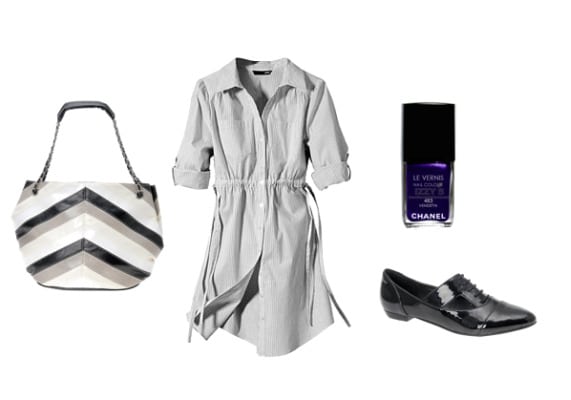 Product Information: Striped Tote and Oxford Flats – Aldo, Shirtdress – H&M, Chanel Le Vernis Nail Color Vendetta No. 483 – Saks
For this look I picked a classic, well-tailored shirtdress with a simple, striped tote and oxford flats (which are really huge right now!). To brighten it up, add a cute touch of color with some interesting nail polish or maybe a fun, detailed headband. I chose a deep purple Chanel color, but there are plenty of other ways to make it your own.
What are your thoughts?
Do you have a great back-to-classes outfit planned? Did you have a successful first day already? Share your thoughts on the best way to dress for class.
Also, if you have any "what do I wear there" questions, let me know! I may feature yours in next week's article.