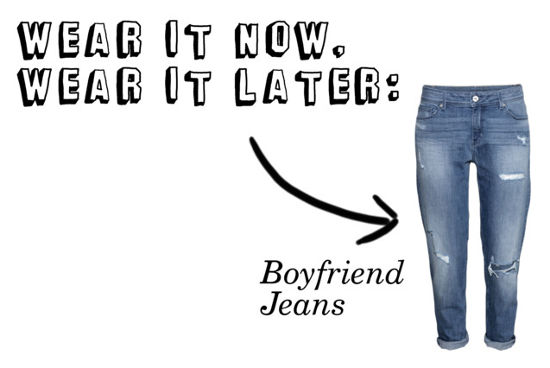 Whether you like them or not, it's hard to deny that boyfriend jeans– once a trendy, adventurous style– have become a staple in many fashionistas' wardrobes. They're comfy, casual, and– as I'm about to demonstrate– can be worn year-round.
Not yet convinced? Here are two outfits featuring a pair of H&M boyfriend jeans: one for warm, summery weather, and one for when cooler fall temps hit.
Wear It Now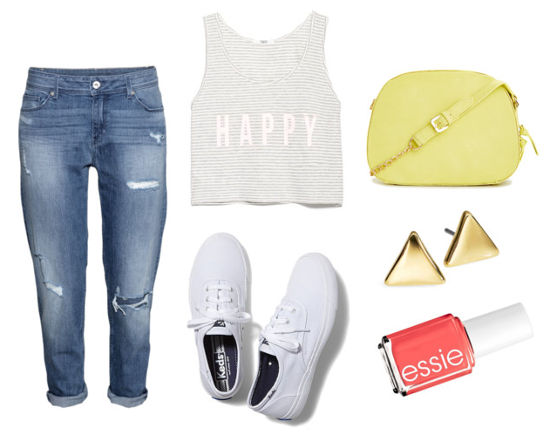 Products: Jeans, Tank, Sneakers, Earrings, Bag, Nail Polish
This cute and casual look would easily work for sightseeing, an outdoor concert, a walk at the park… you name it! Pair the boyfriend jeans with a cropped graphic tank and white sneakers for a slightly tomboyish vibe. To dress it up, however, just add a yellow crossbody bag, gold stud earrings, and bright coral nails.
Wear It Later
Products: Jeans, Sweater, Boots, Hat, Scarf, Ring
This fall ensemble with a hint of boho is the perfect way to transition your boyfriend jeans into colder weather. Pair them with an oversized striped sweater and cutout ankle boots. Layer up with a taupe scarf and wool hat, and for just a bit of sparkle, add an arrow midi ring. Voilà! Your look is complete.
Thoughts?
Do boyfriend jeans have a place in your closet? How do you style them for different seasons? Which look is your favorite? Let us know in the comments!