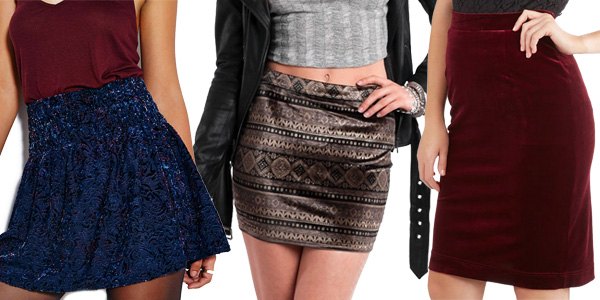 Photos: Urban Outfitters, ThreadSence, ModCloth
Do you have a favorite item in your closet? Want more ideas on how to accessorize it for different occasions? We're here to style, mix, match, and accessorize so you can get the most out of your most-loved wardrobe staple – and Wear It All Month.
Velvet skirts used to be reserved solely for winter holidays, but lucky for us fashionistas, now they're trending all year long! Whether you a prefer skater cut or a pencil midi, velvet skirts come in styles for every occasion. Mixing textures is a huge thing right now, so a great way to make a statement is by pairing your velvet skirt with leather, denim, metallic, and wool fabrics.
In fact, we're here to show you three stylish ways to wear the same velvet skirt with some of your other favorite textures. Scroll down to see all three outfit ideas:
Valentine's Day Outing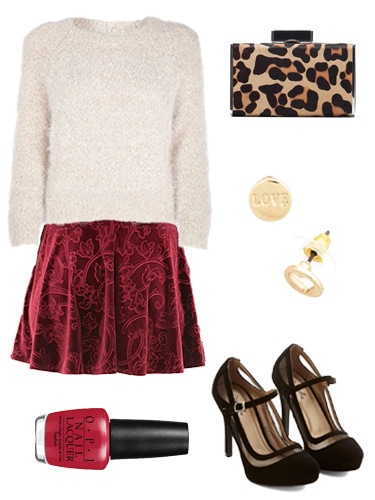 Product Information – Skirt: Forever 21, Sweater: River Island, Shoes: ModCloth, Box Clutch: Zara, Earrings: ModCloth, Nail Polish: OPI
It doesn't matter if you have plans with your significant other or with your close group of girlfriends, because Valentine's Day is the perfect excuse to dress up in your favorite girly pieces.
Mixing textures is a huge trend right now, so try pairing your velvet skirt with a fuzzy and cozy sweater. Wearing all neutrals with your pop-of-color-skirt helps it stand out. I firmly believe that leopard is a neutral, so be sure to grab a fun clutch on your way out the door.
Concert or Music Festival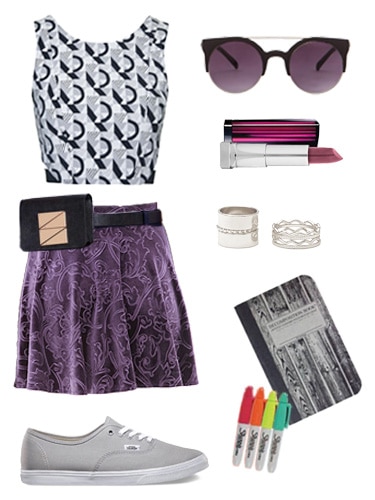 Product Information – Skirt: Forever 21, Crop Top: TopShop, Shoes: Vans, Belt Bag: NastyGal, Sunglasses: Revolve, Rings: Forever 21, Lipstick: Maybelline, Hardcover Journal: Michael Roger Press, Sharpies: Walmart
Whether you're into pop, rock, or EDM, a velvet skirt is the perfect piece for a concert or music festival. It's flashy and fun enough to make a statement, but also light enough to keep you cool in a hot and crammed crowd. On that same note, the sleeveless crop top and flat sneakers will help keep you cool and comfortable.
Don't forget to slip some mini Sharpies and a journal into your super-chic belt bag – you never know when you could get an autograph!
Grabbing Coffee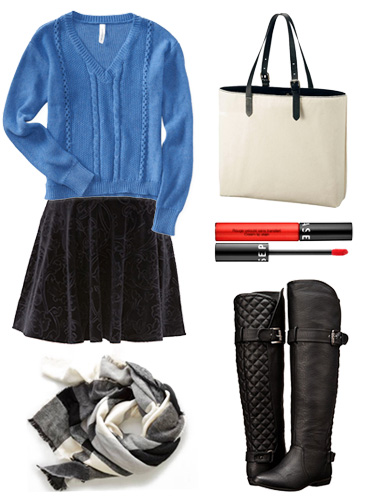 Product Information – Skirt: Forever 21, Sweater: Aero, Tote: Uniqlo, Scarf: American Eagle, Boots: Not Rated, Lip Stain: Sephora
The coffee house – a college girl's home away from home. A velvet skirt is a cute and comfortable piece to wear if you're going to be sitting and chatting or doing homework for a few hours. Pack your laptop and wallet in a roomy tote, and don't forget your lip stain!
While lipstick smudges and wears off, lip stain will last through every sip of your latte. Just remember to apply a lip balm, like Baby Lips, before applying the lip stain. Stains are alcohol-based, so they can dry out your lips – especially in the winter months.
What do you think?
Would you wear a velvet skirt? Which look is your favorite? Where else could you wear this skirt and how would you style it? Remember to leave a comment below and tell us what you think!