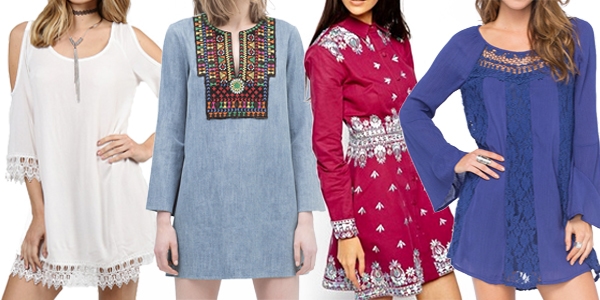 Photos: 2020 Ave, Zara, ASOS, Tilly's
Do you have a favorite item in your closet? Want more ideas on how to accessorize it for different occasions? We're here to style, mix, match, and accessorize so you can get the most out of your best-loved wardrobe staple – and Wear It All Month.
Who else is loving the '70s-inspired runway looks right now? They're everywhere! Whether it's a suede shoulder bag or fringe booties, most likely there's a '70s look that's right for you. What's the easiest period piece to style? The boho dress.
The best part about the hippie look is that it's comfortable and casual while still looking like you tried. We styled one dress three different ways, but if you're creative enough, you can wear it just about anywhere. Scroll down to see all three outfit ideas:
Vacation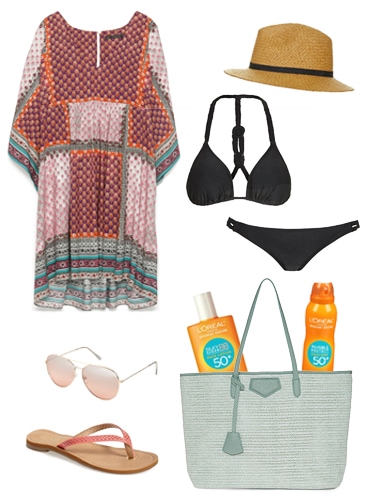 Product Information – Dress: Zara, Bikini: Topshop, Sunglasses: Topshop, Tote: Daily Look, Hat: Topshop, Flip-Flops: Report, Spray Sunscreen: L'Oreal, Face Sunscreen + BB Cream: L'Oreal
Whether you're back in your cozy dorm after a spring break in Cancún or you have a big vacation coming up, don't worry. You didn't miss your chance to wear this boho dress. Once the temps hit the upper 70s, this sweet, hippie look is fair game. Bring out the 1970s vibe by pairing your dress with aviators and a straw bag.
And a good outfit is only as good as the healthy girl who is wearing it. Make sure to apply sunscreen if you're going to be out in the sun, even for a little bit. I like L'Oreal sunscreen when it comes to taking care of my complexion as well as my health, but you can keep an eye out for any sunscreen that has a BB or CC cream infused.
Coachella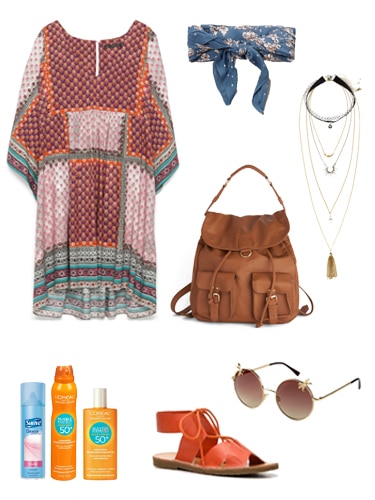 Product Information – Dress: Zara, Sandals: Dirty Laundry, Sunglasses: H&M, Backpack: Modcloth, Necklaces: H&M, Head Scarf: Abercrombie, Anti-Perspirant: Suave, Spray Sunscreen: L'Oreal, Face Sunscreen + BB cream: L'Oreal
It's that time of year again. For those of you who may not know, Coachella is the hipster/hippie-flooded weekend-long music festival that ignites outrageous hype in the music and media world. Whew.
This year, the headliners are AC/DC and Drake, but whether you're a rock fan or a hip-hop lover, you're going to need to dress the part. Coachella is known for its hippie vibe, flower crowns, fringed bags, excessive jewelry and peace-sign-throwers. Stay trendy and relevant at Coachella with super-hot lace-up flats and a drawstring leather-look backpack.
Date Night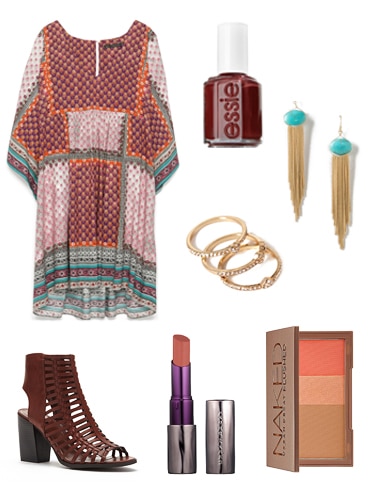 Product Information – Dress: Zara, Gladiators: Forever 21, Nail Polish: Essie, Earrings: Francesca's, Rings: Forever 21, Naked Palette: Sephora, Naked Lipstick: Sephora
After months of pining and shameless Facebook checking, you finally got the cutie's number (you know the one – who serves fro-yo in the student center.) You planned to meet up tonight, and it's the perfect chance to wear your '70s-inspired dress. Pair it with stacked gladiator heels and minimal gold jewelry for a more dressy vibe.
Urban Decay gives you a perfect glow and a soft complexion. Pair that with a pretty smile, and you'll definitely leave your date in awe.
What do you think?
Would you wear a '70s-inspired dress? Which look would you wear? Where else could you wear a boho dress and how would you style it? Remember to leave a comment below and tell us what you think!