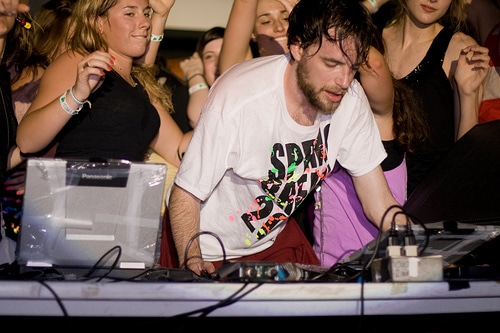 Music and fashion have always been intrinsically linked. From Elvis's rock n' roll jumpsuits to Lady Gaga's avant-garde get-ups, musicians have always been proponents of new and groundbreaking trends. Their fans have followed suit, and many a ridiculous fashion trend has been started by a celebrity: M.C. Hammer pants anyone?
So it's only fitting that today, when we love to mix up our wardrobes (flowy tops with a boyfriend blazers, yess), that the musical mash-up phenomenon is sweeping college campuses across the country. If you aren't familiar with the genre, a mash-up is basically two or more unrelated songs mixed up into one awesome track. I love that in one fell swoop I can hear a current Top 40 Hit, a song reminiscent of middle school dances, and a classic rock song.
Below, I've picked two of my favorite mash-ups and created outfits inspired by each of them. Check out the YouTube videos, take a listen, and get ready to get a great idea for the next time you need a quirky outfit to spice up your look.
Mash-up Look #1: Inspired by "Still Bleeding" (Super Mash Bros.)
Still Bleeding has everything I need to get pumped for a night out: it has a Jock Jams flashback mixed with Pitbull, Fergie, Madonna, and Katy Perry. Kind of amazing!
Inspired by the Jock Jams theme, I pulled a classic varsity letter jacket, while of course the crazy yellow tulle skirt is straight-up Madonna circa the 1980's. I'm sure Pitbull would approve of the sky-high heels, while the zip-up corset top looks like it's right out of a Fergie music video. The look gets its finishing touches with an adorable bright blue headband that totally embodies the coquette persona of Katy Perry.
Product Information:Headband – Forever 21, LUXIRIE Varsity Women's Jacket – Tilly's, Apple Bottom Cropped Vest – GetTheLabel, SUPER LOVERS Tulle Tutu – Maruione.jp, Jessica Simpson Lizza Pump – Heels.com
Mash-up Look #2: Inspired by "What It's All About" (Girl Talk)
Putting together a look inspired by What It's All About was a bit more difficult since Gregg Gillis, the mastermind behind Girl Talk, uses an absurdly high number of clips in his mash-ups. In fact, this particular selection has 36 different songs mixed in!
Clearly there was no way I could make an outfit using one piece inspired by each song. So instead I channeled the overall vibe of the song: street rap meets classic rock with an old school twist. The magenta high-top Nikes really make this outfit, but the studded blazer, colorful bangles, and fedora will guarantee that just like the artists featured in this mash-up, you'll never get lost in the crowd.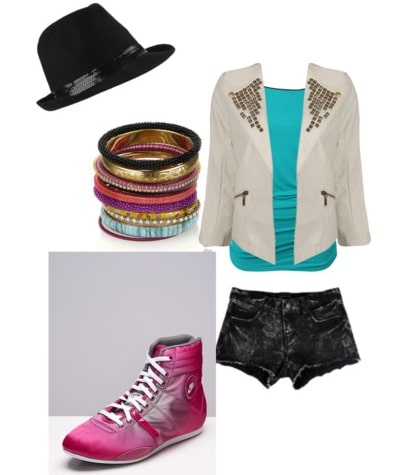 Product Information:Fedora – Forever 21, Bangles – Monsoon, Turquoise Top – Forever 21, Pyramid Lapel Jacket – Forever 21, Frayed Denim Shorts – Queen's Look, NIKE Hijack Mid Brilliant Magenta – Ssense
What are your thoughts?
Are you a mash-up fan? If so, do you prefer Chiddy Bang or Milkman? Do you like the fashion challenge of basing an outfit around a mash-up? Leave a comment!
Also, if you want more music-inspired fashion, you must check out Megan's post on Vampire Weekend-Inspired fashion!