This post may contain affiliate links, which means we may receive a commission if you purchase through our links. Please
read our full disclosure here
.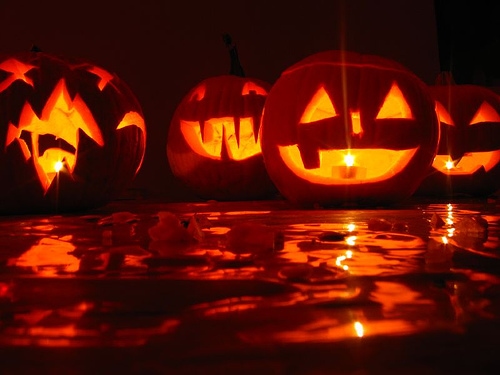 Although October is just starting, it's never too early to start thinking about Halloween costumes. The 31st will creep up on us before we know it, meaning we only have a few weeks to plan! Besides, the planning is half the fun, right?
Below, I've outlined some general tips and tricks to make costume shopping a breeze, as well as some of my favorite places to buy plus-sized Halloween costumes. Read on to learn more:
General Costume Shopping Tips
Plan early. If you're reading this, you're probably already mentally planning exactly what you want to dress up as, but don't let yourself get caught up in the false security that Halloween is still weeks away! Don't forget that fantastic original costumes require time, effort, and planning.
Be original. Don't be afraid to look up DIY costumes (Youtube has a ton of cute, easy ones – Macbarbie07 actually has an entire series on them!) and put your own spin on a popular costume.
Set and stick to your budget. Choose a Halloween budget that's right for you and make sure you stick to it. Halloween costumes are not cheap (especially when they don't come with accessories), so you will be tempted to go over but just remind yourself that it's only for one night — is it really worth to go $50 over budget for a one-night outfit? (The answer is probably not.)
If you have the luxury of being able to try the costume on before buying it, always do so. The costume may look perfect on the model, but it could look completely different on you. You never know until you try it on! (This goes for what you might think is an "ugly" costume too! You'll be surprised at how many things will look great on you if you only give it a chance!)
Because (usually) the best plus size costumes are sold solely through online retailers, always check their size chart and have a tape measure handy. I can't stress this enough. You may be a size 16 at one store, but a size 18 at another, so never, ever assume your size. Make sure to measure yourself (or ask a friend to) to double check, just in case!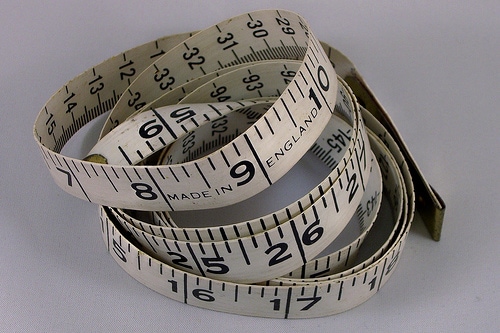 When ordering online, it goes without saying to always check the return policy – especially on pricier items such as Halloween costumes. After all, you don't want to be stuck with an ugly Halloween costume that is two sizes too small.
Be patient. Don't buy the first costume you like and don't get discouraged if you don't like any of them at first. The secret to finding the perfect costume is patience and research. Research as much as you can to find different variations of the same costume, compare prices, and read reviews.
Accentuate your best feature. It's no secret that most female Halloween costumes start with the word "sexy" but make sure to choose a costume that makes you feel comfortable and confident. Do you love your legs? Choose a costume that shows them off. Do you love your chest? Choose a costume that frames it. Never feel pressured to dress up as something because it's "popular." The important thing is to be confident in your own skin before you can jump into someone else's shoes. Confidence always shines through.
Top Stores for Plus-Size Costumes
Affordable & Adorable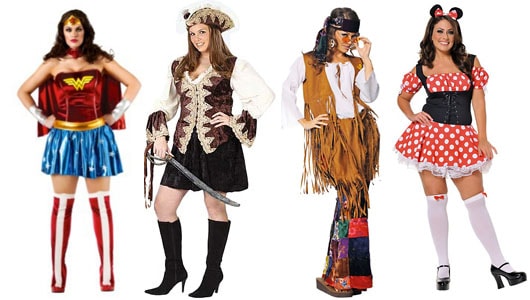 Target, Walmart, Party City, Party City
I've found that mainstream stores like Party City, Target, and Walmart, carry a limited stock of plus-size costumes and they're usually the first to go! That said, if you're on the hunt for a relatively cheap costume and don't want to go through the hassle of online shopping, keep your eyes peeled and visit these stores ASAP! Keep in mind, though, that these costumes usually run small and are not sold in all sizes.
All three stores do a good job of having cute costumes at a relatively cheap price, if you're able to snatch one before they run out. Like I said before, plan, plan, plan! And, if you don't find what you're looking for in your size, don't be afraid to ask for possible availability in the back or even at other locations.
For an even more affordable costume, make your entire costume by simply buying accessories!Party City has a huge selection of costume accessories that you can mix and match with clothes you already have for a unique outfit that's completely yours (and already fits perfectly)!
Fancy & Fabulous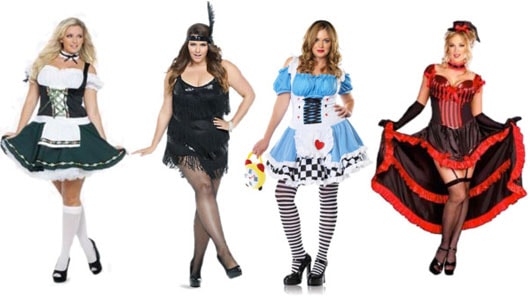 OneStopPlus, Torrid, Sonsi, Woman Within
On the other side of the spectrum lies stores like Sonsi (a Lane Bryant sister brand!), Torrid, OneStopPlus, and Woman Within, where the prices are much more expensive, but you get a higher-quality costume. (You get what you pay for, right?) If you have a party planned for Halloween, a big event that involves a dressier costume, or if you just want to splurge on your costume, I highly recommend scrolling through the ones at these stores.
My personal favorite and number one recommendation is Sonsi because of their wide variety of different types of costumes. I've found that they carry the cutest plus-size costumes, albeit some of the most expensive. If you're not looking to spend an upwards of $50, then I suggest looking at one of the budget-friendly stores listed above or making your own!
One of the perks of buying online at Sonsi is that they'll ship your order to your nearest Lane Bryant or Catherine's location free of charge! How great is that?
Torrid doesn't have as wide of variety as Sonsi, but their prices are slightly lower, so they're definitely worth checking out. On the other hand, OneStopPlus carries some amazing and beautifully detailed costumes – like the Queen of Hearts or the Cinderella-esque Enchanting Princess – but some of their price tags aren't exactly ideal for the average college student's budget. However, if your budget allows, I'd say go for it!
What do you think?
What are your go-to stores for plus-size costumes? Do you have any tips for finding plus-size costumes? Would you wear any of the costumes pictured above? Which is your favorite? Let me know in the comments!