This post may contain affiliate links, which means we may receive a commission if you purchase through our links. Please
read our full disclosure here
.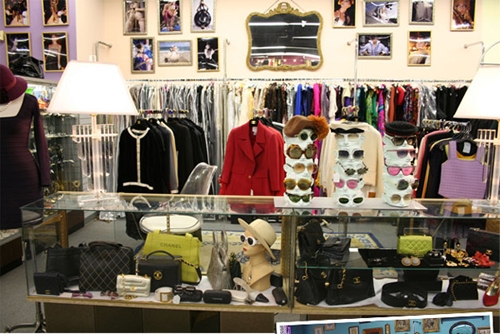 Source: ELLE
Ever since I read #GIRLBOSS by Sophia Amoruso, the founder and owner of NastyGal, I've been intrigued by the world of vintage. (By the way, if you haven't read #GIRLBOSS yet, I HIGHLY recommend it.) I've always admired girls who can rock vintage, and I enjoy browsing through vintage stores, but I never really got into it. Until now.
Wearing vintage is a way to preserve and admire history. That vintage shirt, dress, or skirt has a story to tell, and it's always fun to imagine who might have worn a certain piece before you. Buying vintage is also environmentally friendly because it reduces waste in landfills. Not to mention, vintage clothing is also unique and often much higher quality than what you might buy at say, Forever 21.
If you're interested in learning more about vintage clothing I recommend checking out Fashion Dig, which offers a range of resources and will help you find vintage stores in your area. Also, check out these CF articles on caring for vintage and how to thrift shop (cue "Thrift Shop" by Macklemore).
Let's face it, we could all afford to add a little '90s flair – à la Clueless – to our wardrobes!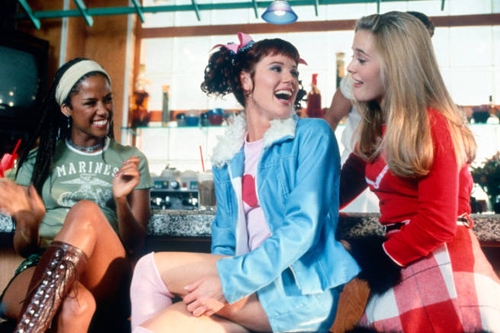 Source: ELLE
The Top 5 Places to Shop Vintage Online
Unfortunately, the city where I go to school only has a few vintage stores, so the options are somewhat limited. Thank goodness for the internet! Once I started doing some research on vintage, I realized that there are a multitude of resources and places to shop for vintage clothing online.
Here are five of my favorite online stores to vintage shop:
1. NastyGal
Since I mentioned #GIRLBOSS above, I obviously have to include NastyGal on my list. The NastyGal brand started out with solely vintage clothing and you can tell through the artfully curated clothing that it is one of Amoruso's passions.
The clothes have a trendy vibe, which is living proof that fashion trends are constantly being recycled. While the prices range from $30 to hundreds of dollars, there are plenty of affordable finds for a college budget.
2. The Kissing Tree
In general, Etsy is an excellent place to look for vintage. You could spend hours browsing through their virtual catalog of vintage goods. One of the shops I instantly fell in love with was The Kissing Tree. The clothing is styled impeccably, in a way that doesn't scream costume. The prices are totally reasonable as well, which makes it a win-win.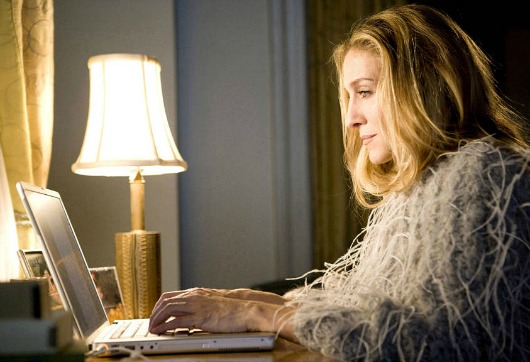 Source: ELLE
3. Nifty Thrifty
With a catchy name like this, what's not to love about Nifty Thrifty? You won't find designer labels here, but the website is organized exceptionally well and the prices are very inexpensive. Almost everything is under $50 and many items are under $10. As as added bonus, each listing features exact measurements, so you know exactly how an item will fit.
Nifty Thrifty is also home of the $5 mystery tee. Just tell them your size and they will select a surprise vintage t-shirt just for you!
4. Goodwill
I know what you're thinking, Goodwill has an online store? I never knew it myself until recently, but Shop Goodwill is the first internet auction site operated by a nonprofit organization. It works much like eBay in that you have to bid on items, and that means there are some incredible scores to be had.
While you may have to do quite a bit of browsing to find something vintage you like, it's absolutely worth it. Think of it as an adventure!
5. Vintage Trends
Vintage Trends offers an eclectic selection of vintage clothing for men, women, and children. They have a wide variety of items: everything from 1950's motorcycle jackets to 1930's cocktail dresses.
Each piece of clothing is hand-selected by professional vintage consultants so you know it's of the utmost quality. Also, all of the clothing is categorized by the type of garment or era, so it's easy to find exactly what you're looking for.
CF Vintage Favorites
We've rounded up 10 of our favorite vintage pieces from the stores mentioned above. Get 'em before they're gone!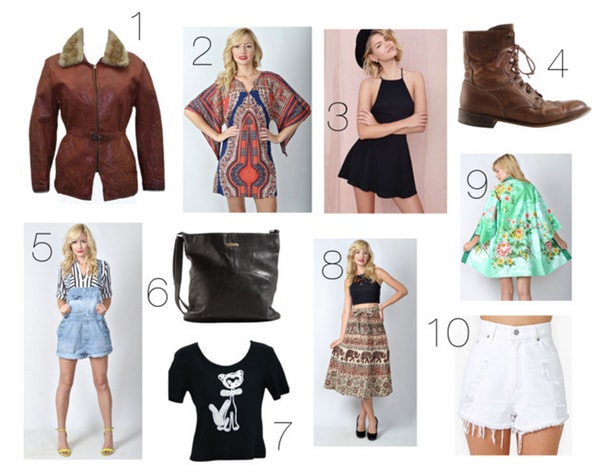 Your Thoughts?
What do you think of vintage? Are you an avid wearer of vintage? What are your favorite places to shop for vintage online? Let us know in the comments!