This post may contain affiliate links, which means we may receive a commission if you purchase through our links. Please
read our full disclosure here
.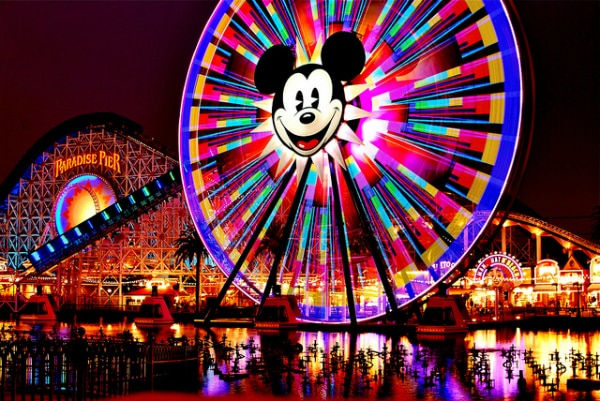 Aren't theme parks the best? I mean, they have everything: fun rides to go on, indulgent food to eat, and enough awesome activities to keep you occupied all day long.
However, as amazing as theme parks are, they always cause a certain fashion conundrum to arise: how can you look stylish and stay comfortable throughout the day? If you've ever had that thought, you're in luck, because I've developed some tricks and tips to help you do both. Interested in learning more? Read on for the ultimate guide to looking chic at theme parks:
Scenario #1: A Day at the Park
You're planning to spend the next 12 hours at a theme park, so you need an outfit that is super-comfortable, able to keep you cool in scorching temperatures and still über-stylish. (Whew!)
What You'll Need:
A breezy top and a pair of laid-back shorts are pretty much the perfect items to wear at theme parks. Both items are casual, comfy and will keep you cool in hot weather.
A pair of comfortable shoes is a must. Since you'll be on your feet all day, this isn't the time to break in a new pair of sandals or sneakers.
As far as bags go, choose a hands-free style — like a cross-body bag — so you can enjoy your day without worrying about lugging around a heavy bag.
Outfit for Inspiration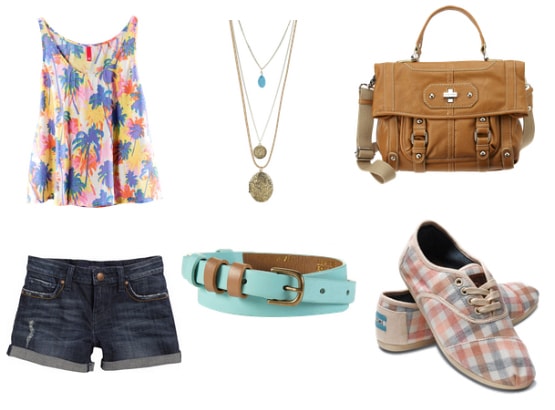 Top – H&M, Shorts – Nordstrom, Necklace – Miss Selfridge, Bag – Nine West, Belt – Topshop, Shoes – TOMS
For this look, I chose a pretty printed blouse and a pair of basic denim shorts for a perfect summer look. These classic sneakers are comfortable enough to wear all day, while a cross-body bag is large enough to hold all the items you'll need. Finally, accessorize with pieces like a colorful belt and matching necklace.
Scenario #2: Ready to Cool Off
This scenario has the same basic premise as Scenario #1, except this time, you're planning to go on all of the big water rides at the park, meaning you'll likely be drenched from head-to-toe… multiple times. You'll need an outfit that will keep you from looking like a soggy mess mid-way through the day.
What You'll Need:
Look for clothes made of quick-drying fabrics and avoid thick fabrics like denim, which take forever to dry.
A comfortable swimsuit to wear under your clothes, which will dry much faster than normal undies.
Comfortable, waterproof shoes. Don't wear shoes made of materials like leather and suede, which can get ruined when wet. Also, damp shoes and socks= no bueno.
A roomy bag that can hold an extra set of clothes if you need them. Another hands-free option to try is a lightweight backpack.
Outfit for Inspiration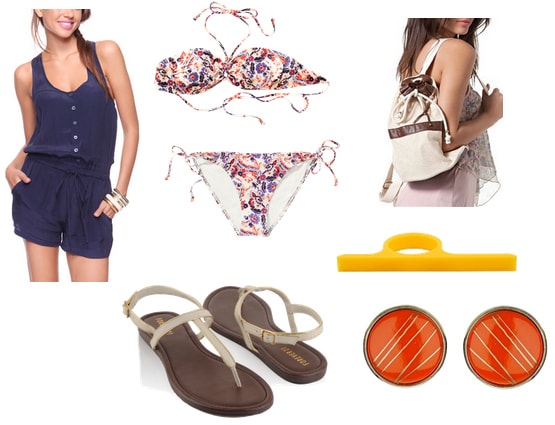 Romper – Forever 21, Bikini – H&M, Bag – O'Neill, Sandals – Forever 21, Ring – AmRag, Earrings – Topshop
For this look, I started with a lightweight navy blue romper made from a water-resistant fabric. Underneath the romper, wear a patterned bandeau bikini and add some comfy sandals and a stylish backpack. Finally, add some unique jewelry like this ring and these earrings, which pick up on the colors found on the bikini.
Scenario #3: Making a Splash
You're going to spend the afternoon at a water park catching some rays, going on awesome water slides and scoping out cute boys. You need getup that will look good and be practical for a day in the water.
What You'll Need:
A stylish one-piece swimsuit, since bikini tops and bottoms tend to come off after going on water slides. If you insist on wearing a bikini, make sure it fits snugly!
A chic cover-up that you can wear to and from the park. (For more, see our post on cute cover-ups!)
A pair of flip flops are a necessity at water parks due to the fact that they're waterproof and easy to put on and off.
Some sunglasses to protect your eyes. Bring an inexpensive pair in case they get lost during the day.
An oversized beach bag to hold all the goodies you'll need, like a towel and change of clothes.
Outfit for Inspiration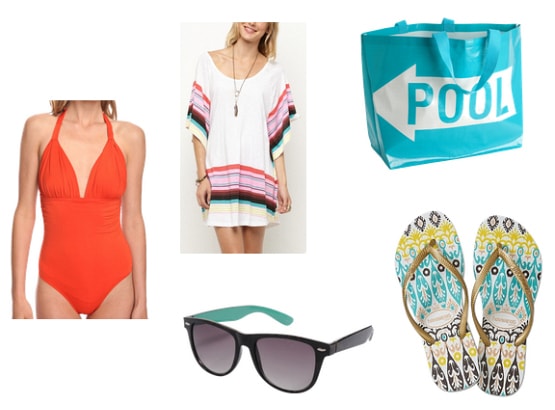 Swimsuit – Forever 21, Coverup – Roxy, Bag – H&M, Sunglasses – Forever 21, Sandals – Athleta
For foolproof water park look, wear a pretty swimsuit in a bright color, like this one from Forever 21, and a stylish patterned coverup. Add some sunglasses, flip flops, and a fun graphic beach bag, and you'll be ready for a day in the sun.
Bonus! Items You Shouldn't Forget to Bring:
This should be a no-brainer, but remember to wear sunscreen to the park and bring a small bottle so you can reapply throughout the day.
Carry some extra hair ties because inevitably, you or someone you're with will need one.
A small bottle of Advil or a similar pain killer — just in case!
If you wear them, an extra pair of contacts and a small bottle of solution. I'm speaking from personal experience here: Nothing is worse than losing one of your contacts at a theme park!
Remember to take some cash with you, because some vendors might not take a debit card. Bringing a set amount of cash can also help you keep track of how much you spend at the park.
What do you think?
Will you be visiting a theme park this summer? What do you normally wear at theme parks? Any tips you'd like to share? Remember to let me know what you think by leaving a comment!