The following is a guest post by Brianne, who writes at SavvyStudent, a blog about accredited online universities and student life. Brianne is currently a pre-law student at Seattle Pacific University in Seattle, WA.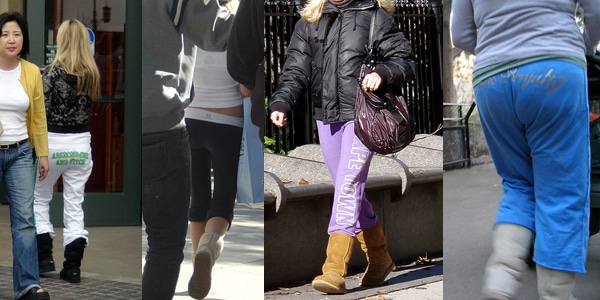 Your alarm just went off 5 hours earlier than you would have liked.
You roll out of bed, open your closet, and groan… what to wear today? Groggy mornings call for something easy and comfortable, so sweats are typically the default answer. But it seems that in college we have mornings like this WAY too often… So what do you do when your sweats start to feel sloppy?
It just so happens that there are items out there that are just as cozy as your sweats and sweatshirts but look decisively more put-together. Sweats in fashionable disguise, if you will. Don't believe me? Keep reading.
Time to give your wardrobe a face-lift.
Pair these comfortable items with your favorite pair of worn-in jeans and you're good to go, in style: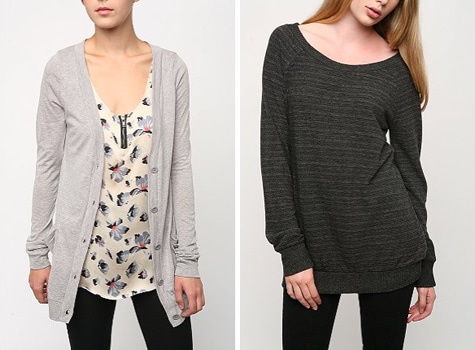 Flannel Shirt: At my school, 'Flannel Friday' is one of my favorite days. A flannel button-up has "cozy autumn day" written all over it, and the flannel material only gets softer the more times you wear and wash it. A bonus? Flannel shirts are a current trend but also a classic, so anyone can pull them off. Plus, they come in all different colors to suit your personal style. Layer one with a bright colored hoodie for some extra warmth and style. If you like this idea, be sure and check out Mya's post on flannels for some other ways to wear this look.
Plain Tee + Vest: The t-shirt and jeans combo is a comfortable fall-back option that requires no thought at all in the morning. Mix it up simply by adding a vest– menswear suit-style, colored knit, crocheted, suede, leather, or sequin (if you're feeling bold). There are infinite possibilities, and this one item adds a laid-back cool vibe to the outfit without much extra effort.
My new favorite trend is wearing thick dark colored leggings instead of skinny jeans. They're pretty comfortable, and there are plenty of ways to make a fashionable outfit with them. Try these pieces to wear with leggings:
Knit Pullover: Have fun with this one. It's easy to find inexpensive and cute knit pullover sweaters– go for the wild colors and intricate designs to attain this youthful urban look. Buy one a little too big for that cozy effect, which will also make it look better with the leggings. Also, make sure it's long enough to cover you up! For that perfect fit, try shopping in the boy's section… It may sound funny, but seriously, they usually have the cutest pullovers hiding in the guy's section. It's a sneaky way to get the I'm-wearing-my-boyfriend's-clothes look. My favorite place to scope out the guy's side is H&M. And if you're not in to eccentric sweaters, even a black, grey, or white knit pullover looks more put-together than a boring sweatshirt. Trust me, there's nothing better than the homey holiday-season feel of an oversized sweater.
Grandpa Cardigan: This style of cardigan is loose-fitting so it's extra comfy. It looks great with just a plain tank top underneath, so you can just throw it on in the morning and it's a sure way to attain that effortless retro-chic look. This is another item you can raid your boyfriend's closet for, or just try my tip from the knit pullover option and slip over to the boy's side of the store.
Note: All the above items can easily be found at thrift stores, so revamping your wardrobe is easier and cheaper than you think! Also, bargain hunting with your friends makes for a fun weekend activity. Need tips on where to shop? TryBuffalo ExchangeorPlato's Closetfor quality unique clothing that's still well-priced. Try usingcitysearchto look up cool vintage thrift stores in your area, also.
Want to add a little more style?
If you have a some more time in the morning and want to change these looks up, here are a few more tips.

Your thoughts?
How about you? Do you have a stylish, put-together alternative to sweats that's worked well for you? Would you give up your sweats for these looks? Let me know with a comment!