Tomorrow is one of the biggest days of the year for sports fans, music lovers, and food enthusiasts alike. Last year 112.2 million people watched the Super Bowl and I'm sure you were one of them.
Besides debating who will win, what you'll bring to the gathering you're going to, and who you'll see there, I'm sure you're also thinking about what the heck you're going to wear to your Super Bowl party.
Whether you're a Panthers of Broncos fan – or neither – you're going to want to pick a side, which will be reflected through what you wear! If you plan on going to a Super Bowl party you'll probably be there way before the game actually starts and a little bit after it's over so looking cute while also being comfortable is important.
Below, I've created two cute and casual Super Bowl 2016 outfit ideas:
Carolina Panthers Outfit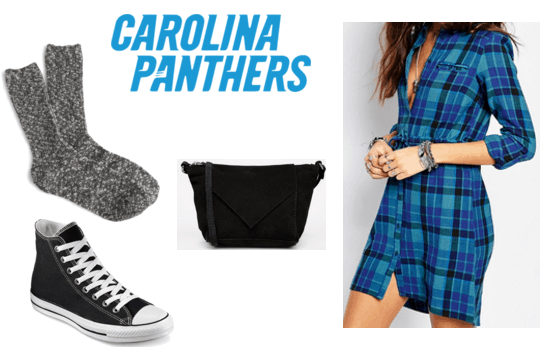 Products: Socks, Shoes, Bag, Dress
This cute Carolina Panthers outfit is perfect for a get-together with family or party with friends. The Converse will be way more comfortable than heels or heeled boots and the perfectly color-combined dress will keep you looking cute.
Although this dress is found online and the game is tomorrow, I would try to find flannel shirt or dress with these colors in it. This wouldn't be too hard as flannel is in every store these days. If I found a similar shirt, I'd wear the same items and pair it with dark or black jeans.
Denver Broncos Outfit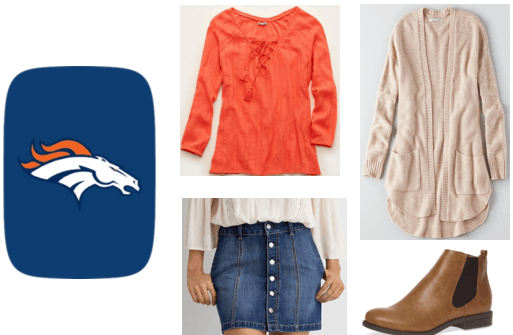 Products: Shirt, Skirt, Sweater, Boots
In this look, the orange peasant top and blue denim skirt capture the Broncos team colors in style. I would wear the orange top tucked into the denim skirt and a cream colored cardigan like the one pictured above to break up the bright color. I also think the brown flat chelsea boots add a relaxed but sophisticated aesthetic to the outfit, perfect for any gathering.
What are you wearing tomorrow?
Of course, if you are actually planning on going to the game that would also be so amazing! Both outfits above would be perfect for the weather at the Levi's Stadium on Sunday.
Now I want to hear from you. What are YOU going to wear to your Super Bowl party tomorrow? Which team are you supporting? Let me know what you're most looking forward to on Super Bowl Sunday!