This post may contain affiliate links, which means we may receive a commission if you purchase through our links. Please
read our full disclosure here
.
I know talking about the weather makes for pretty boring conversation, but babes it is so hot here right now I can barely think about anything else. We've had temps hit the upper 90's here in the mitten and I am having a true style crisis. I hardly know how to dress myself for temps like this when I'm off-duty, let alone when I'm at work.
The good news is, a couple of simple wardrobe swaps will help you face even the sweatiest of commutes or those terrible, awful, no-good broken AC days. Just be sure to keep a cardi nearby just in case that AC decides to kick in at full blast forever because we can't have nice things.
Swap Your Pencil Skirt for an A-Line Skirt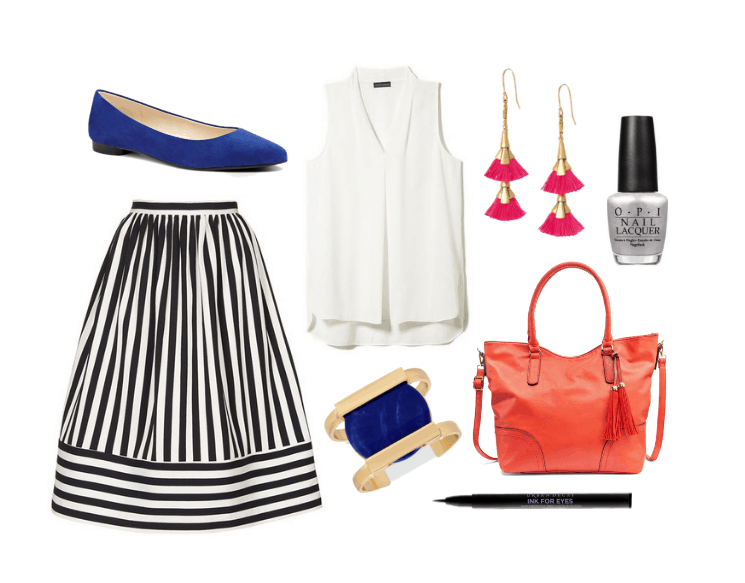 Products: Flats, Blouse, Earrings, Nail Polish, Skirt, Bangle, Bag, Eyeliner
If pencil skirts are a regular part of your workweek rotation, try swapping in a floaty A-line skirt for the blistering heat. Like pencil skirts, A-line skirts work with any kind of blouse, blazer, or shoe, but they have the added benefit of breeziness, which gives your legs the kind of breathing room pencil skirts don't always allow for. Plus, if you look breezy and carefree, you'll feel breezy and carefree. Science!
Opting for a skirt in a bold color or pattern, like the black and white striped skirt featured above, is also a great way to add a bit of personality to your work wardrobe. The conservative silhouette of the skirt tempers even the boldest of patterns, making them suitable for most workplaces.
Swap Your Button-Down for a Short Sleeve Blouse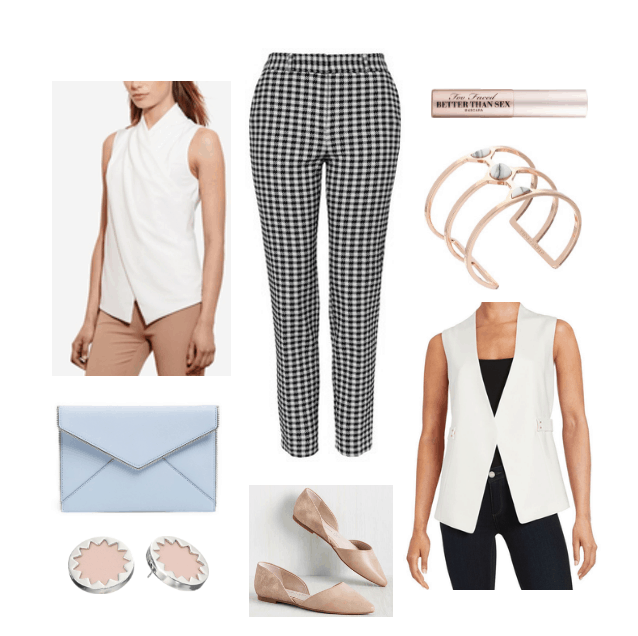 Products: Blouse, Pants, Mascara, Bangle, Bag, Earrings, Flats, Vest
This one is a bit of a no-brainer, but it makes such a big difference on those sweltering days – especially since shorts aren't exactly work-appropriate. Classic white sleeveless tops look especially sharp when paired with structured pieces like vests and trousers.
One caveat – your office may not be cool with completely sleeveless tops, so be sure to check your company's dress code before you bust out your credit card. If no-sleeves are a no-go, check to see if short-sleeved or cap-sleeved tops are okay. Less sleeves is better than no sleeves, amiright?
Swap Your Sheath Dress for a Shirtdress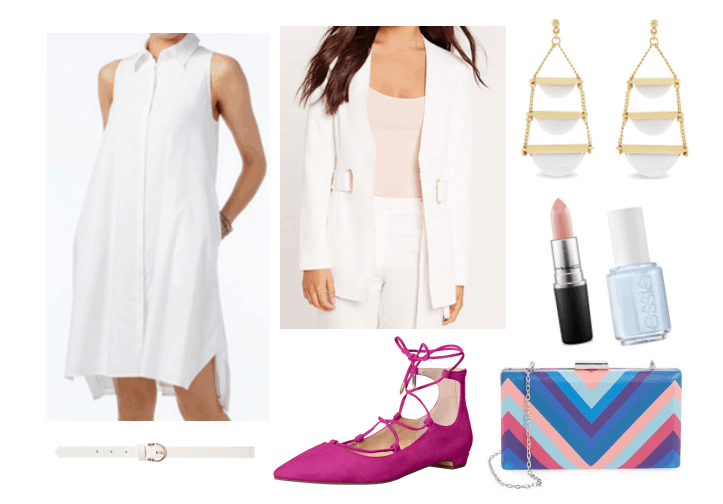 Products: Shirtdress, Blazer, Earrings, Lipstick, Nail Polish, Belt, Flats, Bag
This one is by far my favorite lazy-girl dressing hack – swapping in a shirtdress for your fave sheath or a-line dresses in the summer gives your skin some breathing room and cools you off faster, all while looking trendy and put-together without being too polished. As long as the shirtdress hits just above the knee or lower, it's appropriate for most business casual and casual workplaces (and the casual Fridays of some conservative offices).
I especially love the look of white shirtdresses, because I am 1) obsessed with the all-white look rn and 2) white clothing reflects all light so you feel cooler. Again – science! As an added bonus, white is an excellent canvas for poppy jewel tones and pastels alike, making it the perfect choice for showing off your cute new lace-up flats or a punchy new purse, like the ones shown above.
What do you think?
What do you do to beat the heat when dressing for work? What are your go-to summer pieces? Would you wear any of these looks? Let me know in the comments below!