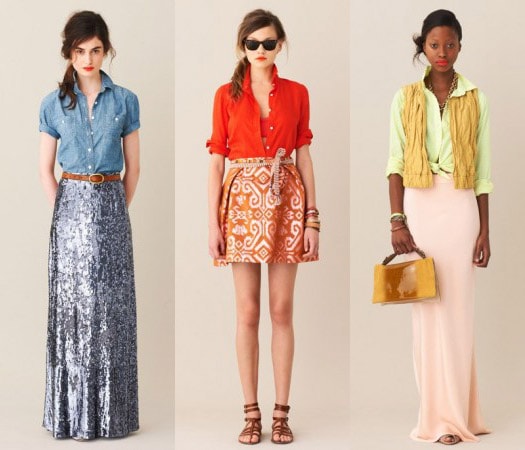 J.Crew's look is known for classic staples with an edge. The brand, led by President & Executive Creative Director Jenna Lyons, has mastered the art of mixing timeless pieces with trendy, fashion-forward items to create stylish, up-to-date ensembles.
With the new school year quickly approaching, now is the time to start thinking about how you'll wear your summer pieces into fall. I recently found some amazing fall transition inspiration in J.Crew's Spring 2011 lookbook (yes, I said Spring 2011) and wanted to share it with you. While J.Crew's fall lookbook is undoubtedly inspiring, I found their Spring 2011 lookbook to be full of unique ways to wear summer staples in cooler weather.
Below, I've recreated three summer-to-fall transitional looks from the J.Crew lookbook.
Look #1: Flirty Skirt
This J.Crew look is a simple, sweet look perfect for both summer days and that awkward transition into fall. The color palette in this look is very soft, mixing light pinks and corals with light brown accessories for a laid-back, easygoing aesthetic.
Getting the Look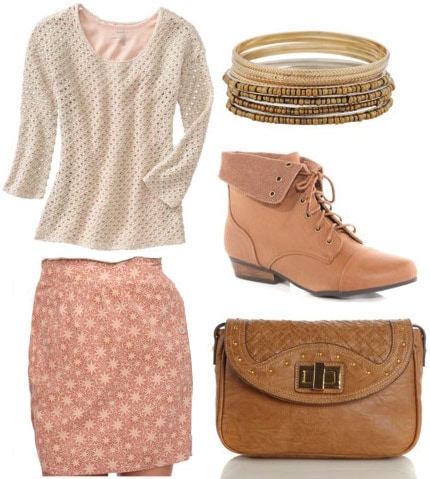 Sweater, Skirt,Bangles, Booties, Bag
To recreate this look, let's start with the skirt. In the original look, J.Crew used a coral patterned skirt, so for our look I chose a peachy-colored skirt with a unique pattern. Pair the skirt with a crochet sweater for a look that's both trendy and perfect for fall. (You could also wear the sweater on a cooler summer day with shorts!) To accessorize, channel J.Crew's earthy vibe by adding soft brown-colored pieces. These caramel-colored booties add a rugged feel to the soft and sweet outfit, while a cross-body bag and beaded bangles finish the laid-back look.
Look #2: Jazzed up Denim
In this look, J.Crew combines two summer staples: a chambray shirt and a patterned skirt. The look has J.Crew's trademark earthy feel, but with a modern twist. By adding a few trendy accessories, the look is elevated from basic to fantastic.
Getting the Look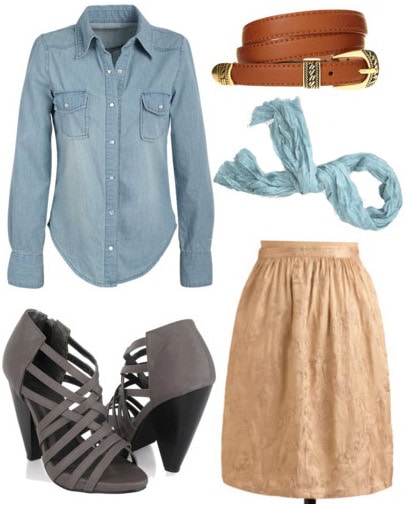 Shirt, Shoes, Belt, Scarf,Skirt
This look starts with a denim shirt, which can easily be worn into fall – look for one in a lighter wash and a soft fabric. Roll up the sleeves of the shirt so the look isn't too stiff and pair it with a beige midi skirt – another hot fall trend. To get the layered belt look, start by wrapping a light blue scarf around your waist, then layer a thin brown belt over the scarf. Finish the look with grey strappy heels. If you wear this look in fall, or you just want to be more authentic to the J.Crew look, you can also add brown ankle socks. This look would also look great paired with a brown cross-body bag.
Look #3: Sequin Shorts with a Classy Vibe
J.Crew adds edge to a classic sweater-and-oxford-shirt combo in this eccentric look. The top is transformed from preppy to edgy with the addition of sequined shorts, booties, and a standout hat. This look also channels the monochromatic trend that was popular this season by mixing shades of blue, from the navy fedora to the blue-grey booties.
Getting the Look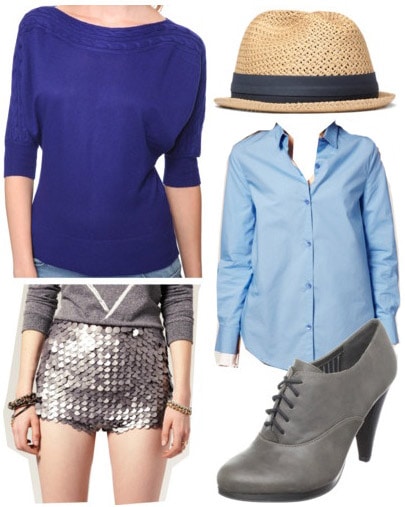 Sweater,Shorts, Hat,Shirt, Shoes
For this look, start with the standout piece: a pair of sequined shorts. If you can't find a pair of sequin shorts, feel free to substitute a sequined skirt. To fully embrace style of J.Crew's look, pair the sequined shorts with a light blue button-down shirt. Layer the button-down with a darker blue sweater and cuff the sleeves for extra polish. Keep your accessories minimal – the shorts are bold enough on their own. Just add grey booties and a woven fedora, and you're done. This look is the perfect combination of sass and structure and would be perfect for parties or dressed-up lunches.
What do you think?
What do you think of J.Crew's looks? Which one do you think is most wearable? How do you transition your wardrobe from summer to fall? Leave a comment and tell us your thoughts!