Summer is all about living out of a suitcase, whether you're traveling or interning in a different city, state, or country. Though it's easy to believe that street style stars aren't privy to the same baggage restrictions you are, looking stylish while flooding your Instagram feed with exotic location tags is a lot easier than it seems.
As an international student in the U.S., I'm used to navigating international baggage restrictions– which is always a valuable skill for anyone looking to study or live away from home for an extended period of time!
In this series, I'm giving you guys a peek at my travels this summer, as I attempt to style two weeks' worth of clothes over a two month time period. Here's a look at my favorite outfits from this month:
1. Pack a Kimono Cardigan, I Promise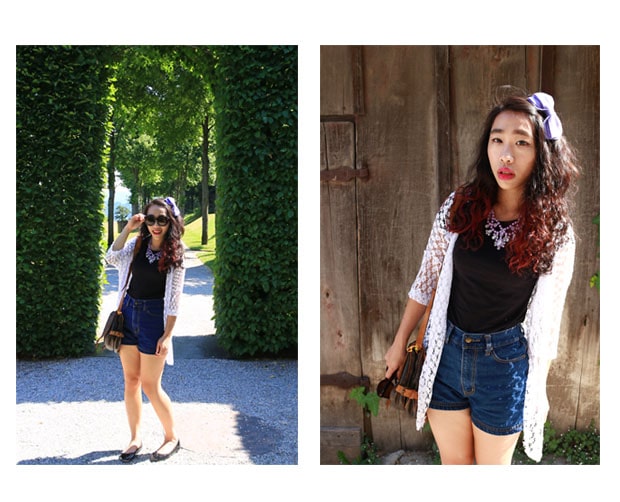 For my first day in Vienna, I really didn't want to hold everyone up from hitting the sights– so I threw on denim high-waisted shorts and a plain black t-shirt in the morning. I think it's a pretty foolproof combination, though, because you could probably style either one of those pieces twenty different ways.
I wear a lot of bright-colored clothes with loud prints, so I brought a white crochet kimono with me to maximize outfit options. If you're packing a lot of neutrals, a loud statement necklace, shoe, or cardigan (or all three, in my case) can be really useful when you're craving some color.
2. Always Pack a Hat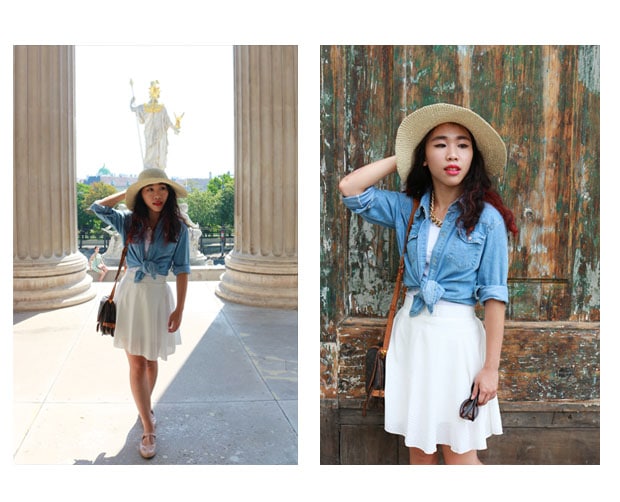 Hats– so touristy, but totally chic. They're a surefire way to instantly look glamorous in all your holiday snaps, plus they're the easiest thing to throw on when you've got a full day of sightseeing ahead and just want to be out the door.
Chambray shirts are the chai lattes of the fashion world– suitably summery when served with ice in the summer months, but really edgy and seasonally-appropriate once temperatures start to drop. Here, I styled mine with lots of white and a fuchsia lip for a day spent exploring old Viennese buildings.
3. When in Doubt, Pack Several Hats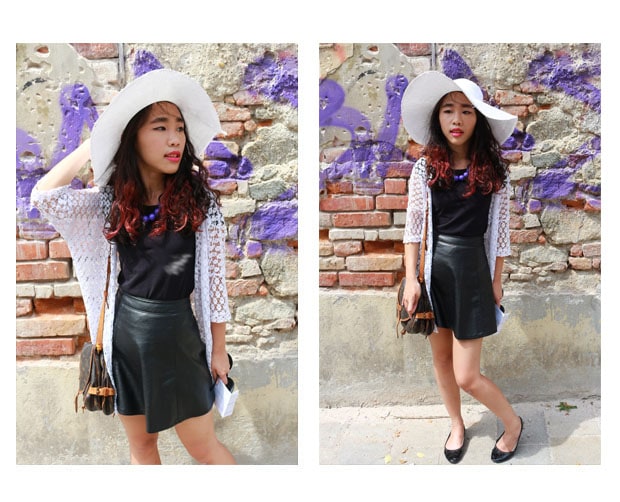 I took a day trip into Slovakia's capital, but trying to catch an 8am train never goes well– I ended up mixing together elements from my last two outfits in my hazy morning rush!
Though it was way too hot to be wearing anything other than a tank top and shorts, I thought a leather skirt would play nicely with the white straw hat and white crochet cover-up. Thank God for my obnoxiously wide-brimmed hat– it blocked out the sun, helped my travel partners to find me in large crowds, and made me look like a real tourist in the middle of Bratislava.
4. Palazzo Pants Are Your Best Friend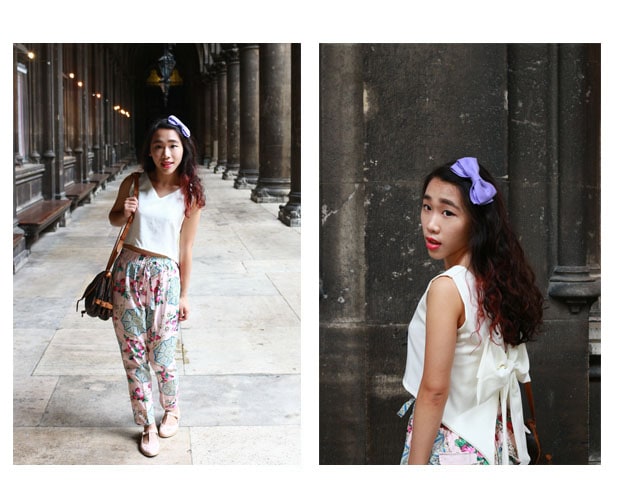 I was bound for a train ride to Budapest after a long day of church-hopping in Vienna, so I went with my comfiest pair of palazzo pants and an interesting crop top. Palazzo pants are not only amazing for finals, they're my go-to piece for any kind of travel– especially when I've got a full schedule on arrival!
It also got chilly overnight in Austria because of really heavy rain, so I tied the chambray shirt from outfit #2 over my outfit (not pictured, because I was way too busy trying to stay dry). Layering is the easiest way to look like you put effort into your travel outfits, especially when you pair interesting textures and prints.
What do you think?
What are some of your go-to pieces for trips? How do you usually navigate baggage restrictions while looking stylish? Are you spending extended periods of time away from home (and your closet) this summer? Let me know in the comments!