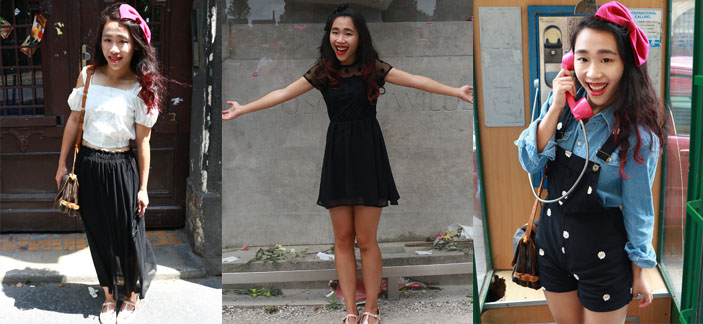 Where did July go?! I can't believe my two-month gallivant across Europe is almost over– and that the weather has been so erratic since my last post from Austria! From 100-degree Parisian heatwaves in the first week of July to this week's absolutely indecisive weather patterns, I've been stretching two weeks' worth of clothes to their absolute limit over the last two months.
While most of my outfits this month haven't been super-exciting– because there are only so many ways you can wear the same four shirts and three pairs of shorts– here's a look at my favorite outfits from this month.
1. Just Put a Bow on It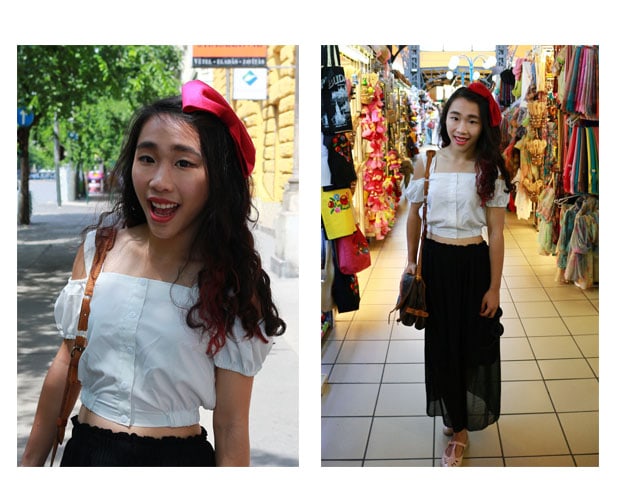 It was a lovely, sunny day in Budapest, so I broke out the one off-shoulder top I'd brought. If you're packing for a long trip and want to maximize outfit combinations, pack for variety! Instead of limiting yourself to four t-shirts in different colors, bring an unusual top that still goes with the rest of your wardrobe. That way, you'll always have a statement piece when you don't know what to wear.
I love oversized bows to the point of obsession. I love them for good reason, though– they're a kind of 'hook' that instantly elevates your basics. If you're not sure how to make an ordinary maxi-skirt-and-top combo en pointe, try adding a huge statement accessory.
2. All You Need is a Little Black Dress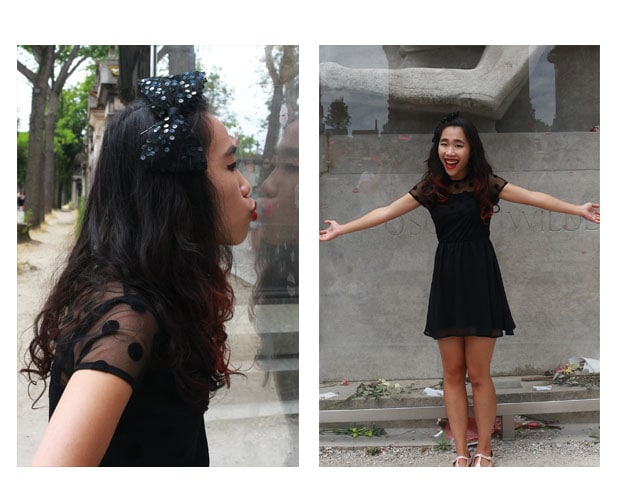 I made a pilgrimage to Oscar Wilde's grave this month while in Paris, and I thought it was fitting to wear my favorite sequinned black bow and leave Ruby Woo lipstick on his grave. I know every single style site extols the virtues of a little black dress, but I promise you'll never run out of outfits with one in your suitcase.
My favorite LBD has mesh polka-dot detail, but any plain black cotton dress will do the trick. Try layering a flannel over the top, then unrolling the sleeves and slipping on a denim jacket when it gets chilly. You'll also get a different look every time you pair your dress with a different statement necklace– what's not to love?
3. My Chambray Shirt Saved the Day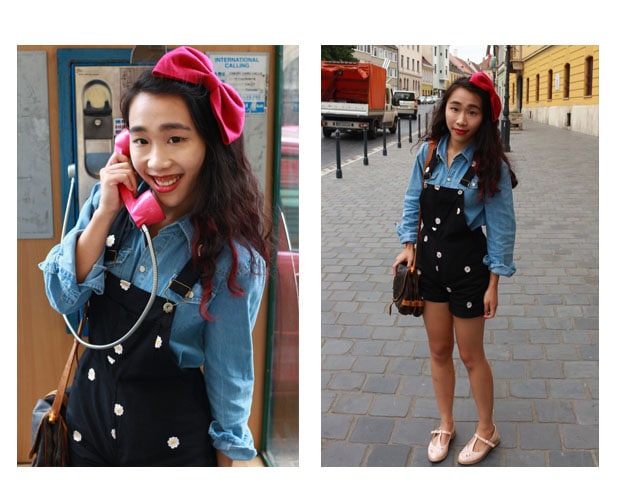 If you read my June style diary, you'll recognize this chambray shirt. It's been the most valuable and versatile piece on my travels so far, particularly because the weather has been extra erratic. Because it was somehow really hot in the afternoons but chilly and rainy at night, I wore the shirt under my favorite overall shorts while getting inordinately excited over Czech phone booths in Prague.
As far as I'm concerned, overall shorts are a godsend because they've got the versatility of a separate, but the "throw-on-and-go" factor of a one-piece. If your overalls are printed or tie-dyed, you get bonus points for summer spirit!
What do you think?
How do you instantly elevate the basic pieces in your travel wardrobe? What are your favorite ways to layer for erratic weather? Are you traveling over August? Let me know in the comments!