This post may contain affiliate links, which means we may receive a commission if you purchase through our links. Please
read our full disclosure here
.
Who doesn't love summer weekends? The weather is warm, the days are long, and there are so many fun things to do outdoors.
Last week I showed you outfit ideas for three classic summertime activities. If you've already checked those off your summer bucket list, here are three more outfits that are fit for warm-weather fun!
What to wear to…
A Beach Bonfire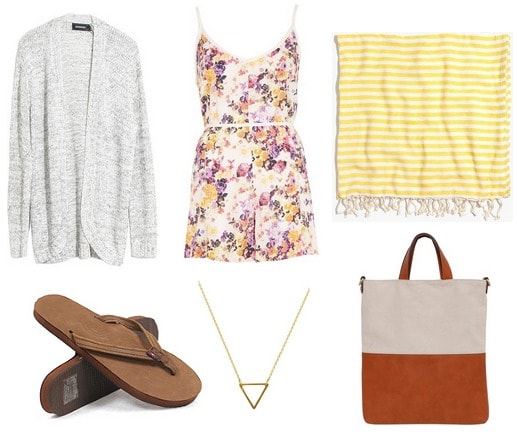 Product Information: Cardigan, Romper, Flip-Flops, Towel, Bag, Necklace
Bonfires are always a fun end-of-the-school-year event (and a good opportunity to burn a stack of notes from your least favorite class!) Stay comfy and cute in a floral print romper and bring a cozy cardigan in case the temperature drops.
Nobody likes getting sand all up in their lady bits, so don't forget to pack a lightweight beach towel so you can relax between s'mores. I once made the mistake of wearing cute sandals that had a zipper up the back to the beach– worst mistake ever! Sand will jam the zipper (possibly forever), so don't risk ruining your favorite fashion sandals. Instead choose a simple pair of rubber or leather flip-flops.
Amusement Parks and Fairs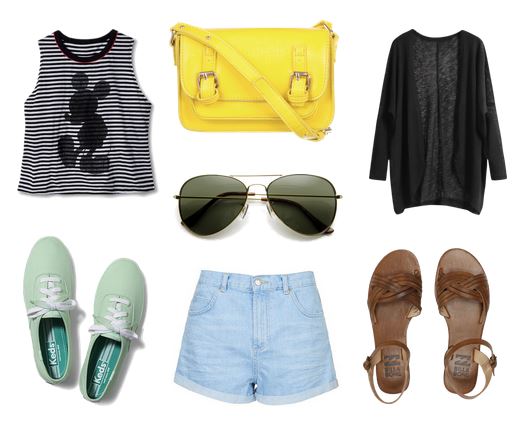 Product Information: Tank, Cardigan, Shorts, Purse, Sunglasses, Sneakers, Sandals
I personally always opt for denim shorts when I go to Disneyland or my local county fair, but if you're headed to a park known for its Splash Zones, you might want to pick shorts made from a softer material that dries quickly. (Inner thigh chafing from wet denim sure ain't pretty.)
Amusement park admission isn't cheap these days, so you'll probably want to get your money's worth by staying until closing. Summer evenings can get chilly, so bring along a tissue-knit cardigan that can easily be stashed in your crossbody bag. Make sure your sunglasses fit in your purse, too; don't be the girl whose sunglasses fly off halfway through the roller coaster and smack some innocent bystander in the face!
Camping/Glamping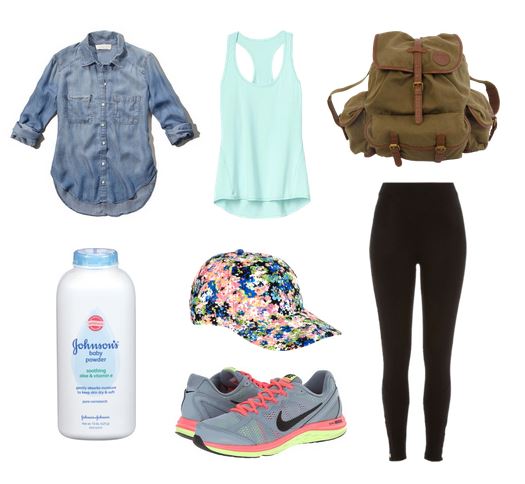 Product Information: Chambray Shirt, Tank Top, Leggings, Sneakers, Backpack, Hat, Baby Powder
I'll be honest with you guys, there's no way I'm ever going to be a willing participant in a "real" camping trip. Clean hair and running water are pretty important in my book! That's not to say I don't like the *idea* of camping– and that's where "glamping" comes in! Whether you're going full glam by bringing a full set of designer china or just opting for car camping, make sure you're dressed for the campsite.
Start with a base of a moisture-wicking athletic top and leggings, then layer on a chambray or flannel shirt. If you're going to be doing some serious hiking, you might want to spring for proper hiking boots, but if you're just going to be on well-maintained beginner trails, a regular pair of sneakers will do.
And just in case you're promised running water and showers but the campsite doesn't deliver, don't forget a cute hat and some dry shampoo to conceal dirty hair. While I've tried a lot of fancy dry shampoos, I personally find that plain old cornstarch works just fine for absorbing oil.
What did you think?
Would you wear these outfits? What are your plans for the weekend? Let us know in the comments!