This post may contain affiliate links, which means we may receive a commission if you purchase through our links. Please
read our full disclosure here
.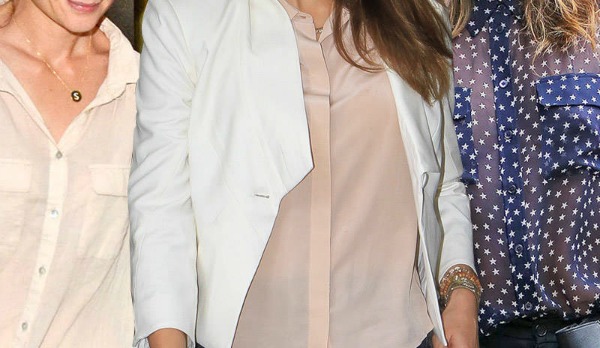 Photo: ELLE
Here at Style Remix, we love showing you how to get new wear out of your wardrobe staples. This week, we're featuring the pocketblouse, a classic piece that's come back into vogue again. There are so many fresh variations in color, print, and fabric available, making it hard to limit your choices to just one! While this style of blouse can lean more towards business casual looks, we're here to show you how to make it fresh and fabulous in your wardrobe.

But first, if you don't already have this staple, here's what to look for:
The blouse should be breezy and flow over your curves. If it pulls tight in any spot when buttoned, try sizing up.
If the material is at all sheer, layer it with a camisole underneath. While the visible-black-bra trend was big in fall, it's a little dated this summer.
Make sure you can move your arms – if the fabric is too restrictive, it generally indicates a poor cut or the wrong size.
We've paired each outfit with a summer staple from the beauty department, too, so get inspired and check out our stylish outfit ideas below:
1. Head-to-Toe Neutrals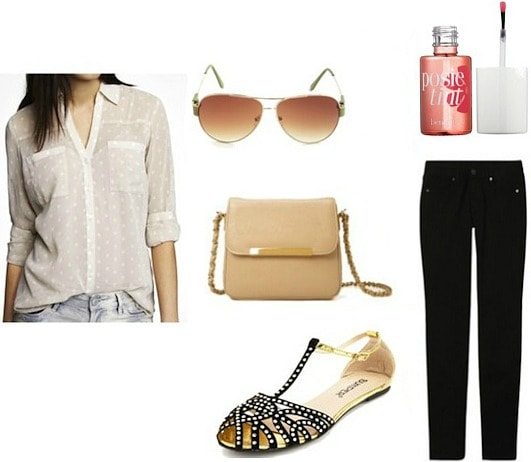 Product Details: Blouse, Sunglasses, Bag, Sandals, Makeup, Jeans
When given a light-colored blouse, your first instinct might be to pair it with brights. Here, we wanted to show you another option. This outfit is neutral colors from head to toe, but the styling is what makes the statement.
By using neutrals that contrast with each other – cream, black, tan, and gold – this outfit stays within a chic and polished color scheme without looking boring. For a great beauty pairing, try Benefit's Posietint, a sheer pink lip and cheek stain. It adds a great glow without overpowering your look, and blends well in the summer heat, unlike powders.
2. Menswear-Inspired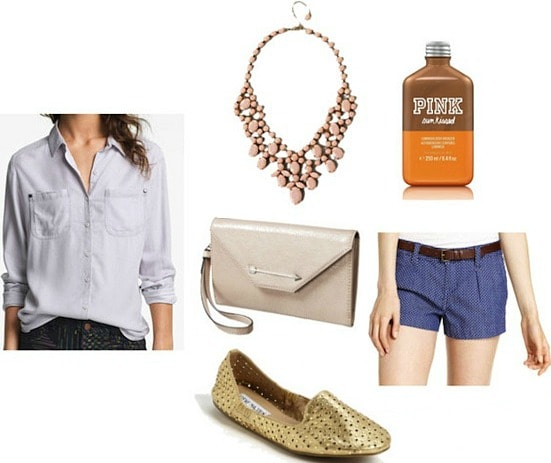 Product Details: Blouse, Necklace, Bronzer, Clutch, Shorts, Flats
With a shirt so influenced by men's clothing, most women prefer pairing the pocket blouse with ultra-feminine pieces like skirts and heels. However, you can also go for broke on the menswear trend by pairing your with more masculine pieces with feminine details.
Here, we've added a pair of belted shorts (with an oh-so-cute polka dot print) and gold flats with a loafer look. Even the clutch has clean, strong lines. To balance the outfit, we added a statement necklace. Our summer beauty pick for this outfit was Victoria's Secret PINK bronzer. It blends into your arms and legs, adding subtle shimmer and glow without the thick creaminess of lotion or streakiness of tanning products. (It also camouflages those streaky bits, in case you've already got a few. Summer miracle, much?)
3. Out for the Evening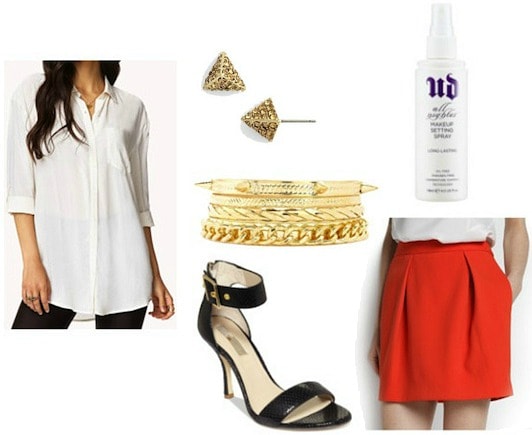 Product Details: Blouse, Earrings, Makeup, Bangles, Skirt, Sandals
For our final look, we're showing you how to take this blouse from day to night. A light blouse can be difficult to add drama to for evening – you may be tempted to just change into something darker with a little more edge. However, you can pair your pocket blouse with a bold skirt with architectural details and strappysandals for a look that's ready for a night on the town.
Layer on gold bracelets with edgy details and try a pair of studded earrings to accessorize without adding too much competition to the outfit. Our essential beauty pairing for a summer evening is Urban Decay's Makeup Setting Spray – it's a lightweight mist that holds your makeup in place all night, so there's no need for touch-ups throughout a warm summer night.
What do you think?
These three looks take pocket blouses out of business settings and into casual, fun occasions! How do you like to wear your pocket blouse? Would you wear these looks? Tell us in the comments below.