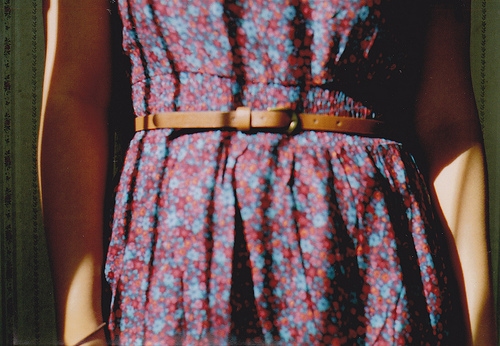 For this edition of Style Remix, we're featuring everyone's favorite annual classic: the springtime floral dress. (We know, we know: Florals for spring? Groundbreaking. But we still love 'em!)

One of the most common ways to style a floral day dress is with a coordinating cardigan, a slim belt, and sandals… so we're notfeaturing that look today! After all, Style Remix is here to show you more inventive ways to style the staples you already own — so this week, we're featuring floral ensembles that take inspiration from different floral landscapes around the world.
But first, if you don't already have a floral day dress in your closet, here are some tips on buying one:
What to Look for When Buying a Floral Dress:
Day dresses have most of the same styling guidelines as the Little Black Dress: look for an appropriate length and neckline for your body, and don't be afraid to play with unusual silhouettes. While an A-line or fit-and-flare cut is the most versatile, there are floral day dresses available in high-low hems, strapless cuts, off-the-shoulder tunic length, etc. The list is nearly endless!
Find your colors. If you're not into brights, go pastel or vice versa. Look at the colors already in your wardrobe: if you have a lot of icy, crisp tones, consider going with a cooler floral color scheme. If you have firey oranges, corals, or bright pinks, check out a warmer color scheme. And don't be afraid to experiment!
Florals are eye-catching, feminine, and totally versatile. In the looks below, we've featured several different floral dresses, but any printed dress you have could work. Let the flowers in the design inspire your accessories, and style away!
1. American Prairie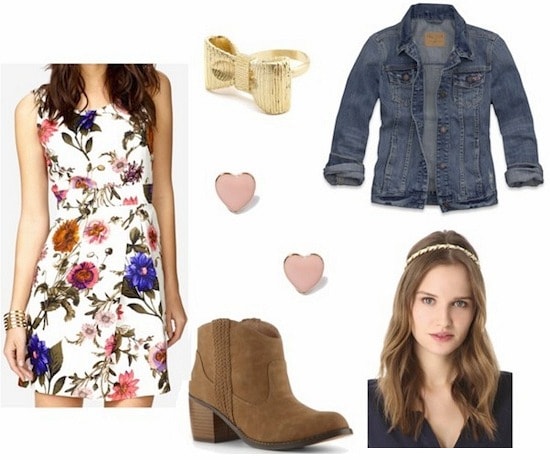 Product Details: Dress, Ring, Jacket, Earrings, Boots, Headband
This look was inspired by the American prairies. Today, the prairies are much less expansive than they once were, but you can still see the tall grasses, incredible arrays of wildflowers, and low, rolling hills in some parts of the United States.
To get this look, let your dress speak for itself by using soft, neutral accessories. Here, the floral print dress takes the center stage with paired with a classic denim jacket and demure, feminine jewelry. Try western-inspired boots and a headband to take the look from sweet to sassy. Avoid using too many colors here: denim and leather (or faux-leather) are great additions that don't take away from the hues in the dress itself.
2. Dutch Tulip Fields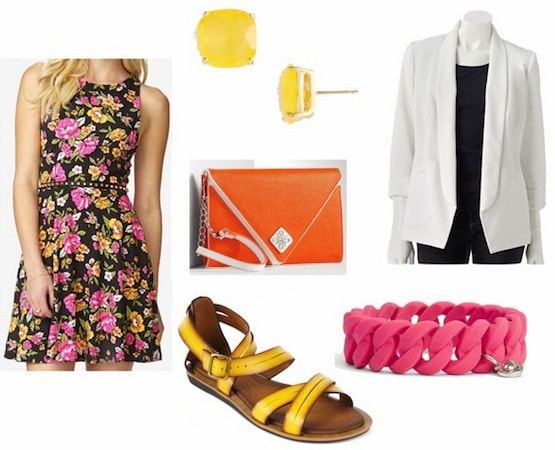 Product Details: Dress, Earrings, Blazer, Bag, Bracelet, Sandals
This look was inspired by the Dutch tulip fields, which are great expanses of bold, bright color covering acres of farmland in the Netherlands. (So gorgeous, right?)
If you want to go bold and bright with your look, choose the most vibrant colors in your floral print dress and accessorize fearlessly. Here, we've picked out the sunshine yellow, hot pink, and bright Dutch orange from the print, then paired the ensemble with a white blazer to keep these brights looking crisp. For this look, try accessories with clean lines and simple detailing, as they will reflect the colors found in the floral print instead of competing with them.
3. Desert Flowers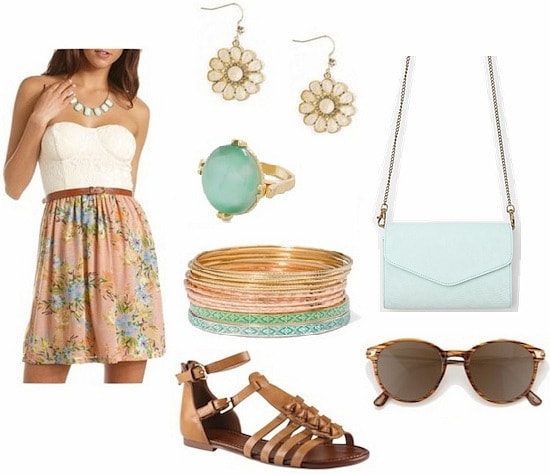 Product Details: Dress, Earrings, Ring, Bag, Sunglasses, Bracelets, Sandals
This look was inspired by the beautiful desert flowers growing in the Middle East and North Africa. Lovingly cultivated by locals, these gorgeous plants survive despite the harsh, arid conditions found in much of the region.
For this look, take inspiration from the dominant neutral tones in the print to choose glimmering accessories like bangle bracelets, earrings, and sunglasses. Pick one or two hues of the dress and try pastel additions in those shades: here, we picked out pale blue and mint green to work against the desert sand-like color found on the dress. By pairing this floral frock with neutral tones instead of brights, you can give it a subdued, relaxed look.
What do you think?
Spring florals are back, yet again! Do you consider a floral day dress a college staple? What are your favorite ways to wear spring florals? Tell us in the comments below!