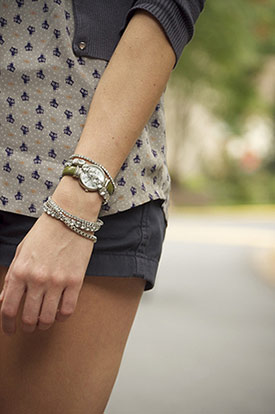 As the weather starts heating up — at least in some parts of the country — we all start dreaming of summer days ahead. And with Spring Break here for many of us, we'll be enjoying those warm temperatures a little early on our various vacations.
So, this week on Style Remix, we're featuring a classic warm weather combo: a tank top and denim shorts.
Before we reveal our outfits, here are a few tips on how to get the most for your money whenshopping for tanks and shorts:
What to Look For:
1. When choosing a summery tank, choose a bold color that gives a glow to your skin. This is different for everyone — experiment to see which colors bring out the best in you. (Also see our tips on how to find your perfect colors.)
Also, breezy tanks that float past the hips are generally the most versatile: they can be worn tucked in, half-tucked, or not tucked in at all, and they can be worn with skirts, shorts, or pants. They're form-flattering by nature, and make for a very modern silhouette. Many of these tanks have a silky-feel to them. All the better to dress up or down!
2. When choosing denim shorts, remember that darker washes with finished hems are the most versatile. Look for shorts with at least 2 inches on the leg, a few more if you're taller. A mid-length short works for more settings than a booty short, after all!
Once you've found your perfect pieces, style away! These casual pieces are more versatile than they first appear. Here are three ways to wear a tank top and jean shorts:
1. Beach Day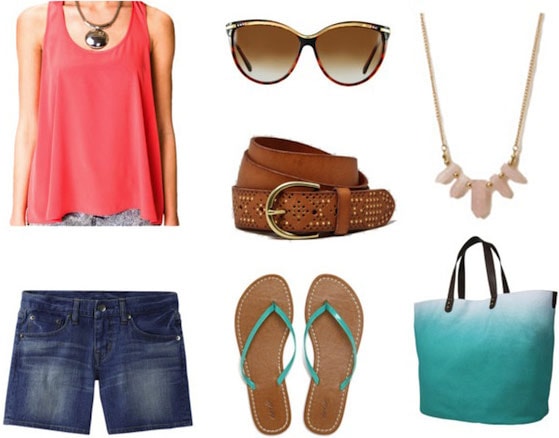 Product Details: Tank, Sunglasses, Belt, Necklace, Shorts, Sandals, Tote
This is by far the most predictable use of a tank and shorts, but we're here to show you how to make this combo extra-fab. Choose pieces that incorporate clean lines and trendy details, like an ombré tote and a crisp, architectural jeweled necklace. Don't forget big sunnies with full UVA protection and a healthy dose of sunscreen — nothing ruins a great outfit like a bad burn.
2. Flirting with Formal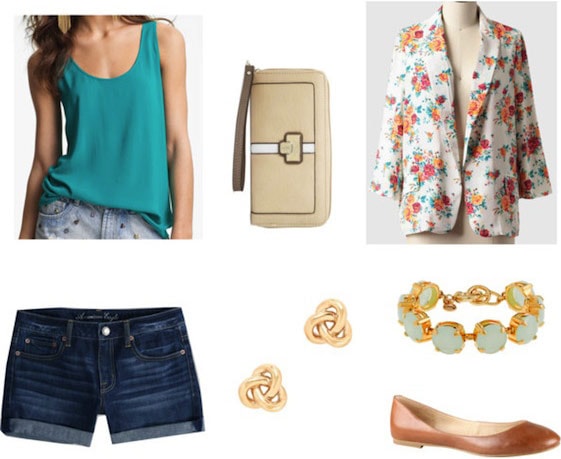 Product Details: Tank, Clutch, Jacket, Shorts, Earrings, Bracelet, Shoes
For a more polished look, try a tailored, floral-print jacket with pops of your tank's color. This look is all about playing with the line between formal and casual. The key is to choose one statement piece — the jacket — and complement it with more neutral accessories. Leave the jacket unbuttoned to keep things more casual, so that the denim shorts don't look out of place.
3. Dramatic Twist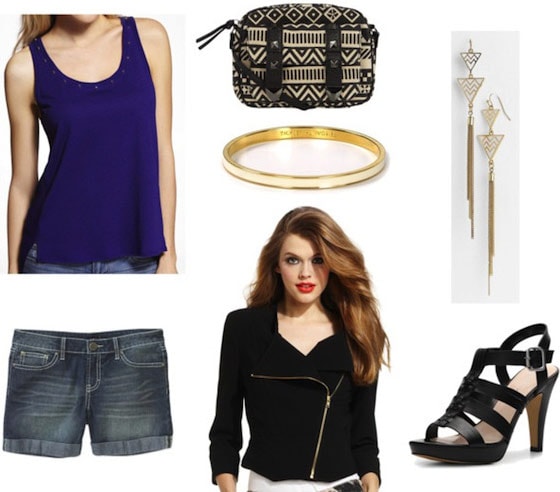 Product Details: Tank, Bag, Bracelet, Earrings, Shorts, Jacket, Sandals
Surprisingly, a bright tank and denim shorts can work for parties and going out. The trick is to keep your accessories dramatic, bold, and a little edgy. Here, we've paired our classic combo with a geometric print bag and statement earrings, with a faux-leather jacket and black sandals. The bracelet and earrings are both white enamel, which is bright, clean, and good for day and night. Swipe on some charcoal eyeliner and a peachy-pink lip gloss, and hit the town!
What do you think?
Tanks and shorts are often worn plain, but these looks show you just how versatile these spring-to-summer clothes can be. Would you wear these outfits? What would you like to see in Style Remix? Tell us in the comments below!