This post may contain affiliate links, which means we may receive a commission if you purchase through our links. Please
read our full disclosure here
.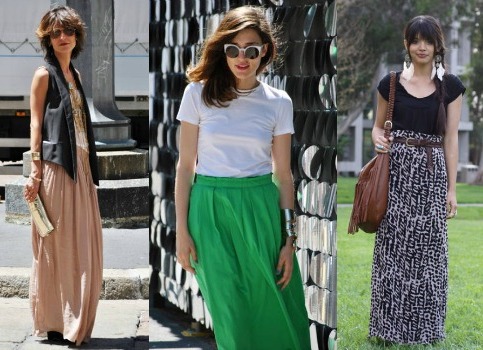 Photos: ELLE
Last time on Style Remix, we featured the maxi dress — and you loved it so much, we decided to use the maxiskirt for this week's edition.
The maxi skirt is a classic, and there are a lot of trendy versions out there: semi-sheer, high-low hem, side slit, double slit, and more! These skirts are great for elongating legs and look especially flattering when worn with heels or wedges underneath.
The easiest way to style a maxi skirt is by using the rule of opposite proportions. Most girls wear a slim-fit tank top with a pendant necklace or bangles — a slim, slightly revealing top works well with a more conservative skirt. While this is a very stylish and balanced look, we're here today to show you fresh new ways to style a maxi skirt.
How to Buy a Maxi Skirt
Before we get started, if you don't already have this fab staple in your wardrobe, here are three key things to look for when buying a maxi skirt:
Length is Key: Just like with the maxi dress, the maxi skirt should be ankle/heel-skimming. If you need to tailor your skirt or get it hemmed so that it's just right, it's worth it!
Waist Height (Rise): Some maxi skirts are low-rise and others are high-rise. A mid-rise skirt is, obviously, the most versatile — if you're looking for an investment piece that can cover a number of different occasions, mid-rise is for you. Mid-rise generally sits at the top of the hips, or just above. A high-waisted skirt should sit comfortably at your natural waist (near the navel), and a low-rise one should sit easily (and securely!) around your hips.
Volume: Maxi skirts are great for balancing your frame. A slim skirt will emphasize narrow hips, or balance a bigger booty if you're smaller on top. A voluminous skirt will visually balance a larger bustline, or create a little more oomph in the back. Work your awesome body however you want to!
For new ideas on how to wear your body-loving skirts, read on to see three stylish ways to wear a maxi skirt:
1. Black and White (and Trends All Over!)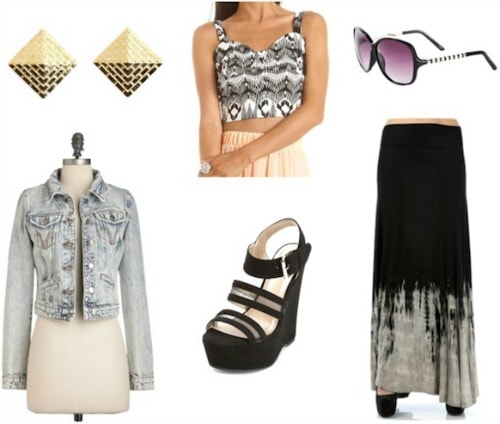 Product Details: Earrings, Top, Sunglasses, Jacket, Sandals, Skirt
While maxi skirts have proved themselves to be a classic item, many of this season's hottest options incorporate trends like tie-dye or high-low hems. To achieve a fully on-trend look without looking too overdone, try keeping your outfit monochromatic.
Here, the busy print on the crop top is evened out by the acid-washed denim and the dark tones of the skirt. Since none of the colors compete with one another, the outfit looks put-together. This is a great way to try new trends like the crop top if you want to experiment without getting too flashy, plus it also extends the life of your trends. Trendy pieces in a classic (or monochrome) color scheme can moonlight as classics themselves!
2. All Dolled Up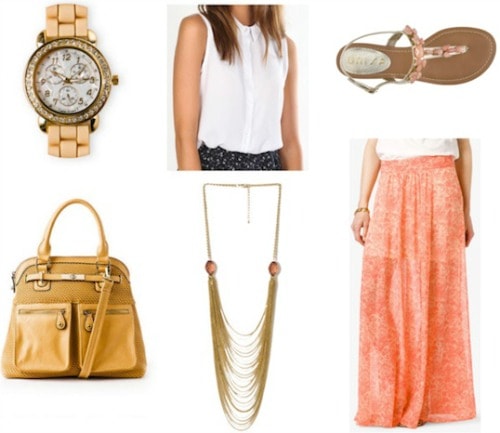 Product Details: Watch, Shirt, Sandals, Bag, Necklace, Skirt
This look is all about creamy colors and dreamy fabrics. A maxi skirt goes from casual to dressy if you add a tucked-in, sleeveless button-up. While not quite office-appropriate, this is a great look for meeting a professor for coffee or going to brunch with the family.
Keep accessories simple, light, and delicate — too many can overwhelm the outfit, since the top and skirt together are quite a bit of fabric. Add a little bit of peachy-pink lipstick, a few swipes of mascara, and a high bun to finish this delicate and dressed-up ensemble.
3. Modern Hippie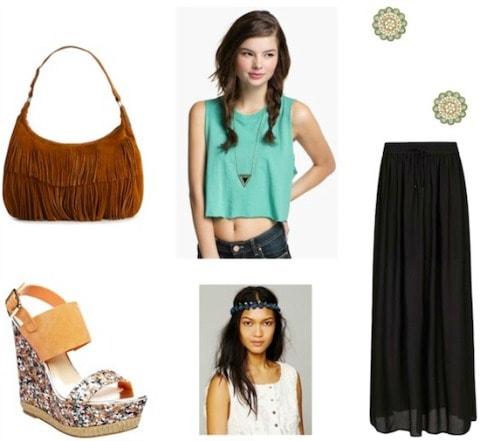 Product Details: Bag, Top, Earrings, Sandals, Headband, Skirt
The maxi skirt has always carried a hippie vibe, but instead of pairing it with the typical tight tank, try a breezy crop top for a new take on boho. The higher waist of the maxi will keep things modest even if you don't wear a jacket — the bottom of the top should float just above the waist of the dress. (The key here is keeping the top short — a long, flowy tank will compete with the long, flowy skirt, and there are very few who can wear that combo without looking swamped in fabric.)
Accessorize with floral wedges and a boho headband, plus a fringe bag to continue the hippie-inspired look. Give yourself a bright pedicure, channel your inner flower-child, and rock that maxi skirt.
What do you think?
The maxi skirt has been a lasting look for college girls for years, offering cute, comfy, casual style for class and more. Would you wear these looks with your maxi? What new clothing items would you like to see in Style Remix? Tell us in the comments below!