This post may contain affiliate links, which means we may receive a commission if you purchase through our links. Please
read our full disclosure here
.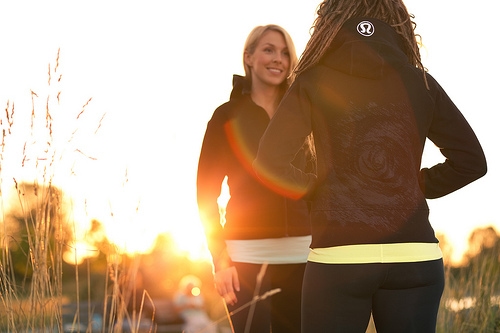 Hi, I'm Victoria, and welcome to my new segment (and first post) here at CF! Style Remix is all about how to get the most mileage out of the wardrobe staples that are already in most collegians' closets.
Today, we're starting with two college staples: yoga pants and a long-sleeved tee. In my opinion, they're crucial for getting through the winter, whether I'm studying at the lib, lounging in my apartment, or trying to get a little exercise when it's chilly outside. Below, I'll show you how to wear them in three different ways.
Before We Begin, a Quick Note:
Before we start, I have to offer a quick caveat: as a longtime reader of CF, I know many of you are staunchly against the leggings-as-pants trend! I'm with you. I can't stand leggings as pants.
Some of the yoga pants I've featured in today's article are skinny-fit; however, they are not to be confused with leggings. A true yoga pant is opaque, body-skimming rather than body-squeezing, and is never less modest than a pair of skinny jeans. Today, I've featured the skinny-fit yoga pant alongside the classic boot-cut simply because they tend to be more versatile than the boot-cut styles (as they fit inside boots without lumps). The end point? "Legging-cut" does not mean leggings– opt for a true yoga pant.
1. Clean-Cut on Campus for an Early Morning Class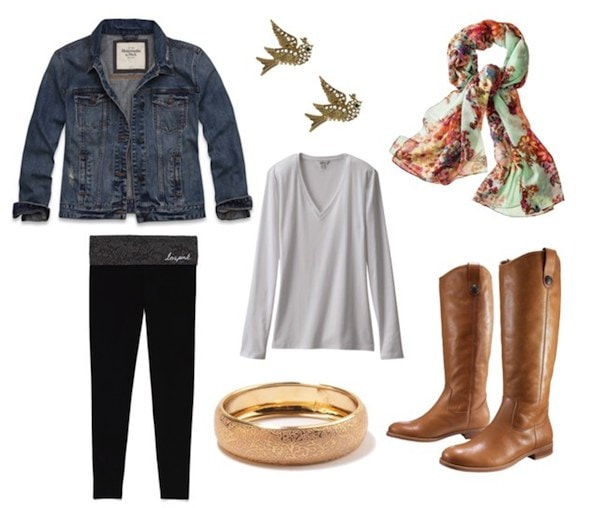 Products:: Jacket – Abercrombie & Fitch, Shirt – UNIQLO, Pants – Victoria's Secret PINK, Earrings – Betsey Johnson, Scarf – Target, Boots – Target, Bracelet – Forever 21
For being comfy and well-layered for those early-morning classes (at least, in coastal California weather), a long-sleeved tee with a denim jacket and oversized scarf hit the mark. Pair with classic boots and a touch of jewelry to keep the whole look polished.
2. A Little Glam for the Gym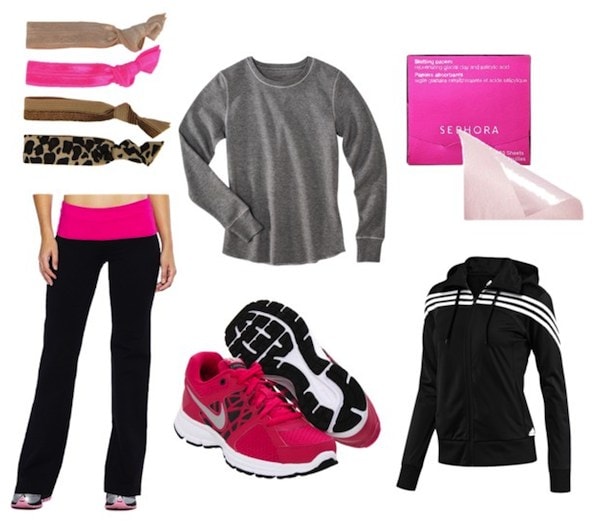 Product Details: Hair Ties – Simply Soles, Shirt – Target, Blotting Papers – Sephora, Pants – JC Penny, Shoes – Zappos, Jacket – Adidas
A long-sleeved shirt is also good for light workouts when it's chilly outside, though not so fab for cardio workouts! This look is for yoga, pilates, or other flexibility-based training that doesn't get you warm enough on your own. (For high-intensity workouts, it's better to sub out for a short-sleeved tee or workout top.) Blotting papers are great for a girl on the go, too: you can dab off light sweat or oils, dust your face with a translucent powder, and poof — you're presentable again!
3. Lovely Lounging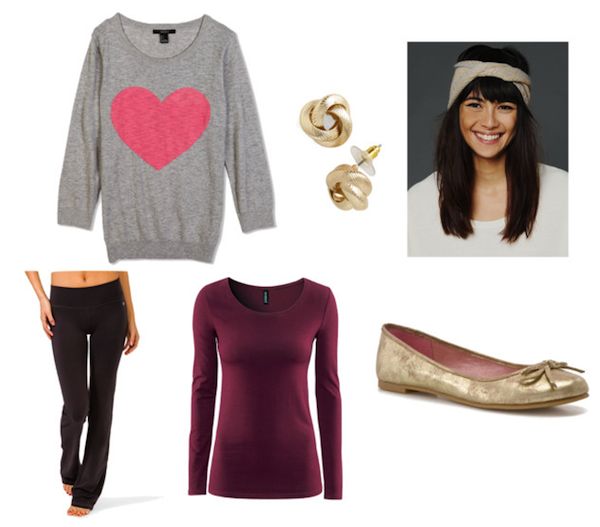 Product Details: Sweater – Forever 21, Earrings – Modcloth, Headband – Free People, Pants – Forever 21, Shirt – H&M, Shoes- DSW
An oversized sweater can be a fabulous (and warm) addition to a long-sleeved tee and yoga pants. Whether you're spending late nights at the library or just lounging in your dorm or apartment, a little touch of metallic in your shoes or jewelry can help a comfy outfit appear more fashionable.
What do you think?
The key to all of these outfits is working with the basics you already own and using accessories to make a simple outfit a lot more interesting. Now I want to hear from you. Would you wear these outfits? What wardrobe essentials do you want to see in the next Style Remix?Comment below and tell me what you think.