This post may contain affiliate links, which means we may receive a commission if you purchase through our links. Please
read our full disclosure here
.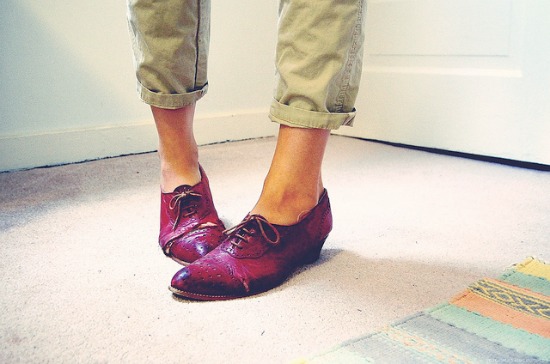 This time on Style Remix, we're featuring the classic khaki pant. It comes in all textures and cuts, but can still be surprisingly difficult to style. After all, it tends to be worn as a business casual pant instead of an everyday one, and as college students, our business-casual-dressing events are few and far-between. All that said, a classic pair of khakis actually can be as versatile as your mother promised – you just need a few styling tips.
Before we get started, if you're still looking for a pair, keep these ideas in mind when buying khakis:
Is the rise comfortable for you? There should be no weird pulling around the hips or waist.
Are they listed as permanent press or wrinkle-free? If you opt for one of these descriptions, you won't have to iron your khakis every time you have to wear them.
Look for slightly looser cuts. For a classic look, you don't want these to resemble skinny jeans.
Onward to style greatness! By default, most of us turn to richly pigmented business shirts to balance light khakis, but there is so much more you can do. Let us show you how to wear khakis is ways you might not have expected.
1. All-American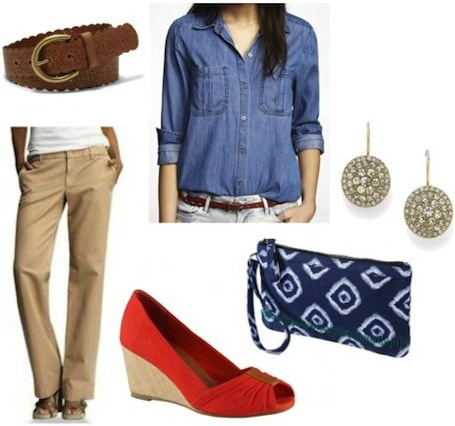 Product Details: Belt, Shirt, Earrings, Pants, Shoes, Bag
For a summer-fab look, try pairing your khakis with a chambray shirt and bright accessories. The Americana trend is still very in, and it's not even the 4th of July yet! Without punchy accessories, the shirt and khakis alone could be boring. Have fun playing with textures, like the canvas bag and woven straw wedge for extra interest.
2. Pale on Top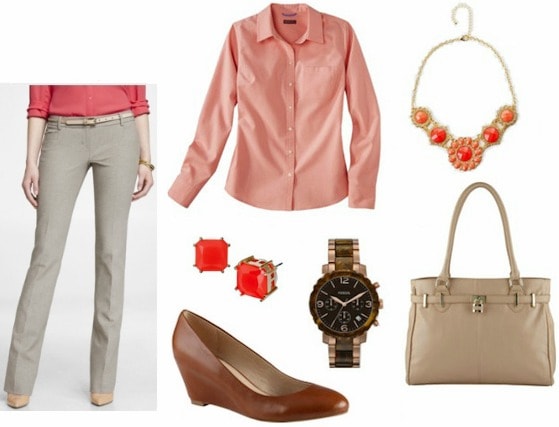 Product Details: Necklace, Shirt, Watch, Pants, Earrings, Shoes, Bag
While you might be tempted to always wear a dark color on top to balance light khakis, you can totally make pastels or pale colors work as well. For a fresh take on traditional business casual, pair your pastel blouse and khakis with brighter pieces in the same color scheme as the pastel. Here, we paired a light peach top with bold coral and orange accessories. Ground the look with richly pigmented neutrals, like the deep cognac brown found here in the shoe and tortoiseshell watch.
3. Pedal Pushers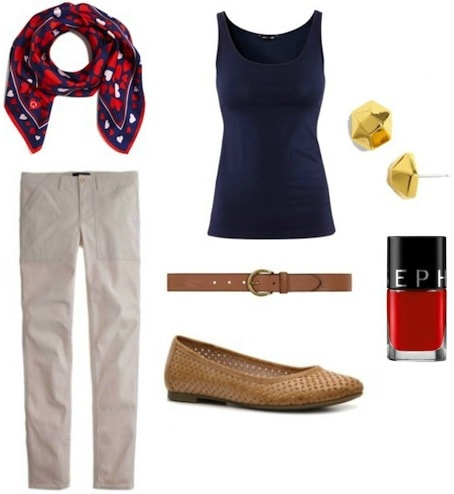 Product Details: Scarf, Tank, Earrings, Pants, Belt, Shoes, Nail Polish
My grandmother used to call cropped pants "pedal pushers" since rolled or cropped hemlines were better for riding bicycles. To get a retro-inspired look with your khakis, fold the hemlines at the bottom (there's a great tutorial here). Twist your hair into a messy bun, and use a silk scarf as a headwrap – knot it on top for a particularly cute look (tutorial for many different styles here). Keep the rest of the look simple and polished with neutrals, navy blue, and pops of red for some nautical flair.
What do you think?
Khaki pants have been a wardrobe staple for women since the 1950s, but are often overlooked. Would you wear any of these looks? How do you rock your khakis? Tell us in the comments below!