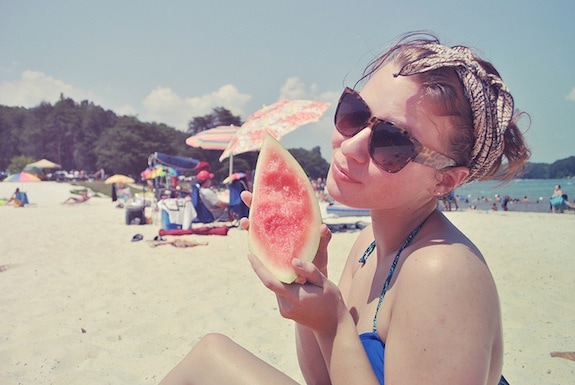 Welcome to the latest edition of Ask CF! Every few weeks, we select a reader fashion question and answer it here on the site. Do you have a specific fashion question for us? Scroll to the bottom of this post to learn how to send it our way!
Ask CF Question
Dear CF,

I am looking to get a new pair of sunglasses. I have always leaned toward more neutral styles, but I want to find a pair that's a little more out there and exciting. Can you point me to some popular sunglass trends that are hot this season?

Sincerely,

Searching for Sunnies
Our Response
Dear Searching for Sunnies,
Whenever I'm shopping for sunglasses, standing in front of the display, I've been known to get a little overwhelmed. With so many different styles, colors, and extra features to choose from, the task of choosing one pair begins to feel incredibly daunting.
We've done a comprehensive guide to choosing flattering sunglasses for your face shape before. But in this post, we will help you choose an of-the-moment pair by highlighting our favorite sunglass styles for Spring/Summer 2013: cat-eye, circle, half-frame, and mirrored lenses.
This season more than ever, sunglasses are statement accessories. Whether they are jeweled, bedazzled, or decorated, have mirrored lenses, or come in a surprising color (anything ranging from bright orange to clear) sunglasses are having a major moment this season. Because of this, finding fun and exciting styles shouldn't be difficult.
So go on; try on a few pairs, find ones that complement your unique personality, and protect those peepers in style!
Sincerely,
Jessica
Cat-eye Sunglasses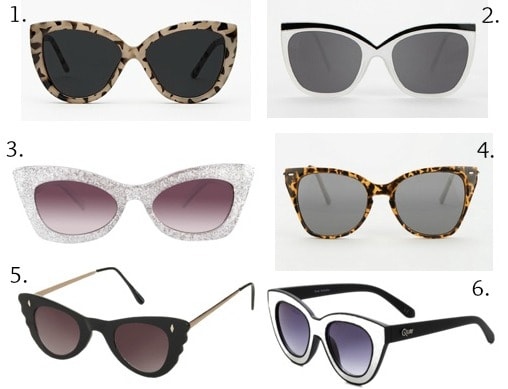 Product Information: 1, 2, 3, 4, 5, 6
This retro sunglass style has been around for a long time and we don't see it going anywhere anytime soon.
Cat-eye styles are not only cute – they're flattering on most face shapes to boot. Plus, with varying levels of cat-eye intensity, you can choose an extreme pair like the glittered ones from ASOS, or go for something more subtle, like the tortoise sunnies from Urban Outfitters .
Circle Sunglasses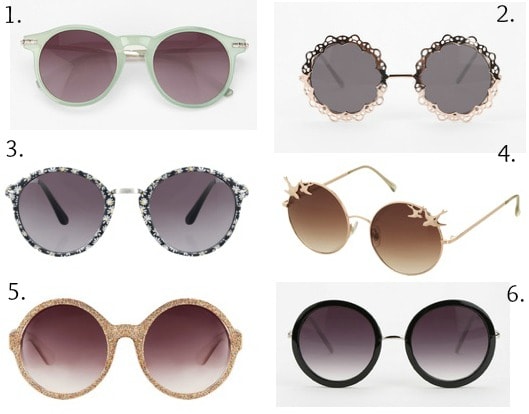 Product Information: 1, 2, 3, 4, 5, 6
Circle frames harken back to the age of Aquarius, but that doesn't mean they are an outdated style. This spring and summer, circle sunnies are seeing a major comeback. Also, because sunglass designs are becoming so experimental, you can find round sunnies featuring fun patterns, colors, and even added decorations like this pair with birds on them.
Just a heads up: Circle frames tend to look best on angular faces. But don't be afraid to give them a shot and try them on even if your face is round. Every face and pair is unique and you'll never know what could look great on you until you try!
Half-frame Sunglasses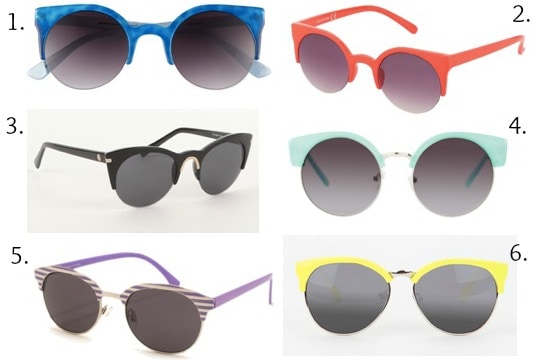 Product Information: 1, 2, 3, 4, 5, 6
The half-frame sunglass style is a fun and modern take on a classic. Some of these glasses feature circle lenses while others are more oblong. The frame itself is typically more angular which helps to make this style flattering for most faces.
If you like to make a statement, this is the style for you: With this sunglass shape, it is particularly easy to find vibrantly colored and excitingly patterned frames, as evidenced by the selection above.
Mirrored Lens Sunglasses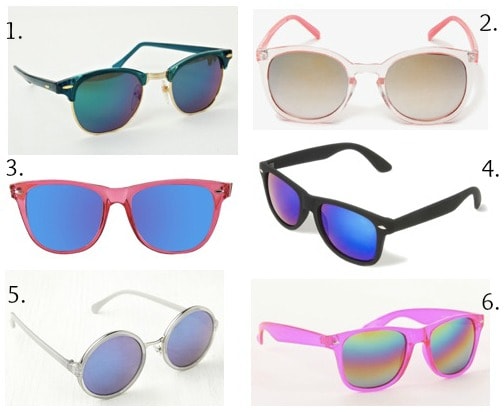 Product Information: 1, 2, 3, 4, 5, 6
A final trend that I need to include is mirrored lens sunglasses.
While the previous three sunglass styles focused on the shape of the frames, this trend focuses on the lens itself. These mirrored styles have recently been spotted on countless celebrities, fashion editors, and bloggers so you know that they are going to be everywhere this season. If you like to be ahead of the fashion curve, these are the frames to buy.
Do you have a fashion question? Send it our way!
Is there something in your closet that you can't seem to figure out how to wear? Do you have an event coming up and need an outfit idea? Do you have a specific fashion conundrum you need help with?
If you have a question you want to see answered in this column, just send it on over via email to askcf @ collegefashion.net and one day you might see your question answered right here on the site!
Please note: We get A LOT of email and unfortunately we will not be able to respond to every single question. However, we will read through each question and then decide which ones will be most helpful to the most readers. Thank you for your understanding.
What do you think?
What do you think of these sunglass trends? Do you have a favorite style? How about a favorite pair? Do you typically wear neutral sunglasses or statement sunglasses? Please let us know what you think by leaving a comment below!