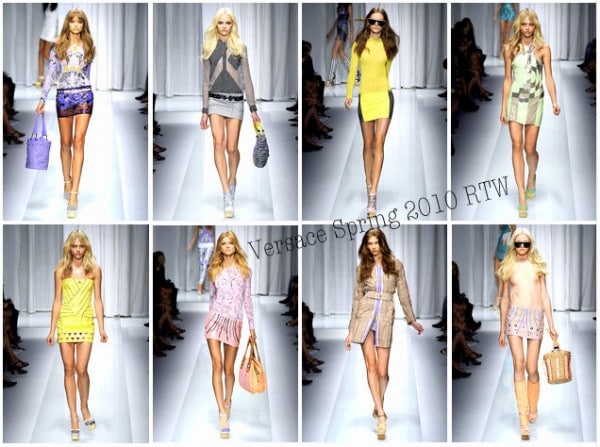 Versace's Spring RTW collection for 2010 was immediately one of my favorites when it came down the runway last year. A wave of pastel pinks, bright yellows and detailed micro mini skirts gave off the quintessential Versace vibe, but with a new spin. The house has always been known for revealing, skin-tight clothing but this Spring, Donatella upped the class factor with blouses and suits.
Vivid pastels, geometric prints, baroque curlicues, short-short skirts, and slinky, sexy chain mail: Where else could this be but Versace? For Spring, Donatella Versace was telling everyone who went backstage that she'd been inspired by Tim Burton's Alice in Wonderland…In their tiny pelmet skirts, jazzily printed dresses, and super-fitted suitings, the girls were all legs and glossy hair—quintessential Versace women (though, it has to be said, still quite a lot thinner than they used to be in Gianni's day). That's a powerful sight to see on any runway, but somehow none of it came across as too slavishly reverential or in any way vulgar. – Style.com
We all know that Versace designs are completely unique and one-of-a-kind. With that said, I truly believe that any collection can be translated into an everyday wardrobe. The trick is to capture the vibe and feeling of each look – the overarching aspect that inspires you.
Bright Colors
Versace is known for her use of bight colors every season and the spring collection was no exception. The bright and neon shades that came down the runway were definitely attention-grabbing but still managed to look wearable instead of over-the-top. A common color in the collection was bright yellow, seen on mini dresses, tops and micro skirts. Although most of us probably couldn't pull of head-to-toe neon yellow (not that we'd really want to anyway), a pop of bold color is a great way to spice up an outfit.
Product Information: Long sleeve Tee – Gap, Sunglasses – Urban Outfitters, Knit Dress – eDressMe, Wallet – Buckle, Pocket Detail Skirt – ASOS, Bandage Skirt – Express, Silver Cuff – White House Black Market
Things to Keep in Mind:
Resist the Bumblebee Syndrome. Yellow and black are great contrasting colors to incorporate into an outfit, but yellow and black head-to-toe clothing with a yellow purse and black boots? You'll definitely be getting some bee comments.
Choose your accessories wisely. A pop of bright color does a lot for an outfit on its own, so don't go overboard with adornments.
Be careful if you're pairing two different yellow pieces together. Although some shades will complement each other nicely, others may clash. Try to liken the shade to another color – some yellows are more green, others are more orangey. Once you do that, you'll have an easier time matching yellows to one another.
Sheer, Gingham and Checked
Ok, I know it sounds like a weird combination but just take a look through Donatella's collection again. The looks are a mix of unexpected patterns and fabrics, but all of them are put together perfectly. A sheer blouse with a small print is perfect for both the office (with a pair of trousers) and class (skinny jeans and flats). But the fun part about the Versace collection is the versatility of the outfits for day and night wear. You just can't go wrong with monochromatic shades.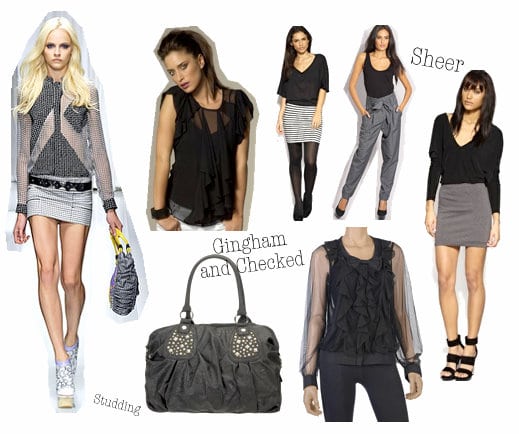 Product Information: Ruffle Tank – Fig Leaves, Striped Skirt – ASOS, Trousers – ASOS, Suit Skirt – ASOS, Long sleeve Blouse – Forever 21, Purse – Tillys
Things to Keep in Mind:
Don't be afraid to experiment! Take the Versace look above – a structured mini skirt, a flowy blouse and a mix of patterns. The only way to achieve it is to play around with different pieces, so take a bunch of items into the dressing room and see what you come up with.
I know Versace is the queen of skin-baring outfits – but take her looks with a grain of salt. I'm a big fan of the mini skirt, especially with Donatella's fun colors and details, but it should be balanced with a long sleeve or loose fitting top. Think Hepburn, not Hilton.
Pretty Pastels
Donatella is known for her use of fun colors and in her spring collection, pinks and corals ruled the runway. With the mix of shades and the added embellishments, these looks could only be pulled off by young girls like us. Additionally, unlike the bright yellow hues above, light pinks and purples are much easier to mix and match.
Product Information: Color Flash Mini Skirt – ASOS, Sheer Layering Tee – Free People, Studded Wallet – Free People, Jersey Micro Skirt – ASOS, Sunglasses – Urban Outfitters, Color Block Mini Skirt – ASOS, Woven Clutch – Harmony Lane
Things to Keep in Mind:
Don't underestimate the power of a great statement-making mini skirt. Once you find a great piece, the combinations are endless!
For those of you still stuck in the winter cold, pair a fun pastel top with a gray cardigan or shrunken blazer until Spring finally arrives.
Tying it All Together
Go back and take a look at Versace's collection – the one that the designer said was inspired by Alice in Wonderland. Unlike other brands cashing in on the film, Donatella stayed away from the dark and somber colors in favor of pastels, neon brights and fun patterns. The looks that came down the runway were quintessential Versace and the epitome of young, fun, and fashionable.
What do you think of the collection? How would you make it your own and incorporate it into your own personal style? Each week my posts are inspired by the comments you leave, I love hearing from you guys and aim to bring you an article each week that you'll love. Be sure to leave a comment!