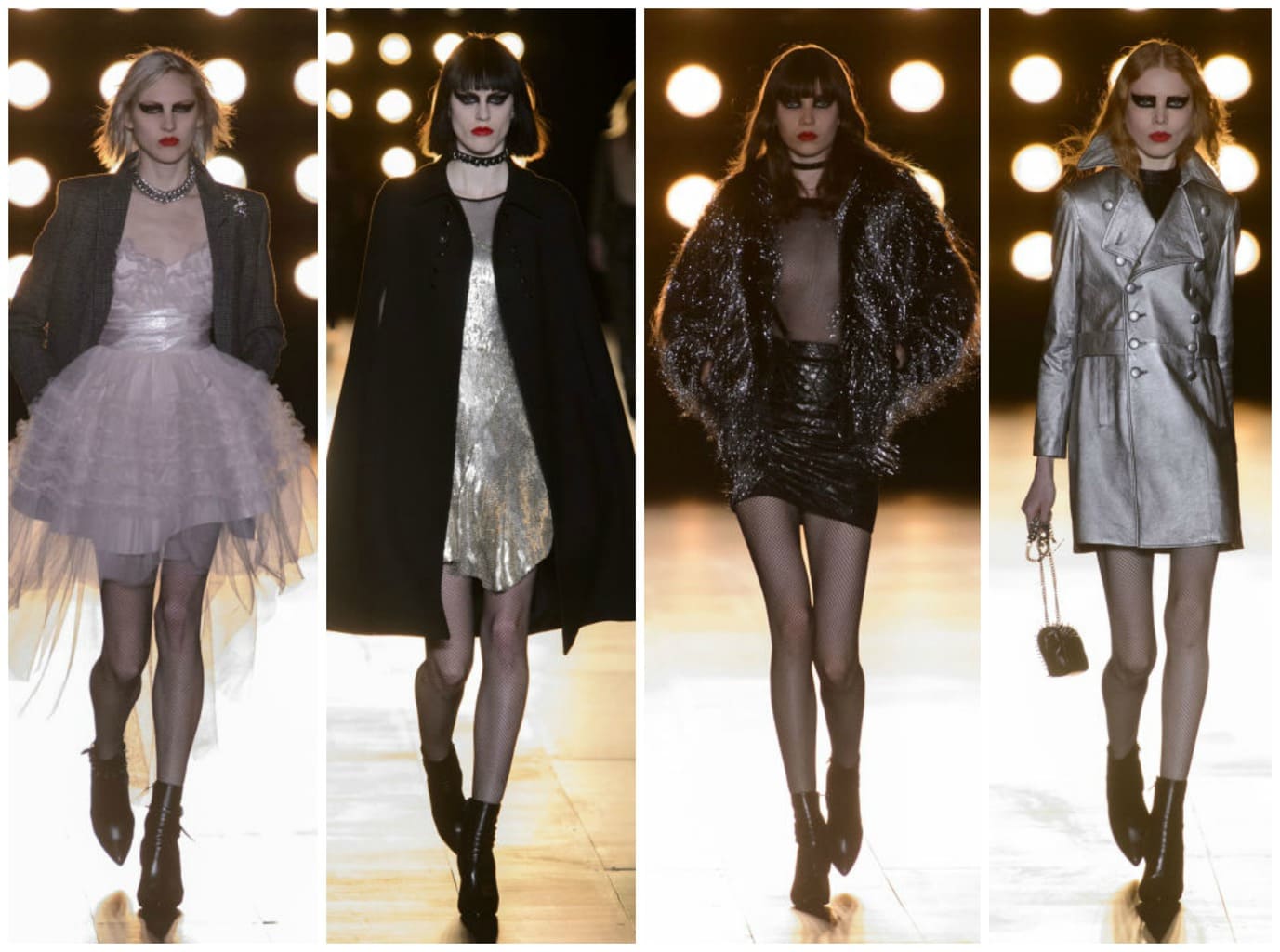 Halloween is just around the corner and Saint Laurent has us covered with some inspiring looks straight from their Fall 2015 RTW runway. This collection combines fashion-forward with slightly-spooky to great effect. From metallic highlights to intense, ebony shades to leathers, furs, laces, and tulles, there's lots of Halloween (or anytime) inspiration to be found in this collection.
Are you feeling happily spooked by these runway looks, but have a college budget to maintain? Keep reading for three budget-friendly looks inspired by Saint Laurent's Fall 2015 RTW runway show.
1. Be a Bad Witch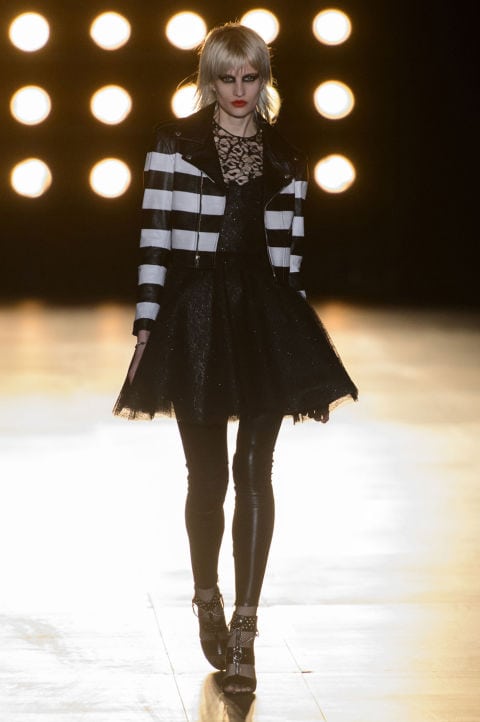 This is one of my favorite looks from the runway. It's scary yet stylish and combines three of my favorite things: lace, leather and stripes.
Get the Look: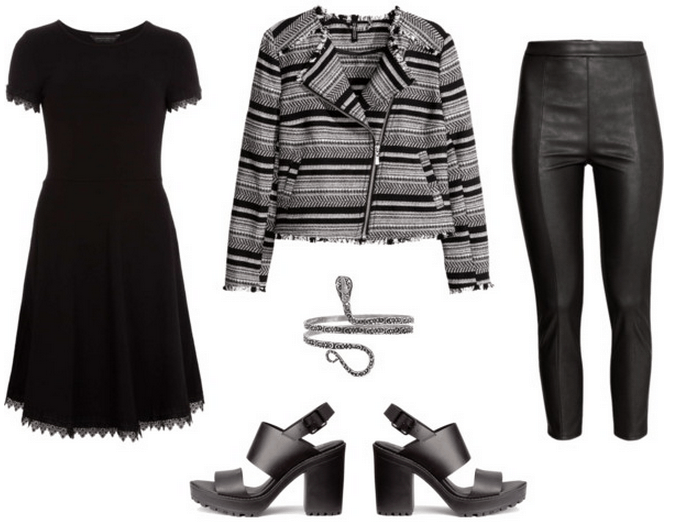 Products: Dress, Jacket, Bracelet, Sandals, Leggings
Channel your inner witch in a little black skater dress with lace detailing at cuff and hem. For some warmth in the autumn wind, layer on a patterned biker jacket with frayed edges. Cover your legs with high-waisted leather leggings. Climb onto some platform sandals with chunky rubber soles, then add edge to your ensemble with a snake cuff that slithers around your arm for a dramatic and spooky effect.
2. Killer Kat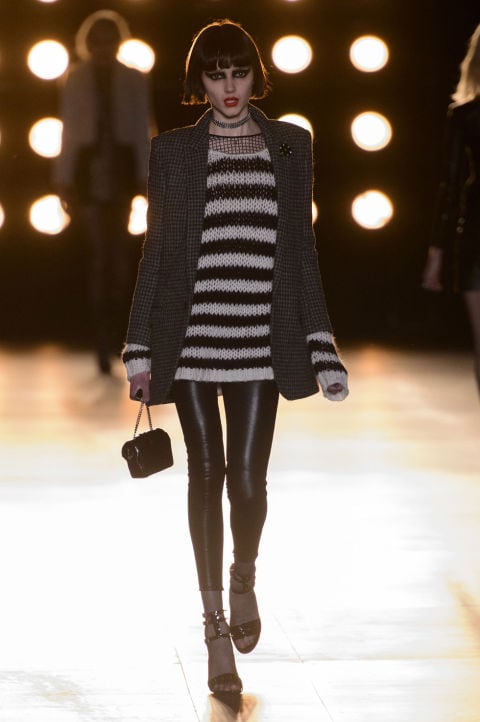 Just looking at this runway ensemble, I feel warmer already. Forget the tricks this Halloween and treat yourself with a chic and warm look.
Get the Look: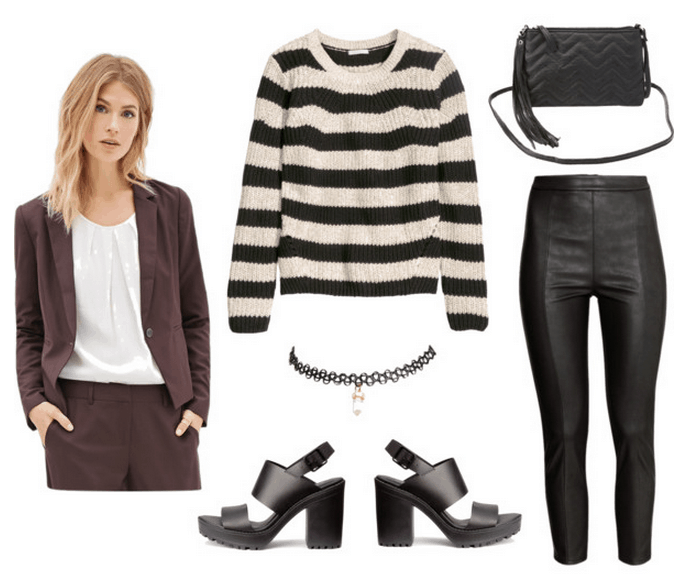 Products: Blazer, Sweater, Necklace, Sandals, Bag, Leggings
For this look, start with high-waisted leather leggings. Add a striped knit sweater for a spooky vibe. Layers are essential in the fall, so don't forget your classic one-button blazer. Slip into a pair of chunky, platform sandals for a trendy touch.
Now it's time to accessorize. Grab a crystal charm choker for a bit of cool-girl edge. Complete this catty look with a quilted chevron cross-body bag with a cool fringe tassel.
3. Cautious at the Office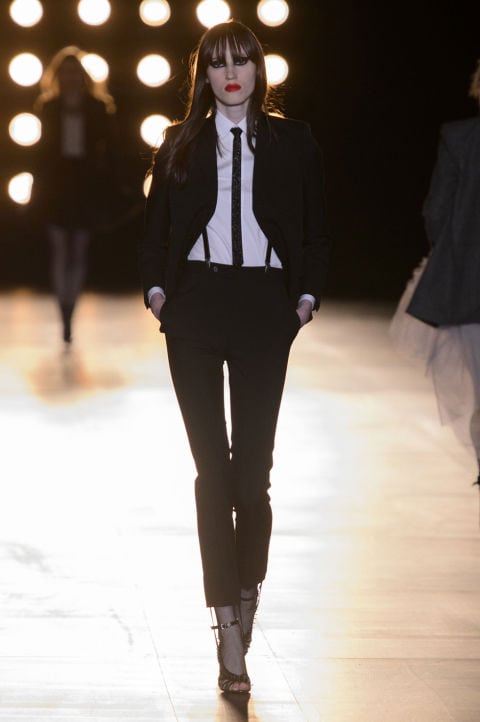 This look is a sneaky attempt to get away with bringing the Halloween spirit to a professional environment. This look maintains a nice balance between the two occasions – it's a little bit spirited, but still work-appropriate.
Get the Look: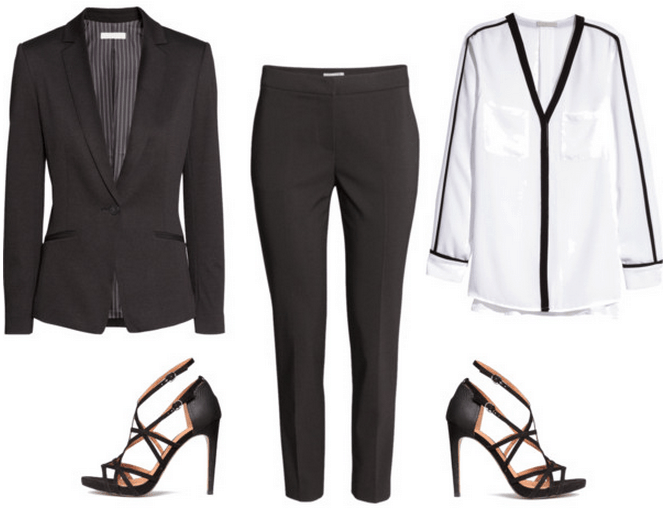 Products: Blazer, Heels, Pants, Blouse
Pull of a professional, yet slightly petrifying look with a few key office pieces. Wear a v-neck blouse with black and white contrasting details. Over it, wear a fitted blazer. Next, add a nice pair of suit pants with tapered legs. Put on a pair of snakeskin-patterned sandals in a leather texture. For that spooky look, complete your ensemble with some makeup.
Bonus: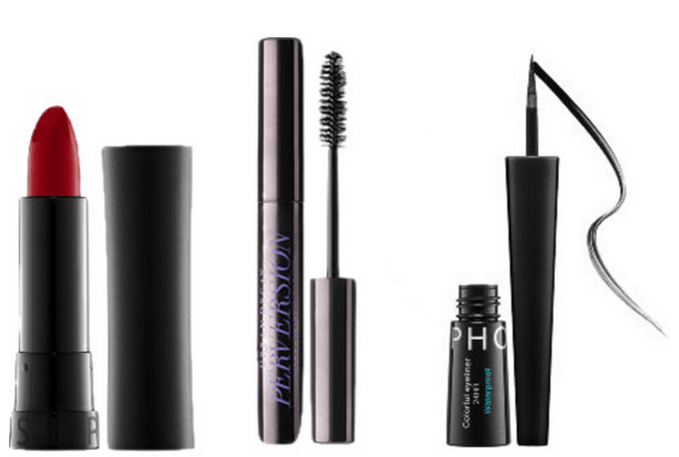 Products: Lipstick, Mascara, Eyeliner
Within the runway looks, there is a common thread of dark and dramatic makeup. Recreate these faces with some key makeup pieces inspired by Saint Laurent's runway.
For fuller lips and intense color, grab a bright red cream lipstick. The pigmented glaze will create a daring vibe. Achieve sexy lashes with this amplifying mascara. Whether you want a thin or thick lined cat eye, this waterproof eyeliner will give you a flawless look with an intense color.
Your Thoughts?
What did you think of this collection? Were you inspired by these stunning and spooky outfits by Saint Laurent? Which is your favorite? Would you wear any of them for Halloween? Share your thoughts in the comments below.