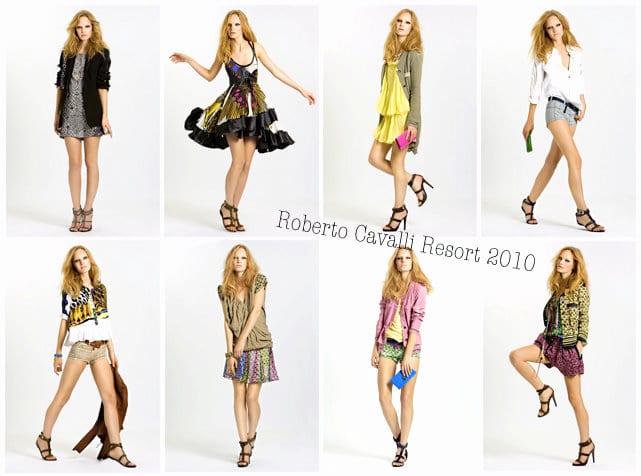 Over the past six weeks, I've broken down a number of great runway collections into basic trends to take you from Winter to Spring and beyond. To avoid repetition, this week I've broken down the fun and youthful Resort collection by Roberto Cavalli into inspirational outfits rather than individual trends. Missed any of the past trends that I've highlighted? Look for links throughout this post for the trend breakdowns from past runway looks!
"This joyous riot of color and pattern was grounded in solid basics and a sharp all-white pantsuit. The collection may not have explored new territory, but in the end it was strong on wearable day looks, and that felt right for Resort." – Style.com
The five looks below cater to many different styles and tastes but each one brings a unique, youthful feeling to day-time wear – and channels Cavalli's collection! Be sure to pay attention to how the designer mixed prints, fabrics and colors for each outfit and how a bright clutch or bold watch can put a new spin on a basic look.
Look #1 – Boho Chic
An easy way to capture an 'effortless-chic' look is to pair your favorite spring dress with a thick boyfriend cardigan. The difference in seasonal fabrics creates an unexpected pairing and allows that summer dress in the back of your closet to get some use! Add a bold pop of color such as a pink clutch to really complete the look.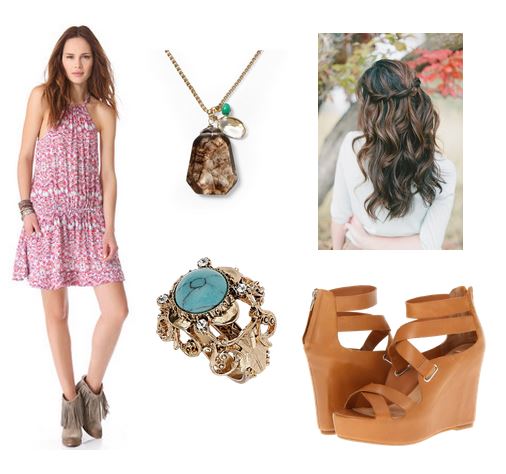 Product Information: Floral Dress – Old Navy, Pink Wallet – Forever 21, Boyfriend Cardigan – Old Navy, One-Shoulder Dress – ASOS, Sandals – Charlotte Russe
Things to keep in mind:
Experiment – but be realistic. Almost the entire east coast was hit with snow this week – a springtime dress and bare legs would look somewhat silly outside right now. But closed-toe pumps or ankle boots and black tights will make your dress and cardigan weather-appropriate and chic until the weather warms up!
Play with layering! I'm a firm believer that every dress (no matter how summery) can be worn all year round. Is a cardigan not warm enough to sit through your class in a freezing lecture hall? Plain black or white long-sleeve shirts or turtlenecks can be worn under many dresses. Don't be afraid to mix unexpected items from your closet – scarves, plain shirts, tights, cardigans – the combinations are really endless.
Look #2 – Cocktail Hour
Looking through Cavalli's collection, I fell in love with his cocktail looks. Blazers have been on-trend for a couple seasons now and it is refreshing to see the structured jacket paired with a feminine and flirty dress. The unexpected pairing keeps the look fresh and fun, but the monochromatic colors make the look versatile and appropriate for both a work event or a night out with friends. Add studded shoes and a chain link shoulder bag and you have a unique, classic look for any occasion.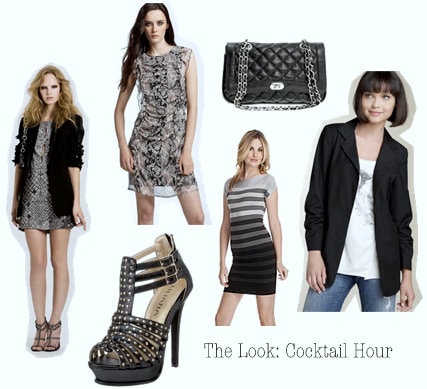 Product Information: Silk Dress – Nordstrom, Quilted Chain Shoulder Bag – ASOS, Boyfriend Blazer – Nordstrom, Striped Dress – Dillards, Platforms – Endless.com
Things to keep in mind:
If you're shopping for a blazer, keep length and fit in mind! A long blazer is definitely a perfect closet addition, but it shouldn't look like you stole it from your boyfriend. Make sure the shoulders and sleeve length fit you well – it'll be much more flattering!
With that said, please make sure your dress is longer than the blazer! No matter how short the dress, if the blazer is longer, it'll resemble more of a bathrobe than a tailored jacket.
Look #3 – Springtime Florals
While mixing three different colors and fabrics can be hard to pull off, when it works, it really works. The particular Cavalli look I'm channeling below mixes a floral print short, a yellow tank, a pink jacket, and to finish off the look – a bright blue wallet. Recreating an outfit with such a mix of colors may seem daunting but trust me – the pay off is worth it!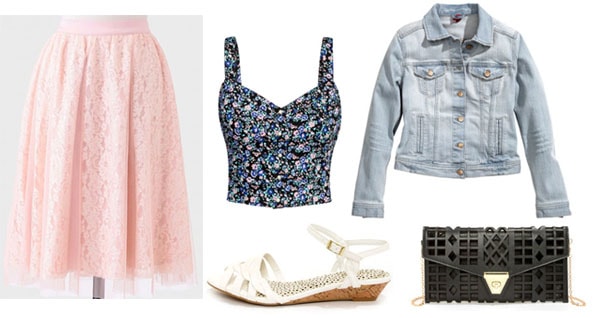 Product Information: Tank – Forever 21, Bouquet Shorts – Fred Flare, Cropped Jacket – Newport News, Watercolor Short – Newport News, Quilted Bomber Jacket – Free People, Wallet – Free People, Sandals – J. Jill
Things to keep in mind:
When mixing colors, stick with the same color 'family'. The Cavalli look relies on muted pastels rather than a neon green and a dark pink. The colors should look like they belong together. Have a dress or top with a print that you love? Use those colors as inspiration – you already know how they will look together!
Shorts always seem to be a tricky piece to find for college girls. You need that perfect fit, length and the perfect balance of short-but-not-too-short. Add in a print to the search factor and you've got your work cut out for you. Stores are beginning to roll out their spring collections this month so keep those tricky summer pieces in the back of your head whenever you're shopping – you may just stumble across the perfect pair of shorts.
Translate the look into winter wear! Short-shorts with a floral print aren't exactly in-season but you can pair a printed tank and a colored jacket with your favorite pair of jeans for class or casual Fridays at work.
Look #4 – Mix Master
This was another tricky look to put together but again, it's worth the pay-off. Cavalli paired a dark floral print chiffon skirt with a loose fitting military-inspired top to create the perfect boho-chic look. One of the reasons I chose this outfit in particular is the fact that it exudes sexy without relying on skin-tight clothing. Take note, ladies – sometimes leaving a little to the imagination and showing off just your legs or arms is all it takes!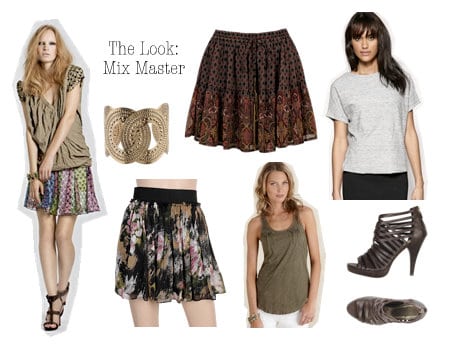 Product Information: Cuff – Forever 21, Chiffon Skirt – Forever 21, Top – ASOS, Heels – Alloy, Tank – Martin and Osa, Floral Skirt – Forever 21
Things to keep in mind:
Look for chiffon, high-waisted skirts that hit significantly above the knee. A flowy skirt that is too long will leave you looking like an actual hippie rather than the boho fashionista that you are!
Find the balance between loose and sloppy. The easiest way? Find a loose top that you can tuck into your skirt – don't lose your waist!
Take a page from Cavalli's playbook and add bold gold jewelry and rich dark brown accessories from the ultimate bohemian vibe.
Look #5 – Safari
Throughout his collection, Cavalli utilized jean and khaki shorts as a backdrop for some pretty amazing tunics, blouses and button-ups. With this particular look, a simple pair of khaki shorts provides the perfect balance to a gorgeous animal-print swing top. Paired with a leather jacket and blue watch (which matches the blue in the top, no less), the look is the perfect combination of classic pieces and unexpected patterns.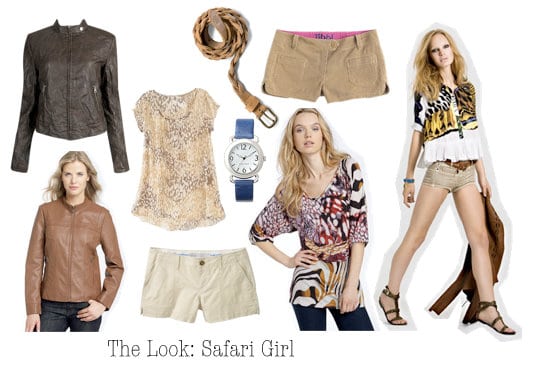 Product Information: Crinkled Faux Leather Jacket – Forever 21, Chiffon Top – Newport News, Braided Belt – Gap, Dark Khaki Shorts – Delias, Printed Tunic – Nordstrom, Watch – Nine West, Light Khaki Shorts – Old Navy, Scuba Leather Jacket – Nordstrom
Things to keep in mind:
If you're comfortable wearing micro-shorts, go for it – but be sure to balance them out with a loose and/or long top!
Add accessories with unexpected color. Although Cavalli's look already made a strong statement, the blue watch added a needed touch of personality. Another look showcased at the top of this post pairs a plain white button-up with a deep green clutch. The point is to add those unexpected touches to keep the look fun, youthful and, as always, your own!
Tying it all together
After seeing a few of the looks broken down, go back and take a look at the entire collection. It's easier to see how everything works together now, isn't it? By picking apart collections and breaking them down to the basic staples and styles, it's easier to incorporate it into your own personal day-to-day look. What are your thoughts about the collection? Which pieces do you like and which are you not a fan of?
As always, I love your input. Each week I research and write my posts with you readers in mind – whether it be a trend, a designer or a style of posting. Would you rather see outfit posts like this or trend posts? Maybe a mix of both? Be sure to leave a comment!