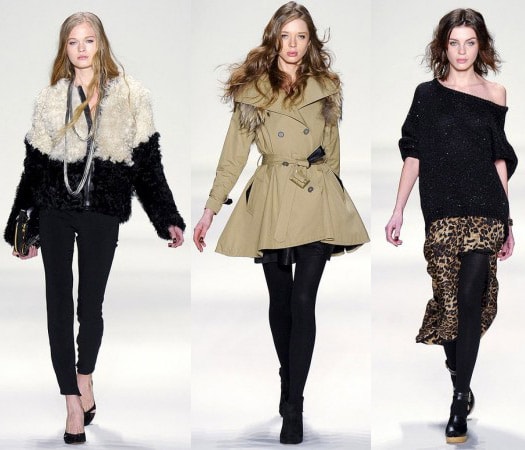 It's the beginning of a new school year, which means it's time to start sourcing inspiration for your back to school ensembles – and what better place to look than the runways? This year, Rebecca Minkoff 's fall runway models were decked out in trendy, innovative looks perfect for the season. From furs to leathers to sparkles to leopard print, Rebecca Minkoff's collection added edgy, trendy materials to classic staple pieces.
Rebecca Minkoff's Fall 2011 runway looks are the perfect combination of edgy and demure, and are perfect inspiration for your fall wardrobe. Below, I'll show you how to recreate three looks from the Rebecca Minkoff Fall 2011 collection and bring the runway to your campus.
Look #1: Lace with an Edge
Here, Rebecca Minkoff created a look with just the right amount of edge, sass and femininity. The pairing of a classic blazer with leather shorts is unexpected and original, but I especially love how she softens up the shorts with a feminine lace blouse and adds sass with leopard print shoes. This is one bold, high-style ensemble.
Getting the Look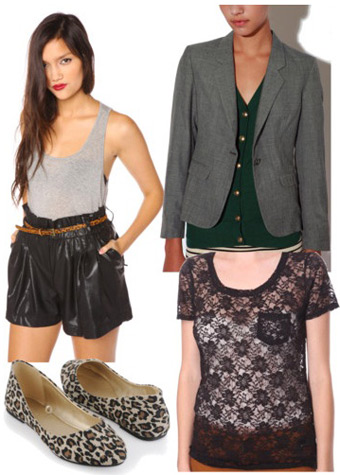 Start building the ensemble with its foundation: the leather shorts. For this look, I chose a pair of high-waisted faux leather shorts with a paper bag waist. I then paired the shorts with a simple lace tee – rock a nude cami underneath for coverage. Add a grey blazer on top and finish off the look with leopard print flats.
This look would be perfect for a semi-dressy dinner or a more formal party: It's a great classy outfit with an edgy punch. This look can easily be worn when the weather gets colder by adding on a pair of opaque tights.
Look #2: Simple but Chic
The best part of this outfit is its simplicity and overall look of comfort. The outfit is fairly basic in its structure, but by mixing textures, Minkoff creates dimension and interest. The slouchy, chunky knit sweater looks extremely comfortable and the shorts add a pop of color to the look, while black ankle booties are a perfect fall addition.
Getting the Look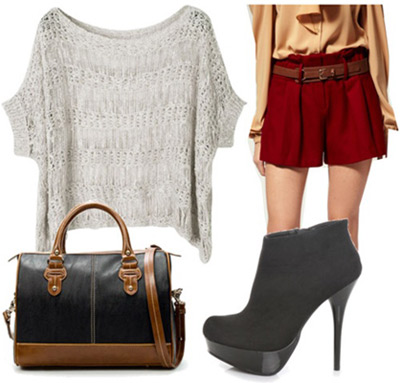 In the runway look, Minkoff used red tweed shorts but since red tweed shorts are difficult to find right now, I opted for burgundy red high-waisted shorts. I then paired them with a light grey chunky knit sweater. The sweater has a loose, slouchy feel to it that helps give the look a relaxed, easy feel. I finished off the look by adding basic black ankle booties and a brown and black bowler bag. This dressed-up casual look would be perfect for lunch with friends, or switch the booties for black flats and you have a perfect back to school look.
Look #3: Fall Floral
In this look, Rebecca Minkoff demonstrates how to incorporate a spring piece into a fall wardrobe, layering a belted black cardigan over a pretty floral dress. I love how sleek the outfit looks with its all-black accessories, while the hint of floral print adds a girly touch. It's the perfect combination of sweet and sass.
Getting the Look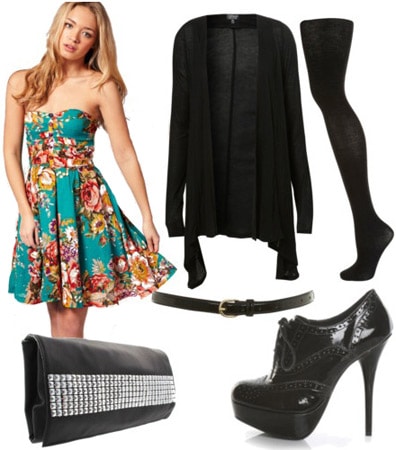 Dress, Cardigan, Tights, Belt, Clutch, Shoes
This look demonstrates the perfect way to keep wearing your favorite floral dress into the fall. Start the outfit by picking out your favorite floral dress. Then pair it with a open black cardigan. Cross the two sides of the cardigan and belt it with a simple black waist belt. Cover up your legs with a pair of opaque tights and add black lace booties for height. Finish the look off with a studded clutch.
This ensemble would be perfect for a night on the town, or switch the clutch for a hobo bag and the booties for flat boots and you have a perfect casual fall look.
Your thoughts?
What do you think of Rebecca Minkoff's fall runway looks? Which one is your favorite? What other fall runway looks would you like to see featured next? Leave a comment and let us know!