After spending a few weeks in a row recreating pastels, florals and all things Spring, this week I wanted to mix it up a little bit. Although the Rag & Bone Spring collection doesn't have much in common with last week's Versace looks, both collections are perfect inspiration for your Spring wardrobe. Bone's designers, David Neville and Marcus Wainwright, have pieced together outfits that are the epitome of rainy Spring day – just don't forget an umbrella!
"With the economy where it is right now, we're focused on what we're about as a company," said Wainwright after his show, "which is our English, military-school heritage mixed with a utilitarian, made-in-America ethos."
In other words, the designers took the back-to-basics approach – and kept things simple.
And that was the strength of this collection: uncomplicated pieces like a cargo-green army parka layered on top of an easy, oversize tuxedo shirt and a little dagger-print skirt; or a gray silk cropped jacket thrown over a couple of drapey cutaway tanks and leather pants that somehow managed to be skinny and slouchy at the same time.- Style.com
Rag & Bone's spring collection is a breath of fresh air, incorporating some of the favorite trends for Spring with a decidedly European twist. These looks are sure separate you from the pack of fashionistas at your school. This week, I've picked three looks from Rag & Bone's collection to recreate on a budget. Each piece is under $50 and you probably even have a few of them in your closet already!
Look #1
One of my favorite aspects of this collection is the balance between tough-girl-chic and classic comfort. The look below captures that balance perfectly, and relies on only a few basic pieces.
Most girls have a plain jersey dress tucked somewhere in their closet. It's one of those pieces that you see at Old Navy for $7 every summer and just can't justify not buying. It's classic, comfortable and the perfect basic to build an outfit around. For their Spring collection, Rag & Bone's designers paired a jersey dress with a leather bomber jacket, a no-nonsense black belt and a great pair of shoes. It's an easy outfit to recreate, and don't forget to work it – a bomber jacket takes some confidence and attitude to pull off.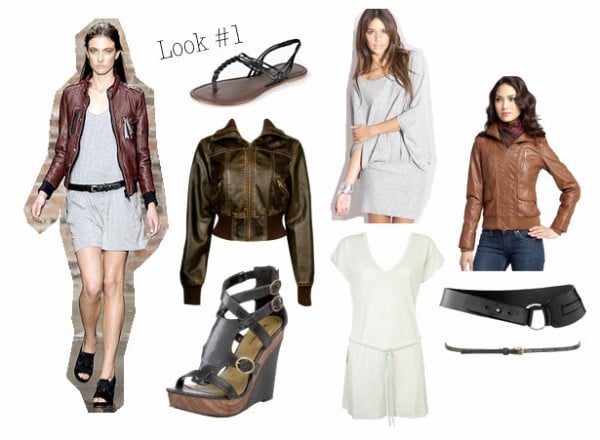 Product Information: Slingback Sandal – Charlotte Russe, Band Hem Knitted Dress – ASOS, Steve Madden Bomber Jacket – Nordstrom, Thick Black Belt – Coldwater Creek, Skinny Belt – Forever 21, Tie Waist Dress – Forever 21, Wedge Sandal – Endless, 'Bombs Away' Jacket – Forever 21
Things to keep in mind:
Make it your own. There are pros and cons to owning a basic piece like the classic grey jersey dress. Having endless combinations can be overwhelming! So don't forget to focus on your personal style. Like the look but tend to favor more bohemian inspirations? Try a thin braided belt instead, or flat sandals instead of wedges.
When it comes to shopping for bomber jackets, tread carefully. I have a thin jacket from H+M that I practically live in – but I still get the expected 'Amelia Earheart' comments. The key is to find the balance between a piece that makes a statement and a jacket that looks like it was made for a fighter pilot. Watch for puffy shoulders and sleeves to avoid looking silly.
Transition through the seasons with one piece – a thin zip-up sweatshirt. Because the nature of the dress and jacket are casual, adding a thin hoodie underneath won't look out of place and it'll keep you warmer on those cool Spring nights.
Look #2
OK, I am admittedly a blazer addict. Shrunken, short-sleeved, boyfriend – you name it; blazers instantly dress up an outfit and pull it all together. That's why I couldn't help but focus on the blazers from Rag & Bone for my second look.
Rag & Bone incorporated jackets throughout the collection and this look in particular is a fun one to try. The yellow and gray form an unexpected color palette that's somehow perfect for the seasonal transition. Additionally, the outfit can be paired with thick leggings (shown), tights, or worn with bare legs, making it easy to wear all year round.
After all, one of the best-kept secrets of budget fashionistas is wearing the same clothing all year round. Once you master the art of pairing your summer dress with a blazer, cardigan or tights (or all three!) you'll slowly start to see your bank account savings increasing.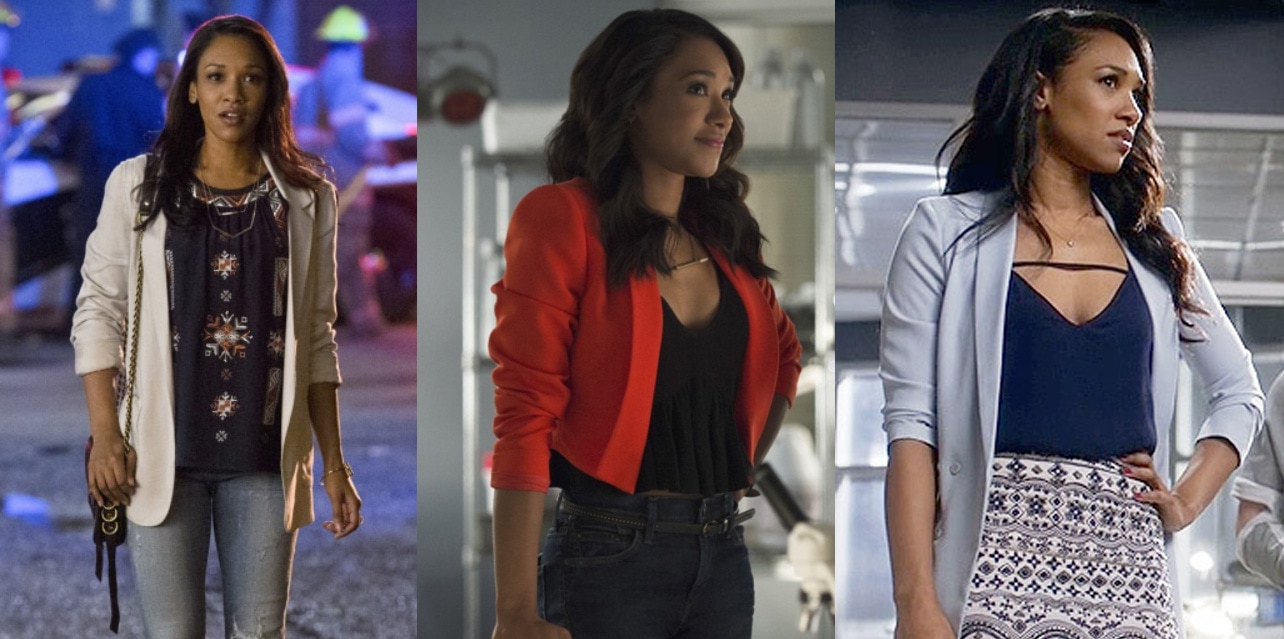 Product Information: Flowered Dress – Old Navy, Short Sleeve Blazer – Newport News, Tank Dress – Revolve Clothing, Strappy Platforms – Charlotte Russe, Tights – ASOS, Boyfriend Blazer – Dillards, Leather Platform Sandals – Charlotte Russe, Belt – Kohls
Things to keep in mind:
Have fun, but keep it office appropriate. If you've ever interned somewhere, you know that every office culture is different. One of the reasons why I choose this look is because it is easily edited to fit any corporate dress code. Strict dress code? Stick to dark tights and a tailored jacket. If you work someplace more casual, try fun leggings or an oversized blazer.
Just because you aren't in an office doesn't mean this isn't a good source of inspiration. For class, try a yellow tank with a gray cardigan and your favorite jeans. The color combo is easily translated into every style.
Experiment with jewelry. Adding a thick antique cuff bracelet or a string of pearls will create dramatically different vibes. Try places like Forever 21, Old Navy and Kohls for affordable and fun jewelry.
Look #3
The most heavily English-inspired looks incorporated utilitarian colors, brass accents and oxford shoes. Designers sent a lot of military looks down the runway with studded accents and a rocker-chick attitude. Rag & Bone went the opposite direction while still utilizing some of the same trends – think Oxford University rather than rock concert. Like the rest of the collection, the basic pieces make this look easy to emulate and translate to fit your own unique style.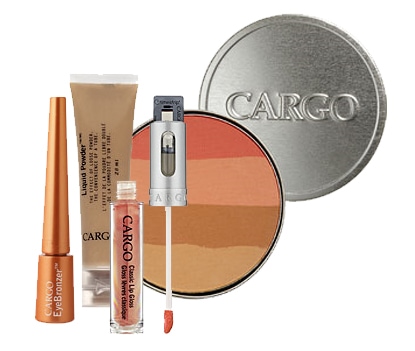 Product Information: Ribbon Necklace – Old Navy, Tuxedo Blazer – Nordstrom, Thermal Tee – Dillards, Pearl Cluster Chain – Forever 21, Skinny Jeans – Delias, Chino – J. Crew, Peep-toe Heels – Forever 21, Belt – Kohls, Tuxedo Flats – Nordstrom
Things to keep in mind:
Pay attention to fit. Baggy cargo pants paired with an over-sized tuxedo jacket can end up looking sloppy. Try a fitted sweater with loose pants, or skinny chinos and a boyfriend-blazer. Don't be afraid to mix and match!
Oxford and tuxedo shoes are outfit-making pieces on their own. Afraid to fully commit to the English university look? Try a pair of flat tuxedo shoes with jeans and top; you'll be surprised how dramatically a different pair of shoes can change an outfit.
Tying it all together
Go back and take a look at the entire collection. It's a change from the flirty pastels of a lot of other Spring collections and is a seemingly perfect wardrobe for the in-between season of March and April. Play around with mixing seasonal colors (like dark greys with pastels) and pieces (dresses and heavy tights) to get the most out of your closet!
What do you think of the collection? Any specific trends that you like or don't like? I love to hear your input and suggestions for future posts! Be sure to leave a comment.