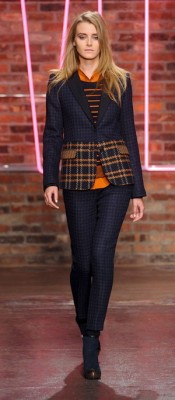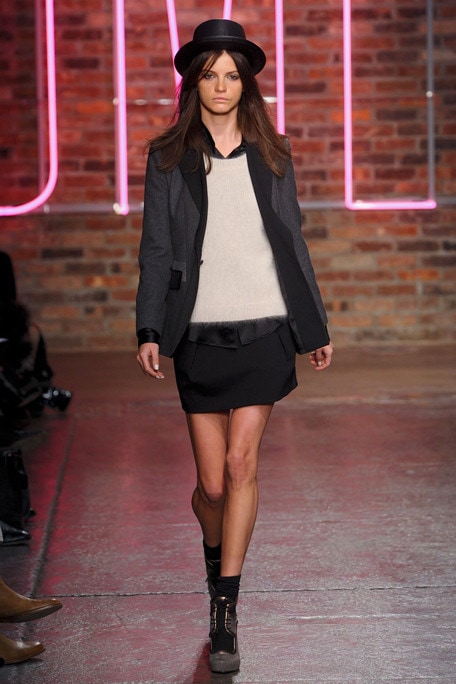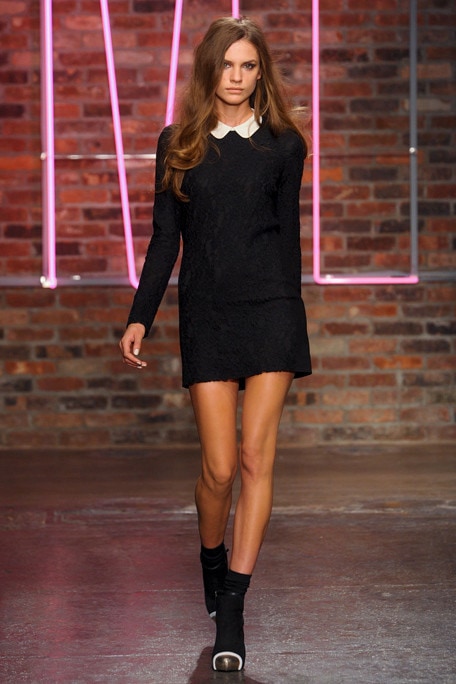 There are two kinds of runway looks: the looks where you think "where would I ever wear that?", and the looks where you think "where can I get that?". This season, DKNY produced a collection of pieces that had me screaming the latter.
DKNY is known for being a line that embraces the essence of New York City. They describe their line as "international, eclectic, fun, fast and real". There pieces are not only wearable but also stylistically innovative. For Fall 2011, Donna Karen created unique looks that layered a variety of colors, textures and patterns. These looks will fulfill all of your outfit needs, whether for work, play or school.
Below, I've created three more budget-friendly versions of DKNY Fall 2011 looks. Enjoy!

Look #1: Orange Pop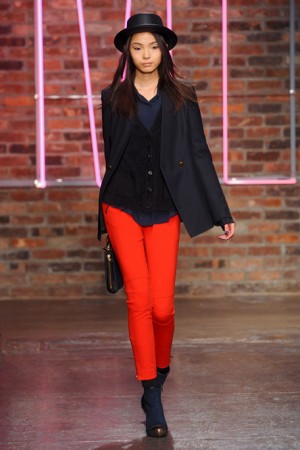 When you think of fall colors, you tend to think dull, muted browns, oranges, and greys. This season, however, DKNY put a twist on those typical fall colors, brightening them up and pairing them in unexpected ways. Here, Ms. Karen paired bright orange pants with navy layers on top for a look that is refreshingly unpredictable.
Getting the Look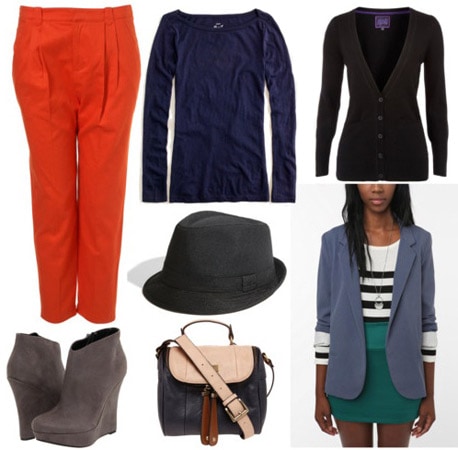 Pants, Top, Cardigan, Booties, Hat, Bag, Blazer
This look starts with the bold pants – here, I chose a pair of bright orange cropped pants and paired them with a navy long-sleeve shirt. To get the layered effect seen in the DKNY look, add a black cardigan and a light navy blazer on top. Complete the outfit with a pair of grey booties, a charcoal fedora and a navy and cream satchel. This outfit would be the perfect thing to wear to start off the school year with pizzaz.
Look #2: Draped in Fur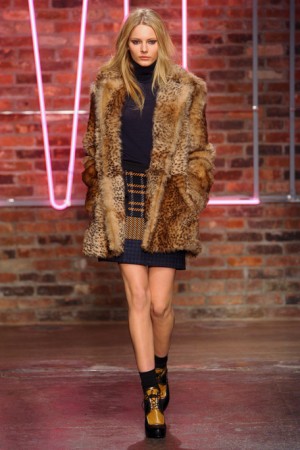 Here, DKNY created a a schoolgirl-esque look with a trendy edge. By pairing a leopard jacket with an orange and navy tweed skirt and fierce lace-up booties, DKNY styled a pretty fall look with femininity and sass.
Getting the Look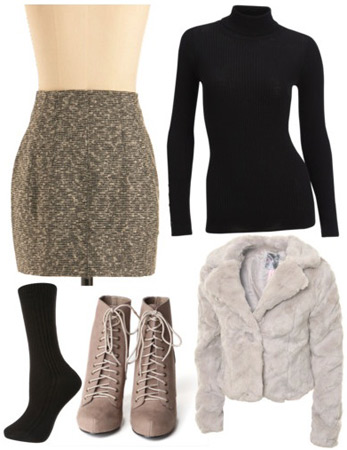 Skirt, Shirt, Socks, Boots, Coat
To get the schoolgirl feel without looking costume-y, start off the look with a tweed mini skirt, then pair it with a basic black sweater. Next, it's time for the focal point of this look – the fur coat. While the DKNY look incorporated a leopard coat, this gray faux fur jacket works well with the color scheme of this ensemble. Finish off this outfit by wearing grey lace-up booties over black ankle socks. This would be the perfect look for a chilly fall day.
Look #3: Color-Blocked Coral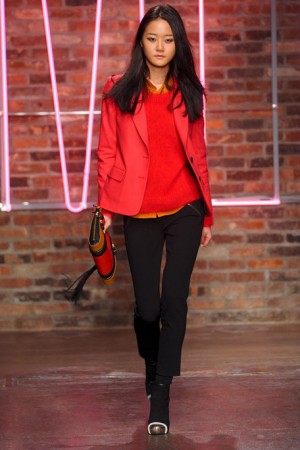 Color blocking was a popular trend for spring and summer, but DKNY managed to let it flow effortlessly into fall with this look. This look is perfect for brightening up any dreary fall day with its citrus-colored layers.
Getting the Look: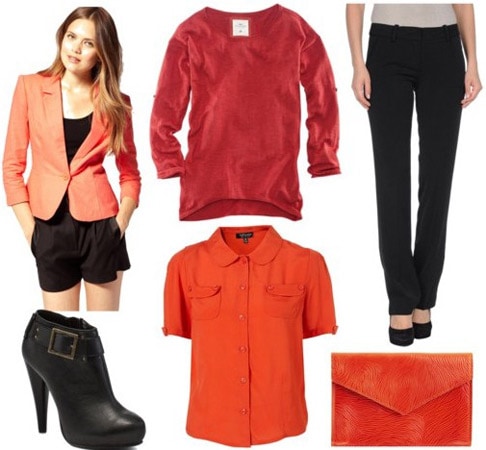 Blazer, Sweater, Pants, Booties, Shirt, Clutch
Start building this outfit at the top with the colorblocked layers. For the first layer, I chose a bright orange collared shirt, then layered it over a red scoop neck sweater. Finish off the top layers with a coral blazer. To tone down the bright layers, I added black skinny leg pants and black booties. Accessorize with this orange envelope clutch for a fun, yet sophisticated look.
Your thoughts?
What was your favorite DKNY Fall 2011 look? Which of these looks do you find most wearable? What other runway looks would you like to recreate? Leave a comment and let us know.