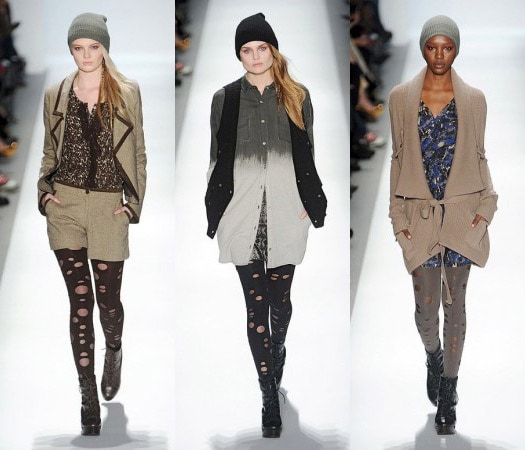 With the weather still scorching hot, many people (including myself) are longing for the crisp, cool air and multi-colored leaves of fall. And with the change of seasons comes the transition into a new wardrobe.
My perfect fall wardrobe consists of whispy scarves, rugged ridding boots, chunky knits and a bit of creative layering, trends that were well-represented in Charlotte Ronson's Fall 2011 runway show. Ms. Ronson's fall collection mastered the art of stylish layering, mixing rugged boots and distressed tights with feminine florals to create sweet fall looks with an edge.
With fall around the corner, Charlotte Ronson's Fall 2011 collection is perfect inspiration for all of your back-to-school ensembles. Below, I've recreated three looks from Charlotte Ronson's fall collection for girls on a budget:
Look #1: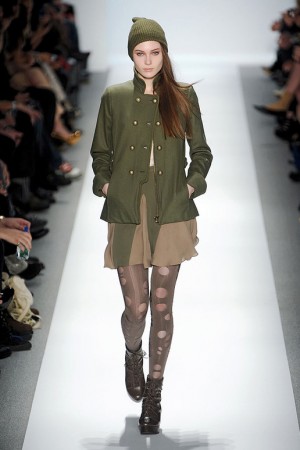 This Charlotte Ronson look is a great example of fall's military trend, with a sweet twist. By pairing a simple military jacket with a pretty, flowing skirt, Ronson adds a bit of whimsy to an otherwise serious look. The ripped gray tights and beanie hat finish the ensemble and add a hint of grunge. Despite its many masculine pieces, the ensemble maintains a feminine feel – overall, it's an ideal choice for the season.
Getting the Look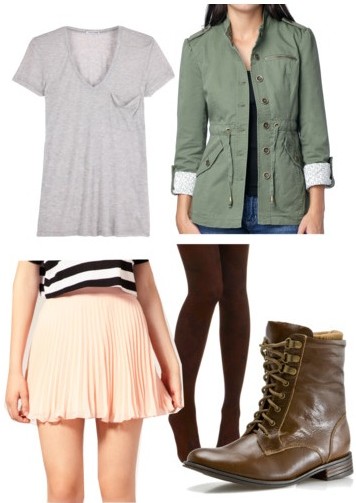 Top,Jacket, Skirt, Tights, Boots
To recreate this look, start with a flirty, feminine skirt. Here, I chose this peachy pleated skirt and then paired it with a basic grey tee. To give the ensemble its signature military edge, I added a green military-style jacket. To finish off the look, I added brown tights and brown lace-up ankle boots. If you want to give the look some more edge, you can switch in some ripped tights like the ones from the original look – they'd be super easy to DIY!
Look #2: A Dash of Sparkle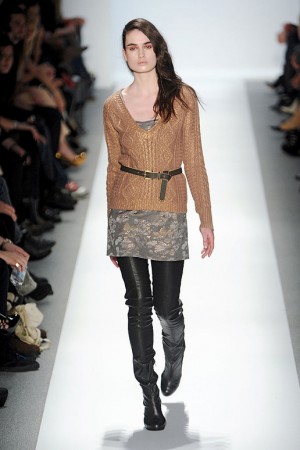 One of my favorite aspects of Charlotte Ronson's fall collection is her masterful use of layering to create interest. Here, Ronson turns a floral dress into the perfect fall piece by layering it under a shimmery knit sweater and adding thigh-high leather boots. This outfit would be perfect for a cool fall night.
Getting the Look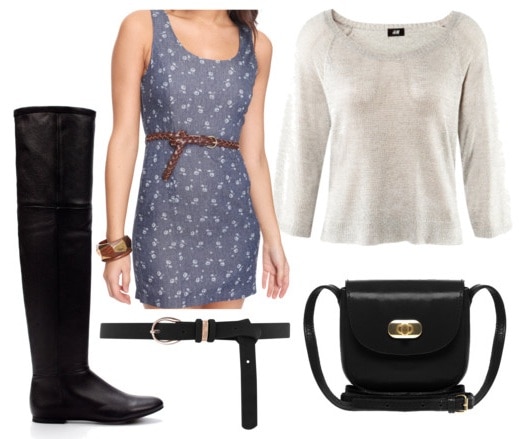 Dress, Sweater, Boots, Belt, Bag
To recreate Ronson's look, start with a form-fitting floral dress like this blue one from Forever 21. Next, layer it up by adding a shimmery sweater – I love this silver sweater since it has a subtle hint of shimmer. To pull the outfit together, wrap a black belt around your waist. To get Ronson's trademark hint of edge, add a pair of black leather over-the-knee boots. Finish off the look with a simple black saddle bag.
Look #3: Lots of Layers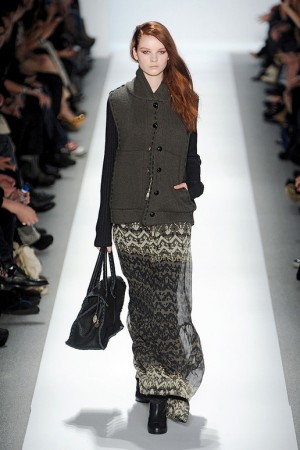 This look turns a spring/summer staple – the maxi skirt – into a must-have for fall. I love how Ms. Ronson creates visual balance in this look by pairing chunky layers on top with the flowing maxi skirt on the bottom. This ensemble also has a monochromatic feel, thanks to its interesting uses of grey and black.
Getting the Look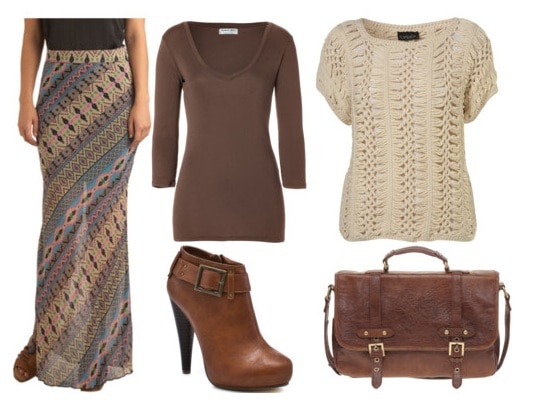 Skirt, Top, Sweater, Booties, Bag
Start this look with a simple patterned maxi skirt – this one is whispy and slightly sheer, making it a great dupe for the original. To get the chunky layers on top, I chose a brown long sleeve top and layered it with a short sleeve crochet sweater. For accessories, add a brown satchel and brown heeled booties. This look would be perfect for lunch with the girls – or switch the satchel for a cross-body bag and wear it on a nice dinner date.
What do you think?
Which of the Charlotte Ronson Fall 2011 looks is your favorite? How do you feel about fall layers? Do you like the maxi skirt trend for fall? Let us know with a comment!