So after the mixed reviews of last week's article on Zara looks for less (clearly I'm more frugal than I thought), this week I decided to focus on a designer that we can all agree is out of the average college girl's budget – Chanel.
This week, the Chanel 2011 Resort collection debuted in Saint-Tropez and it definitely did not disappoint:
It was like something out of a quintessential Riviera movie. With the sun setting over the sea, hundreds of Chanel's invited guests sitting in the red wooden chairs of Saint-Tropez's famous Sénéquier, and many more onlookers piling onto balconies and pressing against barricades, Natasha Poly, Anja Rubik, and the rest of Karl Lagerfeld's cast arrived at Quai Jean Jaurès via speedboat.

And like the carefree starlets and jet-setters they were channeling, the models traipsed down the street-cum-runway often barefoot, wearing seventies-ish diaphanous caftans, long crocheted dresses, ruffle-lapelled silk jersey trouser suits, and patchwork denim skirts. Tanned and toned midriffs peeked out beneath a cropped sweater here or a button-down there, its hems tied in a saucy bow. – Style.com
Doesn't that description just make you want to jet off to some exotic island (decked head-to-toe in Chanel, of course)? Although most of us probably can't afford the wardrobe or the trip, I've tracked down some pieces to help you capture the Chanel Resort 2011 vibe without breaking the bank.
Classic Whites
Karl Lagerfeld is a master at creating classic black and white pieces, but for this collection, he added pops of color and whimsical silhouettes to make these basics more interesting.
Large ruffles adorned the skirts and dresses, crisp shirts and tailored capris strolled down the runway decorated with pastel sashes and vintage brooches. Take inspiration from Chanel for both your day and night looks this summer; pair white with colorful accessories for day and with black to up the elegance at night.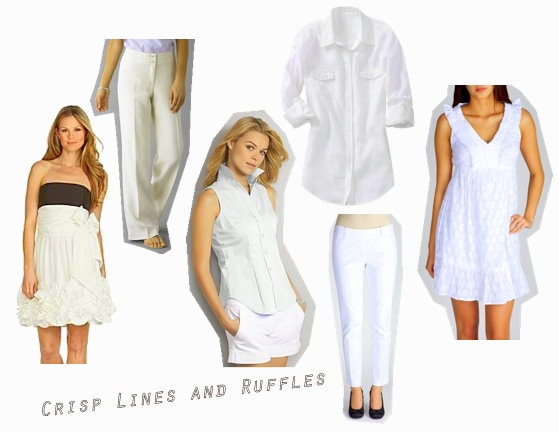 Product Information: Dillards, J. Jill, NY and Company, Old Navy, Charlotte Russe, Charlotte Russe
Get the Chanel look:
Rock head-to-toe white. Don't be afraid to pair a crisp, tailored oxford shirt with a lacy skirt – the texture contrast creates a great look and you don't have to worry about clashing colors!
Give oversized shirts shape with a colorful belt or sash. Can't find a sash? Scarves and even some ties will give you the same effect. Check out Forever 21 for affordable pins and brooches to secure the ends!
Pretty Pastels
The sheer, chiffon dresses and blouses were by far my favorite part of the Chanel 2011 Resort collection. Unlike past collections, this season the pieces embodied an ease and lightness. Even Karl admitted, "The collection is very casual, very down-to-earth".
The breezy floral looks below are perfect to pair with jeans, wear as bathing-suit cover ups or even wear to more formal summer occasions. (Just make sure the fabric isn't too sheer!)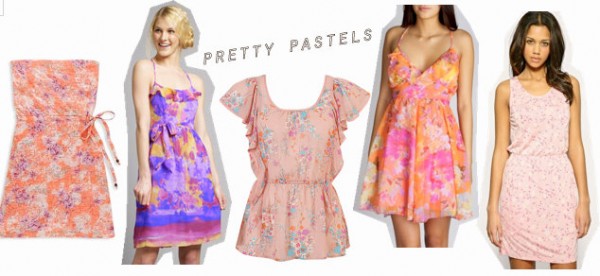 Product Information: Forever 21, Delia's, Forever 21, Charlotte Russe, ASOS
Get the Chanel look:
Go barefoot whenever possible.
Look for warm colors like pinks and salmons in watercolor prints – they're easier to wear than harsh, bright florals.
Pair your dress or top with long necklaces in the same pastel colors – pretty beads and long chains were staples on the Chanel runway.
Embellished Black
One thing we can all agree on is that Karl Lagerfeld is definitely a fan of black. The difference this season? Embellishments. Patterns, lace and sparkle were woven throughout the many black dresses in the collection and further echoed the sense of carefree easiness that was the designer's inspiration.
Inspired by Karl's collection, the looks below are anything but stuffy and are perfect for any 20-something's summer wardrobe!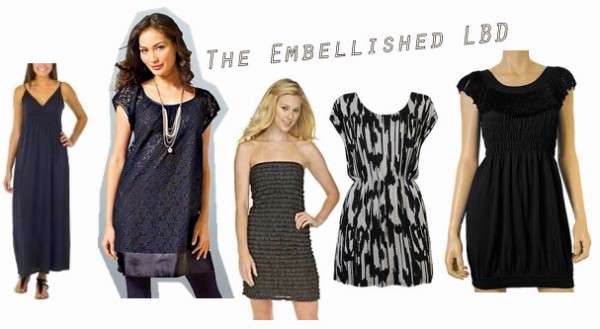 Product Information: Target, Alloy, Dillards, Forever 21, Forever 21
Get the Chanel look:
Don't be afraid to wear black during the day, just be sure to wear minimal accessories and open-toed shoes to stay cool in the summer sun.
Give long dresses a try. I've always been apprehensive about the maxi-dress trend, but I've found that with a little digging and patience, it's possible locate a dress that fits and flatters perfectly. Pair it with simple sandals for day and embellished sandals for night!
Short dresses with simple flats are a great way to stay cool while still looking put-together. Family lunch? Afternoon wedding? Opt for flats rather than sandals to change the vibe of your dress.
Tying it All Together
The Chanel 2011 Resort collection evokes nostalgia as well as glamor, two vibes you can channel for yourself. The trick is to make elements of the collection work with your style and existing wardrobe. By purchasing a few key pieces and paying close attention to details, it's easy to recreate any style on any budget.
Post-show at the VIP Room dinner, Lagerfeld was flanked by Vanessa Paradis, Diane Kruger, Anna Mouglalis, and Elisa Sednaoui, each one more gorgeous and glamorous than the next. Who says things were better back when? Tonight's scene was enough to make Roger Vadim and Mick Jagger both very jealous indeed. – Style.com
Chanel's crave-worthy collection of light fabrics, crisp neutrals and flirty silhouettes is a great inspiration to keep in mind on your next shopping trip.
What are your thoughts?
What do you think of the collection? Which looks and trends do you especially love? Whether you love them or not, I love to hear your opinions on the collections I choose. Be sure to leave a comment.